Hey Friends ... sign up for my newsletter and get my
FREE Practice Checklist
---
The Proper Pitching Mindset

How Top Pitchers Think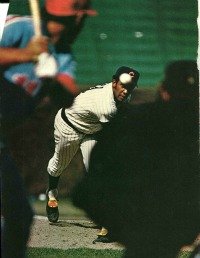 Having the proper pitching mindset helps pitchers become more consistent game after game. We must be able to handle the ups and downs during the game and keep the ship on an even keel.
You know how to throw pitches. You know pitch grips and how to pitch a baseball. Your pitching techniques are fundamentally sound. You have been polishing up your pitching delivery and pitching mechanics with pitching drills.
Now you need to put all the hard work into baseball game action and see how your pitching skills have developed.
How to Become a Complete Pitcher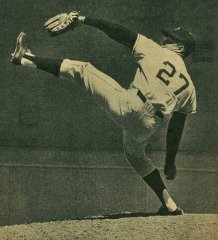 Handling the bad stuff that will happen often dictates how consistent a pitcher will be over the long haul of the season. There will be plays, innings or games where the ball just bounces the wrong way for you.
The pitchers that are best able to weather the storms and keep their heads when bad stuff happens usually come out ahead in the long run.
Can you keep your emotions in check when the wheels are falling off around you? Can you do your part to keep the damage down to a minimum? You have to keep your wits if you are going to be a complete pitcher!
Umpires Umpire---Players Play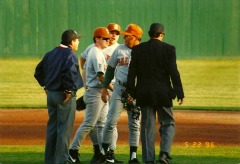 Pitchers who let the umpires calls get them upset during their pitching performance and off track are prone to be inconsistent and let bad innings get even worse. Do not let umpires calls adversely affect your pitching mindset.
In higher baseball the umpires will usually make life tougher for you if you show them up with bad body language or questioning their calls. The best high school baseball tips are to never show emotion to the umpire.
Let the catcher and the coaches take care of the umpire calls. Most of the close pitch calls even out over the season so do not expect to get every close pitch called your way during the pitching performance.
How to Become a Better Teammate
Do baseball players ever make fielding errors or boo-boos? You bet they do. Players at all levels have baseball practice drills. They work on youth baseball drills and have baseball coaching tips all season long, yet still make errors and bad plays.
All youth pitching players better be able to pitch through errors, bad plays and mistakes because they are going to happen. Learn to be a good teammate. Tell the fielders to shake it off. Lets get the next batter.
The best baseball pitching tips are to tell the pitcher to 'pick-up your teammates' after a bad play. That's what good teammates do even though you are upset that a bad play was made.
Be a good teammate with a proper pitching mindset and hide your frustration. You will get much more respect and your teammates will want to play harder when you pitch when they see you treating them with respect.

Keep Your Team in the Game
Keep the damage to a minimum. Try to stay away from big innings. If you can keep the runs down to one or two an inning your team is likely to stay close.
When the other team has a lot of innings with three or more runs then it is going to more difficult to stay in the game. So what ever happens good, bad and ugly put the plays or the hits or the calls behind you.
Put your efforts on making some good pitches to the next batter. Always look to the next hitter and try to get out of the inning with the least damage control. The proper mental mindset will allow you to weather the tough storms during the games.

Return to Pitching 101 from Pitching Mindset
---
---

Baseball Impossible: Player Development Make-Over



Build Your Own Culture of Player Development


&
Increase Your Players FUN Level

6-DVD Video Set Building Your Complete Player Development System

Click to Order

Audio CD Format Click Here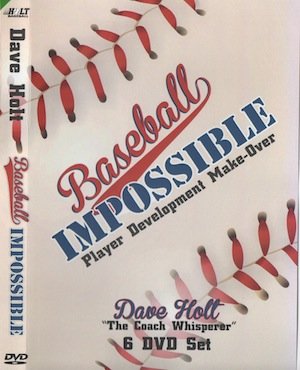 Coaching 6-DVD Box Set
Yes Dave, I Want to Help My Players Enjoy the GAME

Coaching little league baseball & youth baseball can be a blast or could be a  Tough Gig.

Who in their right mind would come back year after year and have teasing baseball practice and never improve their baseball skills? and get welled at by adults?
Baseball Coaching Videos:  Watch over 6 hours of tips on coaching approach, style, philosophy, and my unique player development system. 
Youth baseball carers are short-lived so lets make it count for our players. What do players really want out of playing baseball?
I want to find out more about the 6 DVD Player Development System

---
---