Hey Friends ... sign up for my newsletter and get my
FREE Practice Checklist
---

10U Baseball:

Where the Rubber Meets the Road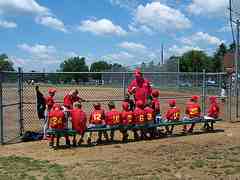 For 10u baseball coaches the kids are starting to get the hang of baseball.
When I do my baseball camps I find it harder to work with the kids that are 8 & under. In fact I have my cut off line at 8 years old.
Kids under 8 are not developed enough to perform the skills of the game vey well.
I could take the parents money and babysit the kids but I would rather focus on the players when they are physically mature enough to perform baseball skills a little better. That's where we start seeing improvements starting at age 9 and 10 years old.
---
---

Catching on to the Game
Starting to Figure it Out


Although far from perfect and polished the 10u baseball players are starting to transform and show a little more consistency in their skills. 10u baseball players are now more able to perform baseball skills that you have shown them how to do.
Their response to coaching, teaching and instruction is more immediate than the 8u baseball player. We start to see some fruits of our labors. Some good results start to emerge in many young ballplayers.
There Is Another Way
The View From 20,000 Feet


Coaching: In the 10U baseball coaching we still see the problem of lack of proper training for our coaches. When we turn loose our volunteer dad coaches with little if any training and instruction on how to coach baseball we are in for major problems.
Are you aware there is a more appropriate approach to youth baseball than the major league baseball model?
Do you think the traditional approach to youth baseball is in the best interests of youth ballplayers?
Is our current system the best model to develop ballplayers?
Have you ever stopped to look at our youth baseball model from 20,000 feet? What does it look like? Are we providing a platform for players to build skills and fundamentals?
10u baseball coaches and baseball parents are only going to revert back to what they know or are going to imitate their peer coaches. Coaches will gravitate to the approach seen in major league professional sports leagues.
That is the only system they know. No one has shown them any other way. Often baseball coaches at this level have one thing in mind. 
What is the number one thing on the mind of most youth league baseball coaches and parents?
When we do not teach 10u baseball coaches and others any other way what else do we expect?
For more background on my unique player development system take some time at the resources information.

We Don't Have Pitching
It is Probably Your Fault


In 10u baseball pitching is now a big part of the game. Baseball players start pitching at age 9 & 10. If you go watch pitchers in this age group the first half of the season hardly anything happens in the games. There is very little action because the pitchers have a hard time throwing strikes.
Since the pitchers are pleasantly wild the hitters are so scared that they are going to get plunked that they start bailing out and don't want to swing the bat.
The first half of the season is often pretty ugly. The second half usually gets better (more action). The pitchers start to find the plate more often and the hitters start getting more confidence and courage to swing the bat.
Until we get to the action part of the games we really don't accomplish much. To fix this problem try to always follow my recommendations for developing the correct number of pitchers per age level.
If you do not have enough pitchers it is likely the fault of the youth ball coaches. Chances are your approach to developing pitchers may be the problem.
Take time to research the resources here for developing an endless supply of pitchers.
Baseball Parents Recipe for Success

Making Life Easier for the Adults
In my letter to 10u baseball parents I try to take some of the burden off the baseball dads and moms. I try to help them find enjoyment while watching their kids play baseball.
It can be very stressful watching your kids play baseball. There is a parental instinct to try to protect our children from harm and adversity.
The bottom line is that competition cannot be controlled and things are not always going to go your child's way on the ballfield.
Do you have a plan to share your coaching philosophy and procedures with your baseball parents?
Do you know the procedures to put in place to communicate with baseball parents?
Are you aware of the damage baseball parents can do at ball games and how to help them understand this?
Is there anything else about baseball that is more important than who wins?
I want all the baseball parents to have an enjoyable experience watching their kids play ball. It takes a good plan to put in place to make sure parents know what your player development system is supposed to look like.
Winning & Losing




Look Behind the Curtain at 10u Baseball
For 10u baseball, the players are beginning to play the game of baseball a little better. With that the parents seem to automatically think every game is the World Series, life and death and nothing matters except the score board.
Hey, I am true American too and I like to win just as much as the next guy. But, you have it all wrong if you put winning as the only measuring stick.
What if you have a youth baseball coach that tells the players to not swing the bat and try to get a walk. It is likely at this age your team will win more that they lose using this approach.
Meanwhile, your kid is getting much closer to exiting baseball. Oh yes, we sure won a bunch of games! But, what did we gain or lose along the way?
Nobody can hit the ball. And if you can't hit the ball...well things don't usually work out too well for anybody.
Look behind the curtain. The immediate gratification of winning a ball game may be deceiving. 
Remember the view from 20,000 feet? You better look at the big picture. My resources can help you see a player development system that breaks from many of beliefs and traditions.
---
---
---

Baseball Impossible: Player Development Make-Over



Build Your Own Culture of Player Development


&
Increase Your Players FUN Level

6-DVD Video Set Building Your Complete Player Development System

Click to Order

Audio CD Format Click Here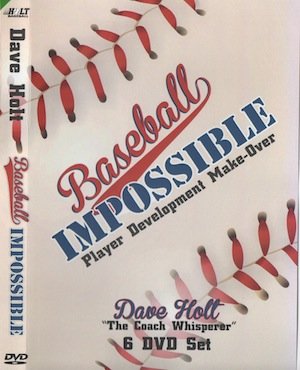 Coaching 6-DVD Box Set
Yes Dave, I Want to Help My Players Enjoy the GAME

Coaching little league baseball & youth baseball can be a blast or could be a  Tough Gig.

Who in their right mind would come back year after year and have teasing baseball practice and never improve their baseball skills? and get welled at by adults?
Baseball Coaching Videos:  Watch over 6 hours of tips on coaching approach, style, philosophy, and my unique player development system. 
Youth baseball carers are short-lived so lets make it count for our players. What do players really want out of playing baseball?
I want to find out more about the 6 DVD Player Development System

---
---