Hey Friends ... sign up for my newsletter and get my
FREE Practice Checklist
---
8U Baseball: Let the Kids Play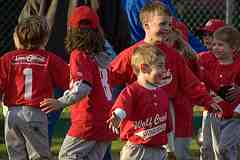 8U baseball aged kids (7 and 8 year olds) still want to 'play'. Children at this age are not seeking or are they equipped to dive into the youth baseball competitive baseball world.
Yet we put them into team shirts and baseball uniforms and whether they like it or not, are ready for it or not, they are competing. The adults start tracking the standings, the win loss percentages, championship trophies, all-star squads, and putting draft picks together to build winning teams.
Does this remind you of anything? Before you know it we look at our children as miniature professional ball players. The games become a World Series as we inspire our youth baseball teams to the playoffs.
Where Is the Coaches Training?

Likely Not Going to Happen
Baseball coaches rarely if ever have any training (estimated about 20% have had any coaching training) on how to coach baseball with the proper mindset and coaching approach. We take our well meaning parents who are truck drivers, bankers, store owners and plumbers and turn them loose to coach our baseball kids.
That is why so many youth baseball coaches revert to the only concept of baseball they know. Looking around at all the peer coaches and baseball parents and they are all doing the same thing. 
If everyone else is following a traditional approach to youth league baseball then it must be right, right? 
No one has ever shown coaches the right way to teach baseball and develop baseball players. No one has shown them how to build a coaching approach with the kids in mind.
No one has shown the adult volunteer coaches how treat kids, talk to kids, handle baseball parents and create a learning atmosphere that is fun and enjoyable.
So, youth baseball coaches in 8u baseball revert back to what they do know and that is a recipe for ballplayers to under develop skills and over emphasize results.
What Does the 8U Player Need?


Baseball practices are usually poorly planned and lack opportunities for players to touch the ball or swing the bat or run the bases. Pre-games are a lost opportunity to have an additional hour of practice drills.
Instead, players toss a couple throws back in forth and say they are warmed up. Then a coach takes one ball and hits some fly balls or grounders to a long line of payers waiting around for their turn to catch the ball.
Then we have to go to the dugout and rest and hear a long pre-game lecture from our 'Knute Rockne' coach trying to get us 'fired up'.
Why? Because in most of our 8u baseball coaches and beyond their mindset thinking is that their job is on the line unless we win this game.
All the adults see is one way, through the lens of 60 years of youth baseball tradition. There is a better way and it takes courage to try it.
Sportsmanship & Teamwork

8u Baseball Items
As an 8 & under baseball coach you are a role model for your players and their parents. You set the tone on the atmosphere you want to create with your kids and baseball parents.
I tell my baseball team and parents right from the start what we are going to strive for and shoot for. My bar is high and I am not talking about winning and losing. I am talking about a high bar on how we will handle situations and character.
Teamwork: Let me show you how to build sportsmanship and teamwork into your coaching approach.
Parents & Youth 8u Baseball

How to Make it Enjoyable
8u baseball parents should have an easy roll to play.
It is a pleasure to help the baseball adults learn how easy it is to be a supportive baseball parent. Do you know the key to enjoying watching your kids play baseball?
Watching our kids play baseball can be nerve racking it you let it. I have plenty of tips to make the youth baseball experience enjoyable for kids and families.
---
---

Baseball Impossible: Player Development Make-Over



Build Your Own Culture of Player Development


&
Increase Your Players FUN Level

6-DVD Video Set Building Your Complete Player Development System

Click to Order

Audio CD Format Click Here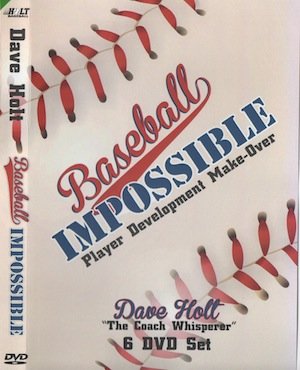 Coaching 6-DVD Box Set
Yes Dave, I Want to Help My Players Enjoy the GAME

Coaching little league baseball & youth baseball can be a blast or could be a  Tough Gig.

Who in their right mind would come back year after year and have teasing baseball practice and never improve their baseball skills? and get welled at by adults?
Baseball Coaching Videos:  Watch over 6 hours of tips on coaching approach, style, philosophy, and my unique player development system. 
Youth baseball carers are short-lived so lets make it count for our players. What do players really want out of playing baseball?
I want to find out more about the 6 DVD Player Development System

---
---