Hey Friends ... sign up for my newsletter and get my
FREE Practice Checklist
---
Wood Bats: What a Feeling Hitting the Ball on the 'Sweet Spot'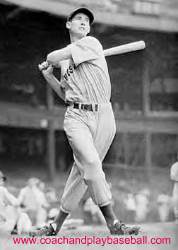 Ballplayers that use wood bats know that one of the greatest thrills in sports is to square up and hit a baseball on the nose. You feel no vibration what so ever.
Meeting a ball perfectly with a wooden bat and feeling the immediate gratification of a batted bat jumping off your ash or maple bat is sensational.
Hit the ball a little off the sweet spot or on the bat handle and you will feel 'stingers' and 'bee-bees'. If the weather is on the cooler side then the 'stingers' are generally magnified.
Derby Baseball Custom Wood Bats 

---
---
Baseball Hall of Famer Ted Williams Explains the Difficulty in Hitting a Baseball Square
Ted Williams: The Science of Hitting
Hitting a baseball—I've said it a thousand times—is the single most difficult thing to do in sport. I get raised eyebrows and occasional arguments when I say that, but what is there that is harder to do? What is there that requires more natural ability, more physical dexterity, and more mental alertness?

That requires a greater finesse to go with physical strength, that has a many variables and as few constants, and that carries with it the continuing frustration of knowing that even if you are a .300- hitter—which is rare item these days—you are going to fail at job seven out of ten times?

Simon & Schuster 1970
Why Wood Bats? 35 Years of
Aluminum Bat Wandering
Wood bats have been a big part of my baseball life. I grew up using wooden baseball bats until I reached college baseball. I started playing college baseball in the mid 1970's right when metal bats came on the market and were authorized for competitive use.
I took a 4-year interruption from wood bats during my college baseball career. Immediately after college I started playing baseball professionally and of course wooden louisville slugger bats are used exclusively in professional organized baseball.
So I began my youth baseball career using wood and ended my professional career with the wooden bat. I really like the game of baseball when wood bats are used.
After playing professionally I coached and managed in professional and college wooden bat leagues for over 20 years. Ash and maple bats bring a true purity to the game of baseball. The game is real when played with louisville slugger bats--not artificial. Baseball is played on much more of level playing field when using wood.

Metal vs Wood Bats:
What is the Best Baseball Bat?
Aluminum bats vs. wood bats: Choosing a baseball bat today whether the bat is wooden or aluminum is going to be harder to tell the difference.
The NCAA has brought to the amateur baseball game the BBCOR bat standards.
The sole reason is to make the bat manufacturers make metal bats act as close to the wooden bat as possible. This 2012 season will see the NFHS sanctioned high school baseball teams enforcing the BBCOR bat standards.
All the other youth baseball organizations will soon be adopting very similar policies and bat regulations.
Baseball is quickly returning back to the wooden bat era. The wooden bat has a relatively small 'sweet spot' on the barrel of the bat. The new generation of metal bats will have a similar size 'sweet spot' as a real ash bat.
Dave Keilitz, the executive director of the American Baseball Coaches Association and a member of the baseball research panel found out some feedback on the new BBCOR approved baseball bats.
Keilitz said coaches who like to manufacture runs with stolen bases, the hit and run play, and some bunting, and who like to teach pitching and defense, tend to like the new bats. Baseball coaches bent on home runs and playing for the big inning don't.
How to Swing a Baseball Bat
The days of seeing baseball scores of 9 to 8 are going to more commonly 4 to 3 or 3 to 2. Lower scores will be more the norm. One run games will be numerous. Executing the offensive fundamentals will be crucial.
Many more pitchers not blessed with fantastic armsbut with the skills to throw two or three pitches for strikes will be able to effectively compete.
Hitters will have to learn how to swing correctly emphasizing professional baseball instruction. Often in the old aluminum bat era with an enormous 'sweet spot' everyone could hit even with a mediocre swing and skill.
High School baseball players and youth league hitters will have to have correct hitting mechanics, skill, strength and many of the attributes mentioned above by Ted Williams.
Keilitz referring to the new BBCOR metal bats said, "But I have heard baseball coaches say that the guys who are good hitters are still good hitters. Guys who baseball coaches did not consider to be good hitters but still hit for good average with the old bats are not hitting for good average anymore with the new bats."
So, if you want to learn how to swing a baseball bat do not rule out choosing a baseball bat that is ash or maple wood. All the college wooden  bat summer leagues have been swing wood bats for several years.
Who knows—the baseball pendulum may end swing all the way back to wood lumber one day. We are certainly closer to the wooden bat than we have ever been since the metal bat was invented.
Baseball Equipment
Click Back to Hitting 101 
BBCOR Bat Standards and Regulations
Choosing a Youth Baseball Bat Size
Youth Baseball Home Page

Baseball Impossible: Player Development Make-Over



Build Your Own Culture of Player Development


&
Increase Your Players FUN Level

6-DVD Video Set Building Your Complete Player Development System

Click to Order

Audio CD Format Click Here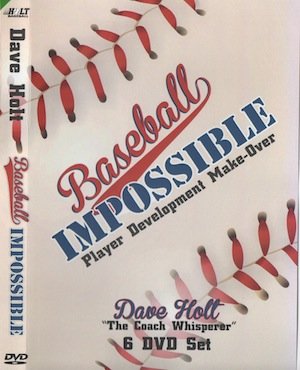 Coaching 6-DVD Box Set
Yes Dave, I Want to Help My Players Enjoy the GAME

Coaching little league baseball & youth baseball can be a blast or could be a  Tough Gig.

Who in their right mind would come back year after year and have teasing baseball practice and never improve their baseball skills? and get welled at by adults?
Baseball Coaching Videos:  Watch over 6 hours of tips on coaching approach, style, philosophy, and my unique player development system. 
Youth baseball carers are short-lived so lets make it count for our players. What do players really want out of playing baseball?
I want to find out more about the 6 DVD Player Development System

---
---