Hey Friends ... sign up for my newsletter and get my
FREE Practice Checklist
---
Choosing Youth Baseball Bat Size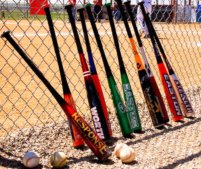 Today's youth baseball bats are way different than 30, 40 and 50 years ago. From the days when there was nothing but wood bats to the present day youth baseball bats that sell in the $200's and $300 's dollar range.
Back in my day I could not imagine asking my dad if he could buy me a $300 bat. The cost of baseball equipment goes a long way to keep some youth baseball players from participating.
The days of having a good old wood bat for a long stretch of the season are in the past. We always stretched out the wood bats life span by gluing, adding screws, nailing and taping the bat when it cracked. It might have lost some pop but it got the job done.
---
---
Aluminum Bat 'Era'
Metal bats and aluminum bats started becoming mainstream in amateur baseball in the mid 70's. Soon bat technology changed the game and the baseball bats became lethal weapons. The big-barrels and light weights created maximum bat speed and a large increase in power hitting.
Youth baseball bats now had an enormous 'sweet-spot' on the barrel. The bat companies knew the players wanted more power and would pay almost any price to get it.
College baseball enjoyed many offensive homerun shows to draw record-breaking crowds. Games were typically high scoring as hitters had a big advantage over pitchers.
Eventually, more level heads prevailed and wise people along with baseball purists said enough is enough. This great game of baseball is becoming a little too dangerous with the rapid exit speeds putting pitchers and infielders in harms way.

2012 Began a Whole New Ballgame

Youth baseball bats are now shifting into a whole new era. Amateur baseball has chosen to make metal baseball bats resemble wood bats in the way the ball comes off the bat. The NCAA shook the baseball world by dropping the BBCOR bat regulations on the college game last year during the 2011 season.
The rest of the various baseball organizations from high school on down to the youth baseball leagues scrambled to make adjustments. Bat regulations seemed like they were changing from week to week in some cases.
The biggest change going forward for 2012 affects virtually every one on amateur baseball. All NFHS high school baseball leagues and teams will follow the college BBCOR bat regulations beginning in 2012 seasons. The rest of the baseball organizations are making final rulings on their own bat regulations.
Many very expensive baseball bats are going to be illegal in game competition from here on out. You are going to have to take some major batting practice swings in order to get your money's worth out of those expensive illegal bats.

How Much Should We Pay for New Youth Baseball Bats?
Competitive High School baseball players will choose and compete with the some of the best equipment on the market. The high school baseball coach may provide some bats but most of the players end up buying their own youth baseball bats or sharing with other teammates.
Baseball parents are going to have to decide how much can we afford? If you are in high school baseball then expect to have to buy the best baseball bats.
Before high school I would be reluctant to buy the top end youth baseball bats. The kids grow so fast that they may only get one season out of the bat. Then the families will have to purchase a bigger sized bat for next year.
Plus, the technology and bat regulations change so fast the bat you have now may be obsolete in a year—kind of like computer technology.
Now for sure if your kids are age 10 and under there is no sense paying $200 for a bat. Tee-ball age you can get by with paying the low entry-level bat prices. If age 12 years old or under I would even look at used bats if they are still legal for your league.

Check With Your Baseball League
for Bat Regulations
Every youth baseball organization will have a written policy for new baseball bats. Choosing Baseball bats for 2012 will largely depend on the bat regulations in the organization you participate with.
High school baseball bat rules for 2012 may differ from the new baseball bats in 2012 for Little League, Babe Ruth bats, USSSA bats, Pony League bats, Ripken Baseball bats and your local recreation league baseball bats.
How to Size a Baseball Bat
Moms and dads often ask me what size youth baseball bat and gloves should the parents shop for. Choosing a baseball bat size is not real complicated. A couple of criteria are mostly all you need to pick baseball bat sizes.
1. The age of the youth baseball players.
2. The player's size and body weight.
Use the Most Popular Baseball Bat Length by Age Chart below to start your baseball bat size search. If the kids body weight and physical maturity is lighter or heavier within each age group then adjust the length accordingly. If the bat you choose turns out a little to big then the young hitter can learn how to choke-up on the bat.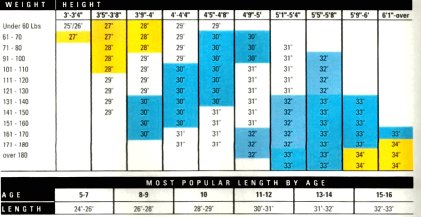 The Best Baseball Bat
To summarize choosing a baseball bat:
1. Know your youth baseball league bat rules, college baseball bat rules and your high school baseball bat rules for 2012.
2. Decide how much your budget allows you to spend on new baseball bats.
3. Use the baseball bat-sizing chart to decide for appropriate baseball bat sizes.
There are lots of choices when you get ready to buy baseball bats. Using the info here in this baseball article should narrow down your scope and help you buy the best baseball bat for you.
Click to BBCOR bat Regulations

Go back to Hitting 101 from Youth Baseball Bats
Return to Home Page from Youth Baseball Bats


Baseball Impossible: Player Development Make-Over



Build Your Own Culture of Player Development


&
Increase Your Players FUN Level

6-DVD Video Set Building Your Complete Player Development System

Click to Order

Audio CD Format Click Here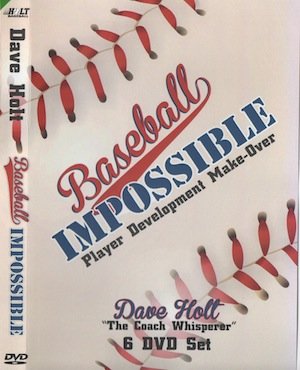 Coaching 6-DVD Box Set
Yes Dave, I Want to Help My Players Enjoy the GAME

Coaching little league baseball & youth baseball can be a blast or could be a  Tough Gig.

Who in their right mind would come back year after year and have teasing baseball practice and never improve their baseball skills? and get welled at by adults?
Baseball Coaching Videos:  Watch over 6 hours of tips on coaching approach, style, philosophy, and my unique player development system. 
Youth baseball carers are short-lived so lets make it count for our players. What do players really want out of playing baseball?
I want to find out more about the 6 DVD Player Development System

---
---