Hey Friends ... sign up for my newsletter and get my
FREE Practice Checklist
---

12U Baseball: Better Get
It Right

Or It Might Be Game-Over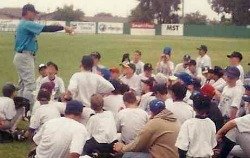 12U baseball is an extremely critical time in the development cycle for ballplayers.
This is the age level just prior to what I call the 'BIG JUMP'. The biggest and most difficult jump in youth baseball is the transition from age 12 to age 13.
It can be the difference in staying and not staying. A baseball player's career is on the line at age 13 & 14 years old. We know that 75% of kids stop playing sports by age 14.
Have you ever noticed ball players that do pretty well at age 12 but disappear from the baseball world by age 13 & 14?
Are you aware of the difficulty of playing baseball on the bigger diamonds after 12 years old?
What do you think might be the biggest service we could provide for ballplayers in the 12 & under age groups?
The water is fixing to get deep and rough. It will be white water rapids after we leave twelve year old baseball. 
We better do everything we can to prepare our kids for 'BIG JUMP' that is lurking around the bend...otherwise we lose them.
---
---
---

Coachable Age Group
Mind and Body Maturing


12u baseball is a fulfilling age to coach baseball. This is the first age level that ball players are physically able to make coaching adjustments on a more consistent basis.
In other words the mind and the body of 11 and 12 year olds can actually do what you demonstrate and model most of the time.
Athleticism and hand-eye coordination finally develop to a stage to play the game with more consistency. You start seeing more positive results in the execution level.
Now, do not be deceived. Players can very often have a lot of success playing on the smaller diamonds even with major flaws in batting style, throwing technique and baserunning. But wait…the real proof of a kids ability will be fully exposed at age 13.
Ever play ball with someone that was really good at 11 & 12 years old even to the point you thought they were sure bet for college and maybe pros but they vanished by age 14?
Take caution in figuring out all your college scholarships and professional contracts in order yet. Hold the truck up. We have a long way to go.
All-stars and travel ball players do not automatically equate to making the high school team.
We Don't Have Pitching
It is Probably Your Fault


I have a pretty good plan to make sure you have pitching. There really is no excuse for youth baseball leagues and travel ball teams to not have enough pitching.
My pitching strategies give you an easy template to follow from high school baseball all the way down to entry age levels. 
Enjoy the fruits of your work by implementing an organizational plan to harvest plenty of pitching every year.
The Cozy Confines


Field Dimensions for 12u Baseball Can Trick Us




The cozy confines of the 11 & 12 year ballfields are very comfortable for this age group. The game at times looks kind of easy to play.
The physical maturity and size of the kids fit the field dimensions in a way that they can actually be successful and still not be very good skill wise. 
The ballplayers at this age can deceive us. They can trick us into thinking they might be better than they are. Especially if their throwing and hitting techniques have some flaws. 
Consider these items:
The baseball moms and dads have the luxury of pre-puberty at this age. Kids still like to be with their parents. Soon, the middle school years will be here and teenagers hit a different stage in relation to their parents. 
Baseball parents should be aware of the facts of the rough waters ahead at age 13 & 14.
Do you know baseball parents that praise their kids according to how well their kids perform on the ball field?
Is baseball player development of any importance at this age or do they already have everything they need?
Is it better to concentrate on one position or play multiple positions?
What positions should lefthanded players play?
How important is it to be able to handle the ball? Catch and throw it well?
Where does hitting ability fall in the importance to staying in baseball long term?
What is the one line every baseball parent should tell their kids after watching them play?
Where does winning and losing fit into the picture and how should youth baseball approach this for 12u baseball?
For a complete rundown on my unique player development system I encourage you to visit some of my additional material here.

Baseball Impossible: Player Development Make-Over



Build Your Own Culture of Player Development


&
Increase Your Players FUN Level

6-DVD Video Set Building Your Complete Player Development System

Click to Order

Audio CD Format Click Here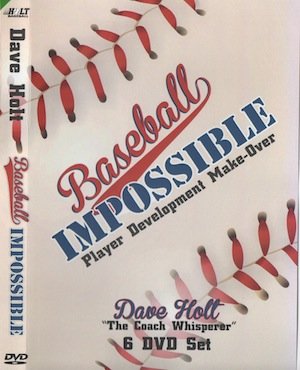 Coaching 6-DVD Box Set
Yes Dave, I Want to Help My Players Enjoy the GAME

Coaching little league baseball & youth baseball can be a blast or could be a  Tough Gig.

Who in their right mind would come back year after year and have teasing baseball practice and never improve their baseball skills? and get welled at by adults?
Baseball Coaching Videos:  Watch over 6 hours of tips on coaching approach, style, philosophy, and my unique player development system. 
Youth baseball carers are short-lived so lets make it count for our players. What do players really want out of playing baseball?
I want to find out more about the 6 DVD Player Development System

---
---