Hey Friends ... sign up for my newsletter and get my
FREE Practice Checklist
---
BBCOR Bat Begins the Modern Day Wood Bat Era

The new BBCOR bat standards are here for the 2013 & 2014 baseball season whether we like it or not.
To clear up some of the new bat regulations questions we are going to talk about what is legal and what is not, and whom the new batting rules will affect.
Probably everyone in amateur baseball eventually will be affected in one way or another.
---
---
What is BBCOR -BESR - ABI?
There are a lot of abbreviations out there that have been stamped on youth baseball bats in recent years. I will go over some descriptions and hopefully clarify the new 2013 baseball bats standards and regulations for you.
BESR: (Stands for Ball Exit Speed Ratio).
This has long been the testing model used in the baseball equipment industry to try to make sure that aluminum, metal and all non-wood bats performed like wood bats.
Basically, the test measures how fast the ball comes off the bat barrel. Unfortunately the test did not anticipate that many bats performed significantly better after being broken in.
A trampoline effect was happening when the ball hit the bat. The trampoline kick back makes the ball exit faster and travel farther than wood bats with no trampoline effects. So the test needed to be phased out.
BBCOR: (Stands for Batted Ball Coefficient of Restitution).This is the current model of bat regulation testing. This test is also set up to measure all non-wood bats to make sure they come very close to simulating a wood bat.
The difference with the BBCOR test is that it also measures the ball exit speeds after the bats have been broken in. That is why the ABI (Accelerated Break-In Test) is used in conjunction with BBCOR.
The ABI test is performed on bats that simulate heavy use. Composite bats are known to perform better the more they are used so the ABI can insure that all bats perform similar to wood bats even after heavy usage.
2013 & 2014 College & HS Bats
The NCAA Baseball Research Panel recommended the new BBCOR formula for the college game after studying the Division I increase in offensive statistical performance in recent years.
The goal of the panel was to institute a better formula to make sure non-wood bats perform similarly to wood bats. In the fall of 2010 the NCAA laid out the BBCOR bat regulation on college baseball.
The 2011 college baseball season was the first in the new era of non-wood bats simulating real wood bats. Looking at the statistics provided by the NCAA I think college baseball found the right formula. From the NCAA
Are We Closer to Wood Bats?
Division I batting average, scoring and home runs per game in 2011 resemble the wood-bat 1970s more than they do recent years.

Division I teams in 2011 averaged 5.58 runs per game, well off the record 7.12 in 1998 and below 6 for the first time since 1977 (5.83), which was just the fourth season of the aluminum bat in college baseball.

Home runs left parks at an average of .52 per team per game in 2011 compared with .94 last year and 1.06 in 1998 (also the peak year for that category). That resembles wood-bat days, too (.42 in the last year of wood in 1973, and .49, .50 and .55 in the first three years of metal).

Batting average in 2011 was .282, the lowest since 1976. Earned-run average, on the other hand, was its best (4.70) since 1980 (4.59).

BBCOR Baseball Bats Act Like Wood Bats
Some baseball coaches are young enough to only know the aluminum bat 'ping' era of the game and truly miss the power-laden bats. Others say that these new bat standards have brought back the game of baseball to the way it was originally designed to play.
The emphasis comes back to pitching and defense, executing the little plays of the game instead of waiting for the three run homer. Stealing and the hit-and-run play come into the game more often.
Gone are the days when the 5'7" ninth hitter in the line-up is hitting opposite field home runs on a regular basis.

NCAA Baseball Rules Committee chair Jeff Hurd, a senior associate commissioner at the Western Athletic Conference, said regardless of whether they like the new standards, coaches and players at least understand why the change was made. "Maintaining the integrity of the game and enhancing player safety were at the forefront" he said.
High School Baseball Bat Rules
for 2013 & 2014
Beginning in 2012 all NFHS high school baseball teams and leagues will play with the BBCOR bat regulations. That means that many very expensive baseball bats will not be legal.
Bats with a BESR stamp certification will no longer be used. It is unlikely that the BESR certified old baseball bats would be re-tested either.
So many high school players will have some very expensive batting practice bats this coming season. Baseball bats for high school will have a BBCOR stamp like this on the barrel:

---
Little League & Youth League Bats
All the youth baseball leagues will be making BBCOR bat rules adjustments for the 2013 baseball season. One thing is for sure. Many families will find the bats they used last year are no longer approved and will not be allowed in competition.
Most of the youth leagues did not make major changes in the 2011 bat rules. The major changes will be announced soon for 2012 & 13 bat rules. You can figure the closer the players are to high school baseball that the youth baseball leagues are likely to impose the BBCOR bat rules.
Babe Ruth/Cal Ripken, Pony Baseball, Dixie Youth Baseball and USSSA are likely to quickly follow the BBCOR bat rules for ages 13 and over. Players 12 and under may not see as many changes in bat rules in 2012.
To be safe check your league BBCOR bat rules before you spend money on baseball bat equipment. You do not want to spend hundreds of dollars and have a nice piece of aluminum pipe good for nothing.
Back to Youth Baseball Bats from BBCOR Bats
Go back to Hitting 101
Youth Baseball Home

Baseball Impossible: Player Development Make-Over



Build Your Own Culture of Player Development


&
Increase Your Players FUN Level

6-DVD Video Set Building Your Complete Player Development System

Click to Order

Audio CD Format Click Here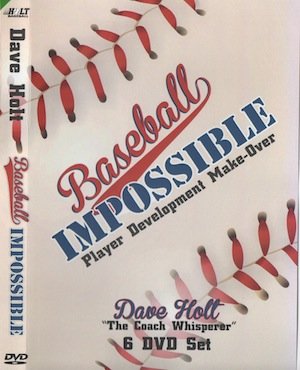 Coaching 6-DVD Box Set
Yes Dave, I Want to Help My Players Enjoy the GAME

Coaching little league baseball & youth baseball can be a blast or could be a  Tough Gig.

Who in their right mind would come back year after year and have teasing baseball practice and never improve their baseball skills? and get welled at by adults?
Baseball Coaching Videos:  Watch over 6 hours of tips on coaching approach, style, philosophy, and my unique player development system. 
Youth baseball carers are short-lived so lets make it count for our players. What do players really want out of playing baseball?
I want to find out more about the 6 DVD Player Development System

---
---