---
FREE Report: The ONE Tool Every Coach Needs

You can run your entire organization with this ONE Tool.
---

Unbeatable Baseball Hitting Tips

Absolutes of Hitting
There are many baseball hitting tips that are excellent, dynamic and vitally worth teaching. We are going to look at three distinctive areas to practice our coaching practic on.
Superb coaching books are written on all aspects of batting mechanics, batting instruction, and hitting drills. Lets look at a few crucial points.
Riveting strategies and vibrant practice planningare always kept simple. Training batting the right way to hit takes time and amazing patience.
The professionals know the remarkable skills it takes youth players to acquire. As a mentor, just teach a little compelling coaching at a time and know how to build confidence.
1. Terrific Coaching Tip
The Powerful Stance: Like a Gorilla



The energetic athletic position is the basis for the batting stance. In football it would be the linebacker stance. In basketball it would be the guarding stance.
The feet are spread almost twice shoulder width. The knees are bent.
The upper torso is slightly bent forward at the waist. The body weight is on the balls of the feet—not flat footed.
Most professional hitters bat with a similar variation of these fundamentals.
Did you know explosive power off wood bats is partially due to having your knees bent during the swing.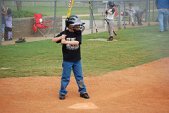 Decide for yourself. Which batter appears to be powerful, vibrant, and energetic—like he will explode?
One looks like he standing in line for lunch and one looks like an intense middle linebacker ready to pounce.
Wider feet, bend the knees and the waist forward = competitive player.
---

2. Drastically Increase Power Instantaneously


The sensational awesome feeling of hitting a ball so squarely on sweet spot that you felt absolutely no vibration is the ultimate experience in baseball.
How can I experience that exhilarating feeling over and over?
By trying to keep the wrists in a position through the contact zone so the ball 'jumps' off the bat. 
If you fail to keep the hands in the power position when the bat travels through the hitting zone then a batter is in for major frustration.
Batters will rarely if ever experience the feeling of hitting the ball square on the sweet spot.
Have you ever heard youth baseball coaches or baseball parents tell players...
You have to roll your wrists when you hit the ball.
Let the ball travel.
If hitters do not get this part of the swing right there is a very good chance their baseball careers will be short lived.
Hitting will become such a demoralizing struggle that players will try to find an escape from the game.
Ever notice hitters that...
Hit the ball on the ground right in front of homeplate on a regular basis.
Swing and miss too much.
Struggle to hit the ball.
Cannot generate any power to get the ball out of the infield.
If so, one of two things is happening. The eyes are not watching the ball or the wrists are in the wrong position during the baseball swing.
For more complete professional hitting technique and see what the correct wrists position is supposed to be stop by the resources page here.
This is crucial we get this right. Few people in youth baseball know how to fix this problem of improper wrist position in the swing.
Check out the coaching points in the resources page to learn how to really help hitters square up on the ball and keep them in the game.
---

3. Superior Baseball Hitting Tips 
How to Finish the Swing 


The incredible proof is in the pudding. When I see youth ball players swinging their youth baseball bats into a complete masterful powerful finish...
I know they have a manager, coach, or personal trainer that is teaching professional style fundamentals.
At my clinics, practice, lessons and instruction we hammer home the imperative for a power finish.
The indispensible powerful finish is proof that the swing fundamentals were superbly executed.
Do you have hitters that...
Lack power.

Inconsistently make contact.
Rarely hit the ball hard.
Cannot hit the ball to the outfield.
Take one hand off the bat during the swing.
Shows poor balance after the swing.
If so, the batter's follow-thru may be a problem. A poor, incorrect follow-thru can dramatically decrease hitting power. Lack of a proper finish will keep hitters from reaching their maximum power ceiling.
For the keys to a proper power follow through and finish to the swing it is important to understand the dynamics and techniques to coach hitters successfully.
Take some time to look over my professional baseball style hitting techniques.
Return to Hitting 101 from Baseball Hitting Tips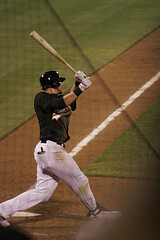 ---
FREE Coaching Course

Start building your own 'Culture of Player Development'
I will send you a 4 Part Coaching Course right to your email box.

Baseball Impossible: Player Development Make-Over



Build Your Own Culture of Player Development


&
Increase Your Players FUN-Level

6-DVD Video Set Building Your Complete Player Development System

Click to Order

Audio CD Format Click Here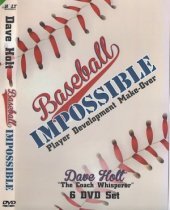 Coaching 6-DVD Box Set
Yes Dave,  I Want to Help My Players Enjoy the GAME

Coaching little league baseball & youth baseball can be a blast or could be a  Tough Gig.

Who in their right mind would come back year after year and have boring baseball practice and never improve their baseball skills? and get yelled at by adults?
Baseball Coaching Videos: Watch over 6 hours of tips on coaching approach, style, philosophy, and my unique player development system. 
Youth baseball careers are short-lived so lets make it count for our players. What do players really want out of playing baseball?
I want to Find Out More about the 6 DVD Player Development System

---
---