Hey Friends ... sign up for my newsletter and get my
FREE Practice Checklist
---

Baseball Hitting Drills:

Stunning
BP in 15 Minutes
---
---
Imagine baseball hitting drills during practice that lasted 15 minutes. And your whole team got to swing their youth baseball bat 15 times at live pitches.
Your youth baseball players are totally energized. Every player is completely captivated by the action of the batting practice.
Typically, youth league batting practice is stale and boring. One batter hits at a time. The rest wait for an occasional batted ball in the outfield.
Major League batting practice.
The coach pitches to one batter. When the ball is hit the players make a play.
Each batter may get like five swings. Then another player gets to bat.
A good half an hour to an hour goes by with coaches giving tips, mentoring and teaching along the way.
Secret to Outstanding
Baseball Practice Drills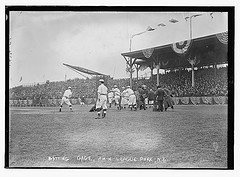 I have had some really incredible success using this type of ball for batting practice. It enables three and up to four hitters in the batters box at the same time.
If you can get a hold of about three dozen of the specialty ball you can easily get your entire team a round of 12 cuts of batting practice on the field every day you practice or play a game.
My specialty ball batting drills are safe to use in a small area. They are a cheap batting aid and easy to find. Most of all—they increase the amount of practice swings enormously. 1911 Old School Batting Practice
The baseball swing improves drastically with repetition. Your baseball coaching skill increases.
Coaching youth baseball becomes easier to deliver batting instruction. Batting practice is now a time of building self confidence in your players.
This is one of the best baseball drills for kids. If you are coaching little league, or any amateur level, you should plan practice strategy to use this specialty ball in your batting practice.
Great Pre-Game Warm-Up Drill

Hitting Drills for Any Age
Avoid the one batter at a time in the batting cage before the game. Try this swing drill if you have room. No, find room. You can triple the swings in half the time.
Some coaches do the wiffle ball hitting drill. I think this batting drill is better. Hitters can see and feel results live on the field.
Affirmation of a good swing is instantly visual. Wiffle balls are another good aid to have, but this specialty ball step it up a notch.
Return to Hitting 101 from Baseball Hitting Drills
Return to Home Page

Baseball Impossible: Player Development Make-Over



Build Your Own Culture of Player Development


&
Increase Your Players FUN Level

6-DVD Video Set Building Your Complete Player Development System

Click to Order

Audio CD Format Click Here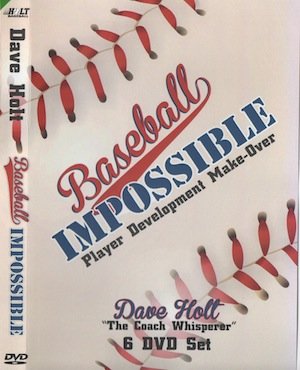 Coaching 6-DVD Box Set
Yes Dave, I Want to Help My Players Enjoy the GAME

Coaching little league baseball & youth baseball can be a blast or could be a  Tough Gig.

Who in their right mind would come back year after year and have teasing baseball practice and never improve their baseball skills? and get welled at by adults?
Baseball Coaching Videos:  Watch over 6 hours of tips on coaching approach, style, philosophy, and my unique player development system. 
Youth baseball carers are short-lived so lets make it count for our players. What do players really want out of playing baseball?
I want to find out more about the 6 DVD Player Development System

---
---