Hey Friends ... sign up for my newsletter and get my
FREE Practice Checklist
---

Your Baseball Hitting Life Span:


Hitting Keeps You In the Game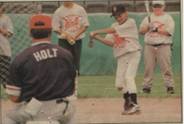 A few years ago I was talking about baseball hitting life span and hitting with long time Boston Red Sox scout George Digby. I remember George telling me that the National League had the Designated Hitter rule, too. They just called it Left Field.
Baseball is constantly looking for players that can hit. Sometimes like the National League they will play a player that is below average in the field hoping they will more than compensate for their below par outfield defense with additional offensive hitting production.
George Digby was saying that the American League has a special position for players that can really hit but may be deficient defensively.
The National League did the same with many great hitters who they put in Left Field.
Hitting: Your Ticket to the Line-Up


Increasing Playing Time
Baseball coaches have a way of getting their best hitters in the lineup. Good hitters do not sit the bench too long.
If a hitter can help his team produce a significant part of the teams offense then he will continue to get lots playing time. I don't know many if any baseball coaches that sit good hitters on the bench for too long.
When baseball coaches make their line-up everyday they rarely leave off players that generate run production.
A Hitter Will Go As Far
As Their Bat Takes Them
It is usually the beginning of the end when a player reaches a point in his career where he can no longer hit enough to earn playing time. When he starts sitting the bench he becomes embarrassed or bored. Once frustrated by not being able to hit the ball solid often enough youth players start looking for other options to spend time.
Often the parents stop praising the player since they associate sports success with production. When the players' hitting production tapers off the parents also stop praising the player.
This also leads a youth hitter to look for somewhere better to spend their time. That is why I say your baseball career lifespan depends on your hitting production unless you are a good pitcher. Everyone will reach a ceiling with your batting and the game will pass you by.
Could be at nine years old, twelve, fifteen, nineteen or thirty nine. Eventually hitting ability will likely play a big role in your baseball hitting life span.
What Good Hitters Do:


Your Hitting Life Span Could Be in For Trouble
Hitting is a tough gig. Batting coaches are always trying to help players be a better hitter. There is no magic formula for your hitting life span. But, there are some hitting techniques and baseball & softball basics on how to be a better hitter.
1.  Hitting Agressiveness:
Professional hitters have a certain mindset when they enter the batters box.
Unfortunately, youth baseball coaches and parents do not know what successful hitting mindset is.
Without knowing any better youth hitting coaches and parents actually crush youth batters from haveing the proper professional hitting mindset and approach.
2. Know Where to Hit the ball:  
In relation to home plate, where do professional hitters make contact with the ball?
If young batters do not know where to meet the ball in relation to their place in the batters box they could be in for big trouble.
Everyones says today, 'Let the ball travel.' Well if you don't know what that really means you could be putting hitters in a real poor hitting position.
3. Ready for the Pitch:
What pitch does a professional hitter look for first? This could cause another huge problem for amateur hitters.
Unless you are looking for this pitch you could really struggle. 
What kind of 'mistake' pitches should a hitter look for the swing at?
For the professional baseball hitting approach and philosophies please visit the resources pages here
Do these 3 tips on hitting and your baseball and softball careers will last longer and be way more enjoyable.
Baseball Swing:
Play Baseball with Good Hitting Technique
Many players have a poor baseball swing because they do not follow the 3 top batting tips we just went over. When hitters are constantly confused on what mindset to have, what pitch to look for, and where to contact the ball, the swinger will continue to struggle, go into batting slumps, and become more frustrated.
If you are going to play baseball, use hitting drills, use good batting techniques and practice baseball basics, remember everything works around the 3 top tips on hitting.
Get up to speedon professional hitting techniques, tips and approach. Visit my resources pages and look at the options to help your hitters hit like the pros.
You will be getting the same professional baseball instruction as the pros get. You will know how to hit a baseball further. You will see an instant improve baseball swing.
These 3 tips for batting will increase your baseball skills and show you how to improve batting. Use these three best tips for batting as your own baseball instructions to hit the ball harder, further and more often. Your baseball hitting life span will keep you in the game.
Return from Baseball Hitting Life Span to Hitting 101
---
FREE Coaching Mini-Course


Take a sneak peek under the hood and see how PRO baseball coaches approach youth baseball coaching.
Free Mini-Coaching Course
* It only takes an hour or so of your time.
---

Baseball Impossible: Player Development Make-Over



Build Your Own Culture of Player Development


&
Increase Your Players FUN-Level

6-DVD Video Set Building Your Complete Player Development System

Click to Order

Audio CD Format Click Here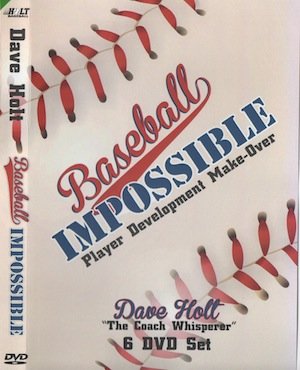 Coaching 6-DVD Box Set
Yes Dave,  I Want to Help My Players Enjoy the GAME

Coaching little league baseball & youth baseball can be a blast or could be a  Tough Gig.

Who in their right mind would come back year after year and have boring baseball practice and never improve their baseball skills? and get yelled at by adults?
Baseball Coaching Videos:  Watch over 6 hours of tips on coaching approach, style, philosophy, and my unique player development system. 
Youth baseball careers are short-lived so lets make it count for our players. What do players really want out of playing baseball?
I want to find out more about the 6 DVD Player Development System

---
---