Hey Friends ... sign up for my newsletter and get my
FREE Practice Checklist
---

Avoiding the Hitting Slump

The Causes of Slumps
Avoiding the dreaded hitting slump is something every baseball player wants to do. When the hits stop falling in it can bring a lot of frustration.
Take it from someone that had plenty of slumps himself. I have had my share and have tried my best to help counsel plenty of other players out of their woes.
First, let us take a look at some of the causes of slumps.
Second, we will turn to some slump buster remedies that may bring us out of the hitting slump.
How Did I Get In a Slump?
I was Hitting So Good Last Week.
Rac Slider, my former minor league manager I played for with the Boston Red Sox used to say, "Holty, It is a round ball and a round bat". Rac meant that two round objects are trying to meet up square, which is not a very easy thing to do.
Hitting slumps are going to happen because hitting the ball square is hard to do in the first place.
We will analyze four hitting slump causing scenarios leaving out the one that I fall under which is-- I probably was not that good of a hitter to begin with (lack of hitting skill ability).
Hitting Tips


Avoiding Batting Slumps
1. Over-thinking: Carl Yastrzemski, the HOF star of the Boston Red Sox said that when he was hitting his best his mind was unaware of any consciousness of his body.
In other words, your mind is unaware of any physical parts of your body. You are not thinking of where your feet are stepping, or what your hands are doing.
Nothing, just complete mind freedom. The baseball pitch looks like a big huge softball coming in so clearly since the mind is clear of extra clutter.
During hitting slumps though your mind can be cluttered with all kinds of garbage.
Garbage in—garbage out. While you waiting for the pitch you start thinking stuff like, where is my elbow? Are my knees bent? Don't forget to squish the bug.
And wham, you now have so much on your mind that the pitch coming at you looks like a teeny little pea that gets on you so quick you thought a bullet was going by.
Ever see youth baseball coaches coaching hitters during the game saying stuff like:
I know, you are just trying to help your players. Unless you really understand teaching hitters you may be part of the problem.
That is why professional baseball coaches have a very specific style and coaching approach to teach hitters. 
How Top Baseball Hitters Think


Staying Away from the Hitting Slump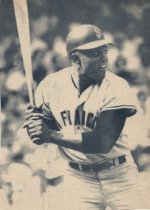 Professional baseball hitters have one important thing on their mind when they go to the batter's box.
Unfortunately, very few youth baseball coaches know or understand what mindset pro hitters have.
It is more common and traditional for our youth baseball hitters today to have the completely opposite, wrong mindset when they enter the batter's box.
Do you have any batters that...
make inconsistent contact.
lack power.
Look tentative at the plate.
experience frustration for not hitting the ball.
Rarely even take a good swing at the ball.
One of the problems may be their mental mindset and approach. Taking the wrong mindset up to the plate can make or break a hitter.
To avoid teaching and developing hitters with the wrong mindset take a look at the player develop resources available here.
Hits Baseball Math


Law of Averages
Law of Averages: Baseball has a way of averaging out over the course of a season.
Sometimes slumps are just a natural baseball progression that you can blame on statistical averages. And there is nothing you can do to stop it.
Say a batter gets ten hits in a stretch of twenty at bats. Their batting average is .500 in this 20 at bat stretch.
But lets say the batter is a .300 average career hitter. Then somewhere over the season he will have to go through a stretch of at bats to balance out the average to get back to down to .300.
So, their next 20 at bats they may only get three or four hits for maybe a .150 average.
Tips For Batting & Improving Baseball Swing


Flying Open: Most hitters like to pull the ball. That is where most players display their most power. But, constantly pulling the ball can lead to the front shoulder flying open too soon.
If you are facing mediocre young pitchers you can probably continue pulling the ball with success. But when you face the better pitchers they will exploit your holes in your swing.
When the front shoulder flies open too soon you give a good pitcher too many openings to get you out.
This can cause hitting slumps. That is why power hitters are sometimes low average hitters. They can hit the inside pitch but have many holes on the outside half of the plate.
Hitting Slump Busters


Everyone Wants to Help




There is no one size fits allhitting slump busting remedy. Every player's situation is unique. Here are some common busters that fit the majority of scenarios.
Try to keep the mind clear. The problem is everyone is going to want to help.
Dad will give his two cents when you get home after the game. Maybe Mom, too. Grandpa Bob who used to play a little back in his day gives you his thoughts.
You go to the batting cages and the batting instructor adds his prescriptions. You are down at the barbershop on Saturday morning and the barber gives you his hitting tips fix.
Now the problem is compounded. Your head is spinning. You start pressing, worrying, thinking of every tip, and the slump likely gets worse before it gets better.
Batting Techniques:




Up the Middle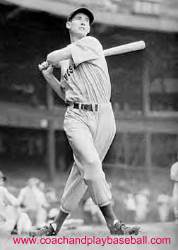 One of the greatest hitters of all time, Ted Williams gave some great advice to our minor league ballplayers in spring training every year.
Ted, who probably never suffered through many prolonged hitting slumps, would advise young hitters when facing any adversity to think in your mind…'Hard through the Middle'.
Whenever the background was tough, weather was bad, opposing pitcher was really good, count not in your favor, umpire with a big zone, lights are bad, or were slumping…think hit the ball hard through the middle.
Why? Because this would likely help keep your shoulder form flying open too soon.
Your head and eyes were more likely to track the different pitches longer. You can usually cover more of the strike zone. 
Prepare your coaching approach to follow the way the pros do. Check out more professional baseball style hitting philosophies. 
Using the Best Swing You Have 
Put a Good Swing on It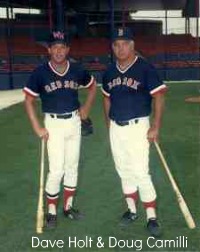 Go With the Best Swing You Have: One of my former coaches and later one of my coaching colleagues, Doug Camilli, who played several seasons in the Major Leagues, told us some great advice to help keep the mind free during your at bat.
Doug'er would tell you to only take your best swing that you have that day up to the plate with you and go with it. In other words, do not try to over analyze your swing.
Do your swing fixing and tinkering during batting practice. When you get in the game just try to put your best swing you have on the pitches.
These are suggested remedies for getting out of hitting slumps. Remember, there will be peaks and valleys as a ballplayer.
Stay humble always because hits come a plenty at times and the game will seem so easy. But, get to cocky and it will be harder to get though the down times.
That is why the professionals say to play baseball at an 'even keel'. Not too high, not too low…even keel.
Professional Hitting Approach Player Development System
Go Back to Hitting 101 from Hitting Slump Busters
---
---

Baseball Impossible: Player Development Make-Over



Build Your Own Culture of Player Development


&
Increase Your Players FUN Level

6-DVD Video Set Building Your Complete Player Development System

Click to Order

Audio CD Format Click Here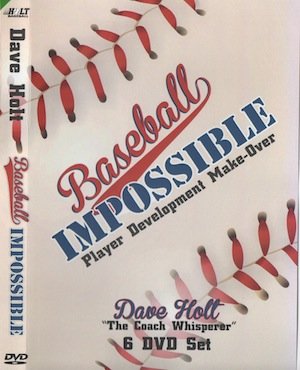 Coaching 6-DVD Box Set
Yes Dave, I Want to Help My Players Enjoy the GAME

Coaching little league baseball & youth baseball can be a blast or could be a  Tough Gig.

Who in their right mind would come back year after year and have teasing baseball practice and never improve their baseball skills? and get welled at by adults?
Baseball Coaching Videos:  Watch over 6 hours of tips on coaching approach, style, philosophy, and my unique player development system. 
Youth baseball carers are short-lived so lets make it count for our players. What do players really want out of playing baseball?
I want to find out more about the 6 DVD Player Development System

---
---