Hey Friends ... sign up for my newsletter and get my
FREE Practice Checklist
---
Simple, Fun Youth Baseball Practice Drills 
Whenever youth baseball practice drills are happening the drills should be upbeat, energetic, competitive and fast paced. There should be very little down time and verbal baseball teaching should be kept brief and positive.
Keep the action flowing. The last thing you want is to use one baseball. You need a bucket of baseballs hopefully a dozen and a half or more. Three or four dozen is best.
Putting the infielders in their positions and hitting a single ground ball to each individual player while waiting for the ball to get back to homeplate is BORING and a poor use of practice drill time.
Game-Like Baseball Drill: Fun Live "Throw em 'Out' Drill
1. Divide your youth baseball team into three equal skill groups. If you have a twelve person team then four on a team.
2. Have one infield drill group line up at the shortstop position in a single file line.
3. Have another infielder drill group line up behind first base in foul territory.
4. The last of the three infield drill groups put on a batting helmet and line up behind home plate.
5. Put a large bucket of baseballs next to the fungo hitter coach near home plate.An empty bucket is placed conveniently near firstbase out of harms way. You do not want to waste vital seconds each play waiting for the ball to be returned to the coach.

Catching and Throwing Drills for Baseball
The infield baseball drill begins with the fungo hitting coach hitting a routine groundball to the first player in line at shortstop.
The first runner in line at home plate immediately runs to first base running through the bag. The first player in line at first base sets and prepares to catch the throw from the shortstop.
A score is kept for each baserunning group. When a batter-runner beats a throw to first base and is safe the baserunning group gets a score.

Additional Notes: Fun Baseball Drill
Have each of the three groups rotate in each of the three places during the baseball fielding drill.
Each group takes an equal amount of turns at each spot: shortstop for fielding and throwing drills for baseball and at firstbase for catching and fielding techniques.
And finally a turn at home plate running the bases. A final score is kept noted for the group that makes it to first base safely the most.
Have the kids keep a vocal score of their group. Set up a prize of some sort for the top group.
Keep the pace fast. As soon as the batter-runner gets past first base prepare for the next ball to be hit to the next shortstop in line. Keep the defensive drill moving quickly.
 Option: Have the runners run every other play if they are running out of gas. This is a good baseball conditioning drill too.
 Have a double or triple point round on the last turn for each group. This increases the energy and importance of the youth baseball practice drills.
 Keep an eye out for safety: Watch out for really strong baseball arms throwing to weaker players that have trouble catching the ball at first base.
 Have your lefty players trade groups so they are always playing first base.

Game-Like Simulated
Baseball Infield Drills
This fielding drill simulates baseball game like conditions. The fielders have to charge the ground ball, get rid of the ball quickly and throw an accurate throw to firstbase.
Also, the first baseman has to catch the ball while touching the base. A combination of baseball basic fundamentals that is not that easy to complete successfully.
In addition, every player gets a chance to play shortstop and firstbase. The good, the bad and the ugly, but it is the only way players can improve their defensive skills & youth baseball practice drills.
Go to Top Practice Tips from youth baseball practice drills
Back to Youth Baseball Home

---
---

Baseball Impossible: Player Development Make-Over



Build Your Own Culture of Player Development


&
Increase Your Players FUN Level

6-DVD Video Set Building Your Complete Player Development System

Click to Order

Audio CD Format Click Here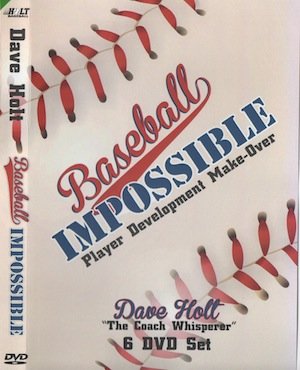 Coaching 6-DVD Box Set
Yes Dave, I Want to Help My Players Enjoy the GAME

Coaching little league baseball & youth baseball can be a blast or could be a  Tough Gig.

Who in their right mind would come back year after year and have teasing baseball practice and never improve their baseball skills? and get welled at by adults?
Baseball Coaching Videos:  Watch over 6 hours of tips on coaching approach, style, philosophy, and my unique player development system. 
Youth baseball carers are short-lived so lets make it count for our players. What do players really want out of playing baseball?
I want to find out more about the 6 DVD Player Development System

---
---