Hey Friends ... sign up for my newsletter and get my
FREE Practice Checklist
---
Effective Coaching
Tips for Baseball
One of my best coaching tips for baseball is this. Teach more than the game.
We baseball coaches are pretty good at coaching skills, coaching strategy and teaching baseball techniques. We are called to go beyond the X's and O's and baseball fundamentals.
We must take advantage to seek opportunities to teach more than the game. Baseball is our 'vehicle' that we use as an excuse to teach vital life skills and virtues.
If a group of baseball kids can leave us as better teammates, having learned to play by the rules and pulled together when times are tough, don't you think you might have left a pretty big footprint on their lives?
"A coach is someone who can give correction without causing resentment." John Wooden.
---
Baseball Coaching Strategies
for ALL Ages
My player expectation chart started with character. In my 'character' column I break it into (3) categories of RESPECT". Incorporate teaching these points in with your coaching tips for baseball.
Respect for your family, school, classmates, teachers, coaches, community and church. Take time and effort to be a good citizen. Give back to the people around you. Look out for the needs of others. Be part of the solution—not part of the problem.
Respect for baseball equipment, facilities, umpires, and opponents. We do not ever throw helmets, bats or baseball equipment. It is dangerous, distrustful and destructive.
We always take care of our facilities and do our work duties around the ball field. We may not always agree with the umpires but we will be respectful at all times. We do not show up our opponents or run our mouths in disrespect.
Respect the game by always playing hard. Run hard, play hard, and practice hard all the time. Take special notice to grow and become the best teammate possible.
Pick up teammates when they are down. Pull together in tough times—do not look to point and blame others. Put the team before yourself rather than pouting and pulling others down.
Avoid bad things and bad actors. Stay away from tobacco, drugs and alcohol and your peers that do use this stuff. There is plenty of bad stuff and bad people in this world.
It is not hard to find illegal products and the people that can provide the stuff. Saying No takes courage and conviction. Pick your friends extra carefully. Temptation and peer pressure is real and powerful.
Evil is lurking at every corner to get our kid's attention on the bad stuff. Resist bad stuff. Keep an eagle eye out for destructive habits.
Baseball Coaching Tools & Etiquette
I spent almost great 20 years in professional baseball as a minor league player, field manager, and various time in scouting, and acquiring players. I was with an affiliated ballclub the Boston Red Sox and a few years in the Independent Professional Leagues.
I hardly ever experienced any players disrespecting another team's players. I only remember one time where I thought a team was running up the score on my team when they were ahead by 8 runs and still stealing late in the game.
Yes, professionals are highly competitive and we did get into occasional bench clearing situations. But, these incidents were not out of disrespect but more out of indiviual frustrations and backing up your teammates.
Now, I have a very different story in my years in amateur baseball. At every level I have coached in I have seen several obvious instances of mean spirited and unsportsmanlike behaviors.
I have seen coaches tell players to bench jockey my teams, fail to control their players' mouths and look the other way when the dugout gets raunchy and un-classy bench jockeying the other team. I saw an American Legion team all laugh out loud on the ball field every time my players struck out. Really?
I was playing on the road vs. one league opponent that allowed fraternity students loose with a bullhorn behind the fight field fence and they did their research, too.
In all most all these cases I either told the opposing coach we would not play them if they allowed their kids to act like that or we would not shake hands after the ball games. This usually works.
I think amateur coaches really do not see anything wrong with letting their kids run their mouths until I point it out.
My players often ask me if professional ballplayers razz the other team's players. I tell them, "You know, pro ball players respect each other enough to not engage in stuff like that. Everyone is trying to survive just to keep a uniform on, therefore pros play hard, compete hard but rarely get into a mouth war with their opponents as peers."
I want my team to be the classiest team we will see all season. My most important coaching tips for baseball is to play with class. Be humble in victory and sad but determined in defeat. No profanity or verbal abuse. No taunting opponents—only pull for out team. No arguing with umpires—and call the umps by their names.
Coaching Tips For Baseball Practice
I have a few more coaching tips for baseball practice. This pertains mostly for the high school baseball coaches but can be adapted to all age levels.
Baseball practice is huge for my teams. I love to conduct practice plans so I want practice to practical and purposeful. I want energy and enthusiasm. I use practice as a proving ground for playing time.
We do a little more than take a few batting practice swings, take infield-outfield practice and call if a day. I use baseball practice as a mini-game day where we get a lot of work in using competition.
I like the players to wear team issued practice gear. Wearing team gear helps as team building item. Shirts tucked in. Baseball pants are required since live games will include sliding. (No shorts)
Wear you hat facing forward with the front of your hat going on first so you don't see the hair on your forehead. (Red Flag for 'bush leagues')
Always come to practice rain-or –shine. We will make the decision once at the ballpark if we are rained out or not.
Call me or contact me directly if you are running late or missing practice. Don't tell someone else to tell me.
Every player will have pre practice and post practice duties so get it done. We all dismiss when the work is done.
Plan on traveling with the team to and from the away games. Mom & Dad will be fine driving home by themselves.
Coaching Tips for Baseball Parents
Baseball coaches set the tone for your baseball parents. Baseball parent behavior is an extension of the baseball coach whether you like it or not. One of my biggest coaching tips for baseball is 'set the tone' for the behaviors you want from your spectators.
Parents are an example of good sportsmanship at ball games especially with the opponent's fans, umpires and opposing players.
You are welcome to watch baseball practice. If you do, please situate yourself where you will not be a distraction. Stay in the seating areas.
Please do not talk to your child during practice or games until practice is over.
Please do not come on the ball field or near the dugouts at any time. Players should begin to take responsibility to bring their own gear and drinks.
Parents: Enjoy the games and support the players by letting them know you enjoy watching them play and are appreciative of the effort they put out.
Back to High School Baseball Coaching Tips
Back Home from Coaching Tips for Baseball
---
---

Baseball Impossible: Player Development Make-Over



Build Your Own Culture of Player Development


&
Increase Your Players FUN Level

6-DVD Video Set Building Your Complete Player Development System

Click to Order

Audio CD Format Click Here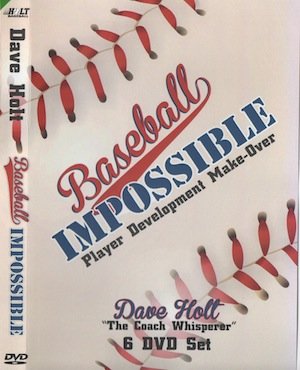 Coaching 6-DVD Box Set
Yes Dave, I Want to Help My Players Enjoy the GAME

Coaching little league baseball & youth baseball can be a blast or could be a  Tough Gig.

Who in their right mind would come back year after year and have teasing baseball practice and never improve their baseball skills? and get welled at by adults?
Baseball Coaching Videos:  Watch over 6 hours of tips on coaching approach, style, philosophy, and my unique player development system. 
Youth baseball carers are short-lived so lets make it count for our players. What do players really want out of playing baseball?
I want to find out more about the 6 DVD Player Development System

---
---