Hey Friends ... sign up for my newsletter and get my
FREE Practice Checklist
---
How Many Baseball Coaching Qualities Do You Have?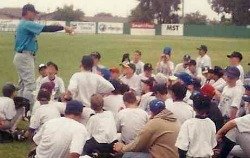 Baseball coaching qualities are not automatic. 
Many people think if you played the sport you have all the baseball coaching qualities.
Not necessarily true. Many skills dealing with coaching have nothing to do with the sport specifically.
If playing baseball was the main ingredient to be a good coach then Babe Ruth, Henry Aaron, Willie Mays and Stan Musial should be some of the best suited to coach.
---
---
'People' Skills

No one expects youth baseball coaches to be experts in teaching baseball or coaching youth baseball players. After all the voulunteer dad and mom coaches are experts in their own fields of their professions.
Volunteer coaches are bankers, salesmen, business owners, drivers, policemen and every other occupation besides baseball coaches.
SIDE NOTE: Some unrealistic baseball parents do really think all youth baseball coaches should be experts in the game of baseball...that is a story for another time. 
You are expected to have good people skills. Good baseball coaching qualities has more to do with how you treat and relate to, people rather than specific sport knowledge.
Yes, sport knowledge is helpful to have. But, without an ability to reach a team full of kids and share your excellent teaching qualities with them, your sport knowledge is not worth a hill of beans.
'Sharpen' the Saw
During my coaching career I, like most of you, have always looked to become more knowledgeable in baseball. We are on the lookout for new drills, techniques, and methods to share with our players.
i know if you are reading this article you are trying to improve your baseball coaching qualities and knowledge.
Taking some time to study the game, reading articles, attending local coaching clinics, watching local college and professional baseball games are helpful in improving your knowledge base. 
Be An 'Inspirational' Coach
One of the best ways to showcase your baseball coaching qualities is to become an inspirational coach.
This might be your biggest opportunity to reach youth ballplayers. Baseball coaching strategy is not easy to master and you really are not expected to be an expert.
Conducting baseball practice keeping repititions high and everyone engaged is indeed challenging for the best coaches. You will learn how and get better.
The baseball coaching qualties everyone can have is to be an inspirational coach. Use inspirational quotes and motivational sayings to share with your players.
These teaching moments are much more likely to stick with your players well after the baseball careers are over.
---
Short Goals
Start by looking for quotes that encourage teamwork and sportsmanship.
Look for opportunities to improve teamwork and play the game hard but fair.
Then look for inspirational sayings on work ethics.
If you can make some impact on your players in these areas you are bringing your sports coaching qualities to top. 
Improve and emphasize teamwork skills
Find opportunities to teach and point out sportmanship.
Build and encourage a good work ethic and playing hard.
Look for opportunities to talk about failures for the team and individuals. There is plenty of failure in baseball and players need to be resilient to failure and bounce back.
Example: " There is no 'I' in team."
or
"Much can be accomplished by teams when no one is concerned about who gets credit."
Winning baseball games is a really good feeling. but...
Don't let yourself get snared in the win-at-all-costs trap.
Don't bank all your success and measure everything on winning ballgames.
Take your baseball coaching qualities to a higher level. Leave ballplayers with some inspirational advice that will stick with them for a lifetime.
The true measure of a person's character comes out when being tested with failures, hardships and struggles---how resilient and how much grit does one have when things are not going well? 
This is where the great inspirational coaches rise to the top when frustration and failure enters the season. 
Measuring success is better suited when we are sticking together in times that are tough and the ball is not bouncing our way rather than the easy times when things seem to come easy.
Back to Coaching Tips from Baseball Coaching Qualities

Baseball Impossible: Player Development Make-Over



Build Your Own Culture of Player Development


&
Increase Your Players FUN Level

6-DVD Video Set Building Your Complete Player Development System

Click to Order

Audio CD Format Click Here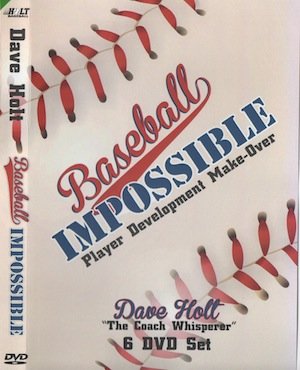 Coaching 6-DVD Box Set
Yes Dave, I Want to Help My Players Enjoy the GAME

Coaching little league baseball & youth baseball can be a blast or could be a  Tough Gig.

Who in their right mind would come back year after year and have teasing baseball practice and never improve their baseball skills? and get welled at by adults?
Baseball Coaching Videos:  Watch over 6 hours of tips on coaching approach, style, philosophy, and my unique player development system. 
Youth baseball carers are short-lived so lets make it count for our players. What do players really want out of playing baseball?
I want to find out more about the 6 DVD Player Development System

---
---