Hey Friends ... sign up for my newsletter and get my
FREE Practice Checklist
---
Baseball Game Coaching Strategies

Avoid the Baseball 'Dufus' Label
Baseball Game Coaching Strategies....
This is a dead-giveaway that someone coaching here is a low information coach:

Holding Runners on Base: If you have your 3B standing on 3B holding the baserunner on the base before the pitcher throws the ball then you might as well have a big sign on you.....
"Baseball Dufus."
Baseball people would quietly laugh at you. MLB players do not stand on 3B holding the runner on. Why? The runner is not going to steal home and you are leaving a huge 'HOLE' for the batter to hit the ball through.
I see this at 2B too, where the youth level SS or 2B stand on 2B holding on the runner. Instead, teach your players how to 'jockey' back and forth or put on a pick-off play if the runner ventures off too far.
Again, a MLB pitcher would not pitch the ball home with a SS standing on 2B and leaving a gigantic 'HOLE' in the infield for the batter to hit through.
These are not quality, efficient baseball game coaching strategies.

---
FREE Coaching Mini-Course


Take a sneak peek under the hood and see how PRO baseball coaches approach youth baseball coaching.
Free Mini-Coaching Course
* It only takes an hour or so of your time.
---
---
The Least Signs--the Better

Too Many Baseball Signs
 Baseball Signs: Don't go crazy with signs. In fact you don't really need many. My youth teams never bunt (I develop kids to hit the ball hard, far and often rather than bunting) so I don't use a bunt sign.
My youth teams never 'take' pitches so we don't need a 'take sign'.  We never 'fake bunt' so no sign needed.
That leaves a 'steal sign'. Should be pretty easy to 'pick' something or 'touch' something like the ear or bill of your hat, etc. Keep it simple and 'let the kids fish'.
SIDE NOTE: It is a good idea to have the catcher get together with the infielders and have a 'back-pick' sign to try and pick-off runners who wander to far off base.
I highly encourage my catchers to 'look' for pick-off opportunities as one of my baseball game coaching strategies.
Signs for pitchers to throw over to 1B, pick-off plays and calling pitchouts is effective for controlling the running game.
1st & 3rd Defense: You also should have a few options to defend the runner on 1st and 3rd defensive situation. Most teams just let the runner walk into 2B.
Try something…arm fake, throw back to pitcher, or have the infielder come in and cut the ball off and throw back to the catcher.  Doing nothing and letting a runner reach scoring position without opposition is too easy.
Implement your baseball game coaching strategies for 1st & 3rd Situations.
Learn more
on
Baseball Signs & Signals
STOP: Major 'Dufus' Mistake

Baseball Game Coaching Strategies
Lefties: Lefthanded throwers will play only pitcher, 1B and outfield in higher baseball (13 year old and older). Therefore, keep lefty throwers at these positions. 
You will not see a lefty playing 2B, SS or 3B in MLB. You play a lefty kid at these positions then you might as well carry the sign….
"Baseball Dufus."
If a pro scout, college coach or high level baseball person walked into your ballpark and saw a lefty throw anywhere but P, 1B or OF you would be tipping your hand...
'Low information baseball coaching here'

 SIDE NOTE: Since lefties will play only P, 1B and OF in post puberty age levels it makes more sense to let lefties take their reps at these positions and let the righty throwers take turns at their positions.
We are taking away playing time from a righty to play shortstop if a lefty is playing there--it just makes zero sense as baseball game coaching strategies.
Put the Fun Back In Baseball

Do Not Even Try to Figure Out My Line-up Card
Fun Batting Orders
Below high school varsity I like to throw out conventional traditions for making out a line-up batting order.  I like to get creative and mix things up.
It's more important at the youth level to keep the game enjoyable and fun, than completely serious and laser focusing on the scoreboards.
Here are a few ways to keep the line-up batting order ever changing. I tell my parents,
"do not even try to figure out my batting orders."
If you don't warn the parents ahead then they will 'freak out' when they see you playing around with game outcomes—remember the parents get pretty intoxicated with the scoreboard results.
Pick the names out of a hat.
Go by the scorebook position numbers. Pitcher 1st, Catcher 2nd, 1B 3rd, 2B 4th, 3B 5th, SS 6th and so on.
Reverse the order next game.
Have a standard premanent order and then move up one position every game. The first batter moves to the last batter and everyone moves up one spot.
There really is no end to what you could do to have fun with your batting order. I think it is kind of overrated to use the typical batting orders at the youth level all the time.
I see youth coaches tracking batting averages and on-base % at the youth level and trying to build their master line-ups.  In the big scheme of things I would rather let kids bat in different spots than bat a kid last the whole season.  
Well, you say,
"The kids need to earn their spots in the batting order." Ok, that's fine—I am saying I would rather mix things up and bring a little less seriousness to the youth game and let the kids play with a bit more FUN-Ness.
SIDE NOTE: Coaching your own kid--You will get more 'cred' and respect if you move your own child around in the batting order. If he is batting fourth every game, even if he is really good, it will go over better if he bats seventh once in awhile or comes off the bench.
Everyone is a Shortstop

Unless You Throw Lefty
Sandy Koufax
Everyone's a Shortstop
When I work with my local kids in my instructional lessons I ask them,
"What positions do you like to play?"
Many will say catcher, pitcher and/or shortstop. When I get this answer I know that the kid probably handles the ball pretty good and has an average or better arm strength. The kids that play the ball handling and long throwing positions are the most skilled.
If a kid tells me they play outfield or 1B or 2B then red flags start going up. If you are 9, 10 or 11 years old and you can ONLY play 2B then what are the chances of you making the high school baseball 'funnel'?
The high school kid that plays 2B is probably going to be the 2nd best SS.
This is is why I have all righthanded throwing kids play SS and 3B during practice. To play 3B and SS you have to handle the ball and field it, get rid of ball quickly, throw it hard and far, and throw it straight.
If a kid cannot do this by the time they reach the high school 'funnel' it is less likely they will be able to make a roster spot.
Exceptions would be an outfielder or 1B that can really run and/or hit. Naturally, lefty throwers play 1B, pitcher and OF.
It takes more ability, athleticism, talent and skill to play SS and 3B. This is why I will train all my right hand throwers to play SS & 3B. Obviously, not all of your kids will be able to effectively play SS in game competition.
But SS and 3B skills will transfer to every other position. In other words, if a kid can play SS they pretty much can play any where on the field without much problem.
Developing shortstop skills are baseball game coaching strategies every righthanded throwing player can benefit from!

Avoid the Baseball 'Dufus' Label

It is Not Too Hard
 Recap: To Avoid the Baseball 'Dufus' Label try these:
Stop 'huddling up' between Innings
1B and CF put a ball in your glove and hustle out to the field.
Infielders throw from the outfield grass between innings.
C's & Pitchers: Get your catchers gear on and get onto the field for warmups.
Easy on the baseball signs.  All we need is a 'steal sign'.
Lefties play Outfield, Pitcher and 1B (This is a BIG one).
Make sure your 3B, SS and 2B are not standing on the base prior to the pitcher making their pitches (This is a HUGE one).
Everyone practices from shortstop and 3B (except lefties)
Batting Order: Add a little FUN-Ness and mix it up.
You can do these baseball game coaching strategies--no problem. And you are doing a great service to the game and your players, too!
More Game Situations to Avoid the Baseball Coach 'Dufus' Label

---

Baseball Impossible: Player Development Make-Over



Build Your Own Culture of Player Development


&
Increase Your Players FUN-Level

6-DVD Video Set Building Your Complete Player Development System

Click to Order

Audio CD Format Click Here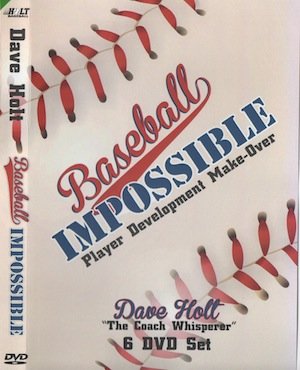 Coaching 6-DVD Box Set
Yes Dave,  I Want to Help My Players Enjoy the GAME

Coaching little league baseball & youth baseball can be a blast or could be a  Tough Gig.

Who in their right mind would come back year after year and have boring baseball practice and never improve their baseball skills? and get yelled at by adults?
Baseball Coaching Videos:  Watch over 6 hours of tips on coaching approach, style, philosophy, and my unique player development system. 
Youth baseball careers are short-lived so lets make it count for our players. What do players really want out of playing baseball?
I want to find out more about the 6 DVD Player Development System

---
---