Hey Friends ... sign up for my newsletter and get my
FREE Practice Checklist
---
Signs for Baseball
Why signs for baseball? Baseball signs are the language used to communicate in baseball without verbally speaking.
It is a undercover code used to relay plays to team members and teammates to speak to each other without the opposing team knowing what we are doing.
Go over the signs often in order to practice giving baseball signs and hand signals. 
---
---
Baseball Signs for Coaches
Baseball team signs: Offensive signs, defensive signs, pitcher and catcher signs, catcher pick-off plays are all included in team communications.
Review these signs for baseball often and your ball team will execute on the same page almost all the time.
---
Take Sign
At times we might need signs for baseball to take a pitch.
Before puberty I would say you do not need a take sign. You want these kids to swing the bat and you want to avoid kids walking and getting a base on balls because we are trying to develop hitters.
Winning games is secondary to developing hitters. Post puberty as we get to high school baseball there may be times that winning comes into play more often and a 'take' sign might be appropriate.
SIDE NOTE: 'Take' a pitch means do not swing at it.
---
Baseball Signs Touch System
A 3rd base coach or a dugout coach using hand signals to touch a series of body areas, which have predetermined meanings for plays.
It could be counting the touches after a "Hot' spot or counting the 'claps' or just touching like the belt which may mean sacrifice bunt play (belt=B=bunt)
Steal Signs
Baseball signs for stealing for all the players who play in leagues that allow base runners to lead off.
These include the straight steal, the get a good jump steal, the delay steal, the hit and run steal, and the steal vs. the lefthander pitcher.
Also, the 1st and 3rd situation calls for special steal plays. Some runners may be so fast and skilled they have the 'green light' steal sign to go anytime.
Baserunning Signs: Usually include the steal, sacrifice bunt, hit and run, take, drag bunt for a base hit, delay steal, on your own steal, 1st and 3rd situation steals.
Pick-Off Signs
Pick off signs: Catchers need to have pick-off signs with the infielders in case a baserunner is lollygagging to far off the base.
The catcher or infielder can pick or pull on the side of their pants leg and the other player answers back with the same sign or take their glove off to let each other know the play is on the immediately after the next pitch.
The catcher will continue to look to back pick if they catch the ball after the next pitch.
Outfield Signs
The main sign for outfielders is the no-doubles depth. There are times when the game is close and you do not want the batter to quickly reach scoring position (2nd base or 3rd base) by hitting a ball in the gap or over the outfielders heads.
In order to prevent the extra base hit the outfields play deep to cut off the gaps and prevent the ball from landing over their heads. This will make the offense have to get two more base hits to score a runner from 1st base.
The outfield sign from the bench is waving a hand over the head. Other signs for outfielders would be hand signals to move outfielders in or back or left and right.
Teaching Signs for Baseball to Kids 
Giving signs and expecting the team members to not miss the signs takes some consistent teaching moments.
Gather the team together before every ball game and at the end of each practice to review the signs. Before long the team will have the signs down pat and know about any adjustments, additions or changes that become necessary.
Quizzing the players on a regular basis prevents team members from missing signs for baseball and helps ball players execute during the ball games when situations come up.
Baseball Coaching Signs
Infield Signs: Baseball Defensive signs for baseball 1st and 3rd situations, bunt defense, pick-off plays and infield depth. 1st and 3rd defense requires some options of throwing to 2nd base, arm faking and throwing to 3rd base and having the pitcher cut the throw off from the catcher.
Bunt defense requires signs if your ballclub uses any variations in standard bunt defense like pick-offs or charge plays.
SIDE NOTE: Really, I do not even try to put on any special bunt plays. I really emphasize just getting an out. Nothing fancy--just the basic defense for bunts and get the kids to realize the importance of just getting an out.
Pitcher Pick off plays may initiate from the pitcher, the infielder or from the catcher.
Infield depth comes in four positions.
1. Back deep.
2. Double play depth.
3. Infield in with a runner on 3rd base and one out.
4. Infield in with a runner on 3rd base and nobody out. (Play in but not all the way in because the runner will not try to score on ground ball with 0 outs.).
Using Baseball Signs Indicator
Baseball coach giving signs often use an indicator or a 'HOT' place to touch,  which activates the signs.
If the indicator is not touched or activated nothing is on and the signs are just 'deaks'. The indicator can be changed easily in case the opposing team appears to have picked up the teams signs.
Baseball Dugout Signs
When watching the major league teams and coaches touching their face, ears, hat, shirt and arms they are doing one of two things.
1. The manager or coach is relaying the offensive signs to the 3rd base coach so the signs can be relayed to the hitters and baserunners.
2. Or, the dugout signs are being relayed to the catcher to call for pick offs and throw overs to 1st base and maybe pitch outs when they think a runner on 1st base is going to try to steal 2nd base.
Defensive signs for bunt defense and the 1st and 3rd situation along with outfield signs, and  infield depth also initiate from coaches and managers in the dugout.
Best Baseball Signs Ever
Easy baseball signs and signals: I try to keep it really simple using the claps system.
I don't know if the clap system is the best signs ever but they are easy and nobody has picked them up yet.
I did have to change the indicator once because a couple of my players thought the other team had our signs.
Return to Game Strategies from Signs for Baseball

Baseball Impossible: Player Development Make-Over



Build Your Own Culture of Player Development


&
Increase Your Players FUN Level

6-DVD Video Set Building Your Complete Player Development System

Click to Order

Audio CD Format Click Here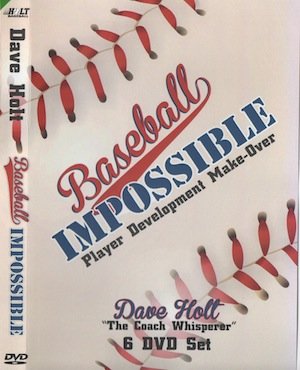 Coaching 6-DVD Box Set
Yes Dave, I Want to Help My Players Enjoy the GAME

Coaching little league baseball & youth baseball can be a blast or could be a  Tough Gig.

Who in their right mind would come back year after year and have teasing baseball practice and never improve their baseball skills? and get welled at by adults?
Baseball Coaching Videos:  Watch over 6 hours of tips on coaching approach, style, philosophy, and my unique player development system. 
Youth baseball carers are short-lived so lets make it count for our players. What do players really want out of playing baseball?
I want to find out more about the 6 DVD Player Development System

---
---