Hey Friends ... sign up for my newsletter and get my
FREE Practice Checklist
---
Baseball Success

Have to Lose Some Games
Losing Can Be Embarrassing
My Baseball Success: I have been on the losing side of a lot of baseball games. My years playing and managing in the minor leagues covered 19 years.
Then I had four years coaching in Summer Collegiate Baseball and four years in High School Baseball. Well over 2000 games and losing about half over the almost 30 years of baseball playing and coaching.
My teams finished on top a few times, been in the middle of the pack, and experienced the bottom of the league on more than one occasion.
Winning is a lot of fun. Winning is fulfilling. Winning is kind of feather in our cap. Winning kind of gives us a feeling of 'prestige'. (baseball success)

Losing Games Can Be Embarrassing


Losing is not really that fun. Losing leaves us with inferior feeling like we came up short. I think it really brings on a sense of a degree of embarrassment.
Who wants to be embarrassed? Nobody wants to be embarrassed. Embarrassment makes us feel a sense of shame, even uncomfortably self-conscious and dazed.
The embarrassment from losing causes unease, an awkwardness and even a tinge of distress. It's like we are in a quandary, a moment of dilemma and a search for how to get to the next game and try to get out of the predicament.
Even worse, if we blow a lead and lose a game that for most of the game looked like a sure win. Or lose to a team we had beaten previously or feel like we were superior in talent and still managed to come up short.
Overall, if your team loses more than you win we are often perceived as having a lousy season.
But wait. We did have some positive take-aways.

Age 12U: What Drives Youth Coaches and Parents?

The fear of being embarrassed.


Ronald Acuna: Atlanta Braves
In the 12 & Under age levels winning games is not as important as you might think.
The 'Big-people' (coaches and parents) are driven by a fear of losing. Losing is embarrassing and the "Big-people' are consumed with avoiding having too many losses and being embarrassed.
This need of avoiding embarrassment breeds a snowball effect of win-at-all-costs behavior. Instead of focusing on player development strategies like developing almost everyone to pitch, aggressive hitters, and playing multiple positions, we fall into the trap of focusing only on how to win games.
Why? Because we don't want to feel embarrassed.
How do we overcome this disappointing embarrassment of losing games?
1.     Concede that some losing of games is acceptable and expected. A top MLB team will try and play .600 ball over a season and that more than likely will get your team to the play-offs. That's winning 6 out of 10, so losing is expected even for the best of teams.
SIDE NOTE: If your team wins almost all the time then you are really too good for your competition or the other teams are not very good.
2.     One of our main objectives of youth baseball is to help prepare kids to play well on the 60'/90' diamonds. This involves developing a bunch of pitchers in the development pipeline, really good fielding and throwing skills, and hitting, and hitting for power.
3.     Don't take it personal. In the whole scheme of things, the biggest factor for players to survive the 60/90' fields are how successful the kids are in acquiring as many of the "5 Tools" as possible.
The "5 Tools": Running, throwing, fielding, hitting, hitting for power. The "5 Tools are what MLB is looking for when they draft and sign prospects.
A "5 Tool" player is like Mike Trout, Francisco Lindor, Ronald Acuna, and others who can do it all…run. Throw, field, hit, hit for power all at a very highest level.
4.     News Alert: Winning and losing is not really that important especially for 12 & Under age. Of course, we want kids to compete and play hard to try to come out on top. But, putting all eggs in one basket is not in the best interest of each kid's baseball success.
5. Educate Your Parents: Yes, parents want to win really bad. They don't like losing all the time. Help the parents understand that true player development includes learning how to experience losses. 
And, that you are helping prepare their kids to play well on the 60'/90' fields by developing arms, fielding, hitting and power hitting. (baseball success). 

At Age 15...How Many of the 5-Tools Will Your Players Have?


Determines Baseball Success
Let's look again at the "5 Tools" and look where kids at age 15 are going to be.
 Running: Speed is huge in baseball. Average speed in baseball is measured at 60 yards and 7.0 seconds or faster is considered average or plus speed.
Arm strength: Can kids play SS, 3B, C, Pitcher? These are the high arm strength and throwing positions. (Lefties play 1B, OF and pitcher.
Defense: Fielding...Do we have to 'hide' a kid and hope the ball doesn't find them? Or are kids versatile and can help teams compete playing multiple positions?
Hitting: How good are kids at squaring up and hitting the ball on the barrel consistently?
Power Hitting: Does a kid have any gap power and can consistently hit balls sharply enough to reach the fence at times.
SIDE NOTE: How good the kids are in the 5-Tools will determine a large part of their baseball success.

Some Losing is Healthy and Necessary



Yes, losing is embarrassing. But, if we are properly preparing kids to be successful at the 60/90' fields then know that losing is expected some or a lot of the time.
And losing games is necessary to experience in order to build grit, bounce back, and determination in your ballplayers. Losing has a way of humbling us, forcing us to improve on deficiencies, and being able to perform in adversity when things are not always a perfect world.
I know that we youth baseball coaches are very often 'judged' by our win-loss records. Although it's tough try to avoid the 'trap' of seeing our success or not in the wins and losses.
In the long run, try and see how you can help the most kids stay in the game the longest....this is baseball success.
In the meantime, never waist an opportunity to teach more than the game. Try and help kids become better people and stronger leaders while under your mentorship.
---
---

Baseball Impossible: Player Development Make-Over



Build Your Own Culture of Player Development


&
Increase Your Players FUN Level

6-DVD Video Set Building Your Complete Player Development System

Click to Order

Audio CD Format Click Here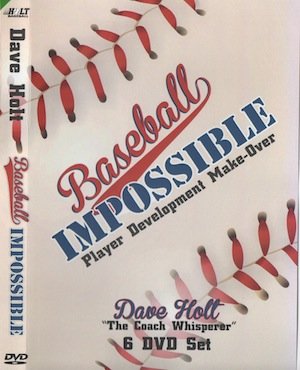 Coaching 6-DVD Box Set
Yes Dave, I Want to Help My Players Enjoy the GAME

Coaching little league baseball & youth baseball can be a blast or could be a  Tough Gig.

Who in their right mind would come back year after year and have teasing baseball practice and never improve their baseball skills? and get welled at by adults?
Baseball Coaching Videos:  Watch over 6 hours of tips on coaching approach, style, philosophy, and my unique player development system. 
Youth baseball carers are short-lived so lets make it count for our players. What do players really want out of playing baseball?
I want to find out more about the 6 DVD Player Development System

---
---