Hey Friends ... sign up for my newsletter and get my
FREE Practice Checklist
---

The Role of
Board of Directors for Baseball
It all starts with the role of board of directors and league administrators. The adult leadership that oversees the baseball organization sets the policies, chooses an approach and follows through to see it happen.
Adults organize youth baseball so it is imperative that the adult leadership has the right approach with the ballplayers best interest in mind.
Training Adults in the
Role of Board of Directors
Few adults have much training in running a league, travel team, or overseeing a high school baseball team. Even professional recreation administrators often lack training in the right approach.
Youth baseball leagues, recreation leagues, and travel ball organizations often lack leaders that promote the approach and player development model necessary for players to grow and improve in the skills of baseball in order to stay in baseball into high school ages.
The adult dominated baseball organizations typically follow the model that has been in place the last 50 years or more. The baseball model in place is the same as major league baseball. 
The typical role of board of directors is to fall into the trap and emulate major league baseball. Without the knowledge or the courage to put the players' development ahead of winning adult administrators descend right into the old traditional adult-dominated drive to win.
Break From the Traditionalists


Changes Are Always Difficult
The role of the board of directors is to break from the traditionalist. This is usually easier said than done...
Where does winning fall into your priority list?
How does All-Stars and winning tournaments shape your coaching approach?
Is player development anywhere in the template?
Are you or anyone in your organization influenced by your won-loss record?
What comes first? Winning or player development?
What baseball traditions are you and your organization married to? When you look at these questions above what picture does this paint in relation to your organizations priorities?
Are you following baseball traditions from your local leagues and areas? Are you able to break from local tradition?
State playoffs for coach pitch baseball with all-stars. Are you serious? How many 7 & 8 year olds wake up in the morning and say, "I really hope I make the the coach-pitch all-star team so I can win the state championship." 
Are you kidding? This is all adult driven. You cannot tell me that we couldn't save so much time and money playing a few more weeks of local league play then to stop everything and get ready of district and state all-star playoffs.
If you are a player development minded organization then the answers to these issues is easy. 
If you value the major league model and the pleasures of winning then the ballplayers in your organization will reap the consequences. 
A better question to measure your local baseball organization is how many baseball players are still playing the game at age 14?
Sure, everyone likes to win and feel the pleasures winning brings. But, what are we going to sacrifice to satisfy the adult tastes and desires of winning the pennant or travel ball tournaments?
Train the Trainers

What is the Role of Board of Directors?
To Change your culture in your local baseball organization there are some steps you can take. Is it hard? Yes it is. This is very foreign to adult sports parents. Player development folks are not very familiar to youth baseball in the current model.
Changing the local baseball culture can be a monumental task. Anytime change takes place from traditional ways some folks are not going to go along with you no matter what.
To start your local movement to build player development into the culture of your baseball league and teams look at these additional resources.
Hall of Famer's View


The Jury is Still Out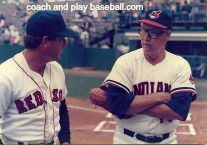 I think the most important role of board of directors and league administrators is to help create an atmosphere that favors the kids and player development.
The late Hall of Famer Bob Feller says, "little league is a great way to get kids prepared for baseball, not for the majors, but just for loving the game. It should be used as a recreational technique to prepare the child for early development, and that's it.
The jury is out on whether it builds up ballplayers. The biggest problem I have with it is the pressure to win. That pressure is not placed on the kids by themselves, but rather by the coaches, parents, and organizers. I say let the kids play, enjoy the game, make friends, and learn the ideas of teamwork, humility, good sportsmanship, and perseverance.
After all, if children associate baseball with parental or coach disappointment or ridicule, then their interest in the sport will be severely diminished. No child wants to be yelled at while playing a game!" Bob Feller's little blue Book of Baseball Wisdom; 2009, pg. 73
The Roles & Responsibilities
for League Directors
Bob Feller sees youth baseball for what it is and what it should be—a place where kids can play. The league should provide plenty of ball games and ball practice. Coaches need to be trained by knowledgeable local baseball authorities.
Ask your adult leadership folks what do they want your organization to represent. How are you going to build a baseball philosophy and approach to deal with...
Umpires
Parent behaviors
Playing time
All-stars
Player skills
Coaches training & behaviors
Clinics
Enjoyment of the game
Need more background on building your local baseball organization approach go to more resources. 
Back to Home from Role of Board of Directors
---
---

Baseball Impossible: Player Development Make-Over



Build Your Own Culture of Player Development


&
Increase Your Players FUN Level

6-DVD Video Set Building Your Complete Player Development System

Click to Order

Audio CD Format Click Here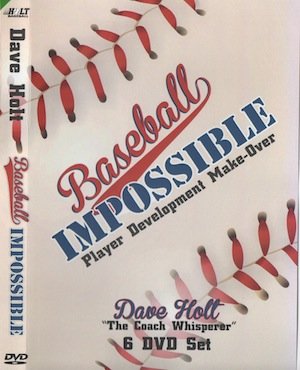 Coaching 6-DVD Box Set
Yes Dave, I Want to Help My Players Enjoy the GAME

Coaching little league baseball & youth baseball can be a blast or could be a  Tough Gig.

Who in their right mind would come back year after year and have teasing baseball practice and never improve their baseball skills? and get welled at by adults?
Baseball Coaching Videos:  Watch over 6 hours of tips on coaching approach, style, philosophy, and my unique player development system. 
Youth baseball carers are short-lived so lets make it count for our players. What do players really want out of playing baseball?
I want to find out more about the 6 DVD Player Development System

---
---