Hey Friends ... sign up for my newsletter and get my
FREE Practice Checklist
---

Coaching Baseball Players

Kids Are Going to Mess Up

Did You Tell Them "We Know... & We Have Their Backs"


"Hey kids, I have Your Back"....

As the 'Big-people' coaching baseball players we have to make our kids very aware that we have their backs. What I mean is that we (coaching baseball players) need to be very clear with them that while playing baseball  we expect them to fail.
We know kids will strikeout, make outs, take bad swings, make errors and bad throws, drop fly balls and goof up on the bases, etc.  So, we have to give our kids "room" to make mistakes or fail.
Baseball is a very difficult game to play well. Despite this every kid wants to be perfect at all facets of the game. They want to do well and impress  their teammates, their parents, the opponents. But it's not going to happen that easily.
Skip and my grandson Trent (9) He bats Left and throws Right

"We Know You're Going to Mess Up"

Memo to Parents..."It is Baked in the Cake"


The game is set up for players to fail. And this makes it a great opportunity to allow players to deal with the frustrations of failure and be able to learn how to bounce back, get em next time, work on your weaknesses, and continue to compete.
And since we know  youth baseball will bring plenty of opportunities to fail we have to clearly and strongly  acknowledge to our kids that we understand this and we have their backs.
"We know failure is coming and we are good with it…now we want you to know we expect you to fail many times during the games and practices and we are still behind you 100%".
Even the former NY Yankee Derek Jeter stated at his retirement interviews  how hard it is to play baseball well and at a high level of performance. Allowing kids 'room' to mess up is totally part of our role as 'Big-people'.
Kids Are Going to Be "Hard on themselves."
Kids are going to be hard on themselves so we don't need to pile on them when they mess up. We use it as a teaching moment or just let them know "to shake it off "and 'get ready for the next play.
Why? Because we know it's going to happen. While Coaching baseball players we anticipate failure before it happens and do not have to 'fly off the handle' every time their is a mess up

Wow, Baseball Looks So Easy


Baseball 'looks' quite easy to play when you are watching from the sidelines, bleachers, on TV, etc. It's just not as easy as it looks. Very often It is hugely frustrating for the kids and 'big-people'.
The quicker we let the kids know that we know they are going to mess up at times the better the kids will react to the boo-boos with patience and determination and turn it into a positive and stop 'throwing a gasket' at every mishap.
So, it is our job as supportive 'big-people'  and those coaching baseball players, to communicate to our kids that we know the mess ups are going to happen and nobody plays the game 100% perfectly. We know this and "We have your backs".
We anticipate the mess ups and we are going to help you maneuver through the rough spots. We are going to allow for a reaction for a few seconds of immediate frustration and reflection and then expect you to shake it off and keep competing.
BBL (Bad Body Language)
We expect to see little if any BBL (bad body language), pouting, blaming anyone or anything, alibiing, or outward demonstrations of negative  anger.
Treasure the good times in baseball and downplay the frustrating times. Be aware that success in baseball is often fleeting so find pleasure in enjoying the good things that happen when your kids play well.
Remember to "Have their backs" and support them.

The "Ride Home"



Give Them Some Space

While Coaching Baseball Players


No need to super analyze every second to the ball games on the way home. Give your kids some 'space' before plowing into all their boo-boos and sub-par plays.
Nobody wants to go through every single correction and downfall that just happened over the last couple of hours of ballgames. Let the kids know that you appreciate their efforts and you 'loved watching them play." 
Give them some 'room'. We have already told them that "we expect some failures to happen" so it's just baked in the cake. It is part of the recipe for playing....bad stuff will happen no matter what.
So add a little frosting to the cake on the ride home. Pick out some good things and drop the urge to micro analyze every little set back that happened.
Kids will end up despising you and the game of youth baseball if you continue to pummel them after every game on the ride home. Be a silent source of encouragement---not a dooms day nag, putting your kids down for every mishap during the baseball games.
Podcast CYB 058 Tell Them You "Have Their Backs"
---
---
Your second block of text...

Baseball Impossible: Player Development Make-Over



Build Your Own Culture of Player Development


&
Increase Your Players FUN Level

6-DVD Video Set Building Your Complete Player Development System

Click to Order

Audio CD Format Click Here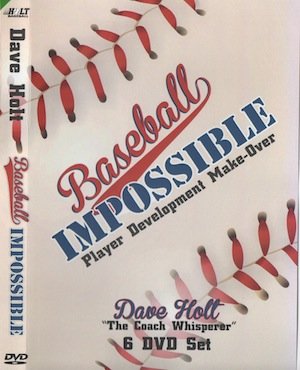 Coaching 6-DVD Box Set
Yes Dave, I Want to Help My Players Enjoy the GAME

Coaching little league baseball & youth baseball can be a blast or could be a  Tough Gig.

Who in their right mind would come back year after year and have teasing baseball practice and never improve their baseball skills? and get welled at by adults?
Baseball Coaching Videos:  Watch over 6 hours of tips on coaching approach, style, philosophy, and my unique player development system. 
Youth baseball carers are short-lived so lets make it count for our players. What do players really want out of playing baseball?
I want to find out more about the 6 DVD Player Development System

---
---