Hey Friends ... sign up for my newsletter and get my
FREE Practice Checklist
---
Love Baseball

How Much Do You Love the Game?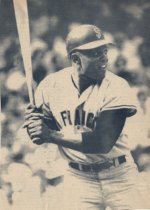 Willie Mays San Francisco Giants
I love baseball. I always ask my kids I work with (teach lessons and camps), "Who their favorite professional or college team and players are?
The majority of the youth ballplayers don't hesitate and come back with a quick answer on their favorite team. Usually, each kid has a favorite player or two on the tip of their tongues.

Occasionally kids will say, "I don't have one" or "I don't watch pro games."
I'm like "Whoa, Houston, we have a problem." This kids family is paying good money for lessons and camps and the kid likely does not love baseball. Doubtful the kid will stay in the game very long.
---
---

"Houston, We Have a Problem"

Why Should a Player Love Baseball?
Loving baseball came easy and natural for me. My Dad loved baseball, coached baseball at the college and high school level.
We watched the Saturday 'Game of the Week" and he subscribed to the 'Sporting News' (the baseball bible of the time).
Most of my baseball friends I grew up with loved baseball, too, for the most part. I couldn't get enough of the game and soaked up every opportunity to play it, follow it, read about it, and experience it.
My folks were on a one parent teacher's salary so we didn't have much money after feeding four kids. But, my parents tried to schedule a 4 hour car trip to San Francisco every summer to see the Giants play. Luckily, we had Aunt Lura's house to stay at only about 30 minutes drive to Candlestick Park.

Now loving baseball does not mean you will be a great player by any means. But, it sure does increase your interest level in the sport.
I think youth ballplayers can benefit from watching professional baseball games, imitate the top players actions and pick up some of the nuances of game by observing pro ballplayers play baseball.
Kids enthusiasm for the game is likely to increase when they love to be involved in the games current events and history.


Take the 'Love the Game' Test

Baseball Parents Will Need to Participate & Assist
Here is a checklist I jotted down that ballplayers that love the game likely will be able to check off.
I doubt a youth level player will stay in the game very long unless they able to check off most if not all these items.

SIDE NOTE: Baseball Parents, you will have to assist the ballplayers during their quest to love the game. Obviously, parents can foster baseball love in their kids by growing their own interest in the game, too.


You Love the Game if You...

I don't think a kid will realize their potential in baseball unless they check off most if not all these:


Have a favorite Major League Baseball team.
Have a favorite MLB player.
Go to minor league ballgames in your area. (and College Baseball)

Play 'Whiffleball', &  'Pickle'  & 'Catch' on their own.

Enjoy going to practice. (Coaches, you better not make baseball practice boring)

Love to play 2 games in one day. (Occasionally)

Collect baseball cards.
Watch baseball games on TV. (besides LL World Series)

Follow their MLB team in the standings.
Can name an old time player like Ty Cobb, Willie Mays, Hank Aaron, Ted Williams. Etc.
Watches the MLB all star game. & Play-offs

Have been to a MLB game live and in person.

Take their mitt on family vacations.
Like to watch baseball movies like "Sandlot' and 'Field of Dreams". etc.

Has the Baseball Hall of Fame in Cooperstown on their bucket list.
I think you get the gist of the intent. When you engross yourself in the sport of baseball you 'love baseball'. When you love it your desire to be involved in the game increases.
As a player, I think your enjoyment level goes up. When your enjoyment level goes up you are more likely to spend more time engaged in all facets of baseball.
Youth players that flunk the 'love of the game' test are more likely to lose interest in the game at an earlier age and might be more prone to drop out of the participation aspect of baseball.
The game of baseball is really tough to play well. Players with a high interest level and love the game I think will more likely be able to persevere though the challenges and frustrations that playing the game of baseball brings.
Kids playing baseball without a 'baseball love' as part of them I think will bail sooner when they encounter the difficulties and 'rough waters' the game will certainly provide.
Baseball Dads & Moms: Help kids and encourage them by exposing them to the many aspects and opportunities to 'Love Baseball'.
Chances are you might have a life-long fan, too. It's a lifelong thrill to walk into a major league baseball park that first time! (especially when Mays, McCovey, Bobby Bonds and Juan Marichal are playing at Candlestick Park)
Love baseball...it might keep you involved in the game longer.


Baseball Impossible: Player Development Make-Over



Build Your Own Culture of Player Development


&
Increase Your Players FUN Level

6-DVD Video Set Building Your Complete Player Development System

Click to Order

Audio CD Format Click Here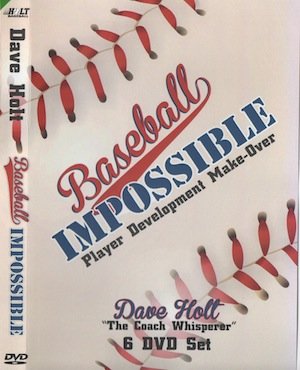 Coaching 6-DVD Box Set
Yes Dave, I Want to Help My Players Enjoy the GAME

Coaching little league baseball & youth baseball can be a blast or could be a  Tough Gig.

Who in their right mind would come back year after year and have teasing baseball practice and never improve their baseball skills? and get welled at by adults?
Baseball Coaching Videos:  Watch over 6 hours of tips on coaching approach, style, philosophy, and my unique player development system. 
Youth baseball carers are short-lived so lets make it count for our players. What do players really want out of playing baseball?
I want to find out more about the 6 DVD Player Development System

---
---