Hey Friends ... sign up for my newsletter and get my
FREE Practice Checklist
---
Ask the Coach? Parents--You Better Know
Who Is Coaching Your Kids
Be ready to Ask the coach before the spring youth baseball season starts a few questions. Baseball Parents: it is your job to know who the baseball coach is and what kind of baseball coaching approach they have on their minds.
In youth sports coaches, baseball leagues, tee ball leagues and little league baseball we often trust that who ever the person coaching youth sports teams must know what they are doing.
Wrong.
---
---
Our Youth League Baseball Coaches
Are Trained, Right?

(ONLY 1 in 5 have any training)
The truth is very little if any training is involved in preparing someone to correctly coach youth baseball. Our children's schoolteachers have a minimum of five years of college to be trained and certified to teach.
Coaches in our youth baseball leagues just need to pass a quick interview, pick up the equipment bag, attend a rules clinic and go out try not to make 12 kids and their parents miserable all season.
League baseball officials are likely not going to ask the coach all the right questions because they are scared they might run the coach off—and they need volunteer sports coaches to run the baseball.This porous selection process often allows 'bad apples' to become your kid's coaches.

Many Think They Know
How to Coach Baseball
The honest truth is very few volunteer youth baseball leagues are going to find quality coaches to fill all their spots.
Most youth sports problems come from coaches who may have good intentions, but most baseball coaches are lacking in baseball sport knowledge or end up being mean and harsh to the kids. Or, even worse BOTH.
If you happen to luck into a baseball knowledgeable youth coach and someone that is a great role model and treats kids with respect you better feel really fortunate because that is very rare.
A baseball parent's job is to do some vetting and ask the coach some questions at the pre-season parents-coaches meeting.
Pre-Season Parent/Coaches Meeting
Every sports youth coach should have a mandatory pre-season meeting to introduce themselves and their coaching approach philosophies.
The coach should be available for sports parents to ask the coach important questions about the up coming spring baseball season, tournament travel baseball or fall baseball.

Questions & Information
to Ask the Coach
1. Tell us about yourself. Who are your assistant coaches? What background do you have coaching youth sports and working with children? Coaching Certifications and training?
2. What is your philosophy on playing time? How are you going to play all the kids and how much. Is there a youth league minimum on playing time?
3. What type of first aid training does the coaching staff have? Is there a baseball team fully equipped first aid kit on hand at all times at games, practices and in the travel vehicles?
4. Do you keep emergency contact numbers and EMT & 911 contacts and a cell phone with you at all youth league baseball games and youth league practices?
5. If we are seeing our child is not playing the minimum what would you like us to do?
6. Are you planning on playing in tournaments? When are they scheduled and how much will the baseball tournaments cost each family?
7. What precausions are you going to use to make sure there is no possibility of harassment or abuse? Use the two-adult rule at all times?
8. What are your policies about hazing? And bullying?
9. If a player misses a game or a practice what are the repercussions. Family events, illness, school functions, and injuries?
10. What type of practices are you going to have? Are you going to teach and develop? Are you going to plan practice with very little standing around and lots of sandlot style games?
11. What is your philosophy on winning? Are you a win-at-all-costs type coach or are going to keep the kids best interest in mind and try to develop baseball players that are competitive and trying to get better.
12. Ask the Coach: What is your thinking on making the season enjoyable and the kids having fun and leaving with a love for the game?
13. How are you going to model your behavior in regards to game officials and umpires? Are you going to fly off the handle and ride the umpires or are you going to show umpires respect while getting your point across.
14. Will you make sure to never verbally or visually embarrass ballplayers on the field by yelling at the kids for making a mistake?
15. Will you make sure to never over-coach players during the ball games by giving them too much baseball info and coaching tips especially when they are up to bat or on the pitchers mound.
16. Ask the Coach: What type of jobs and assistance do you need from parents? What is the best way to contact you?

If Your Sole Purpose for Coaching is Winning Then You Should Be in the Pros
Good youth baseball coaches have much more than winning in mind. We all want to win and play competitive youth baseball. That is not bad in itself.
Success should not be measured though strictly by wins and losses.
Successful baseball seasons are when kids learn how to be great teammates, jell together, enjoy the sport, improve their skills, hang out with friends, leave with a love for the game ,want to sign up to play again next spring baseball season and you get to keep your youth baseball cap at the end of the season.
It is often the parents and coaches that impede this from happening.
Back to Baseball Parents Section from Ask the Coach
Back Home
Super Simple Guide to Coaching Youth Baseball


Baseball Impossible: Player Development Make-Over



Build Your Own Culture of Player Development


&
Increase Your Players FUN Level

6-DVD Video Set Building Your Complete Player Development System

Click to Order

Audio CD Format Click Here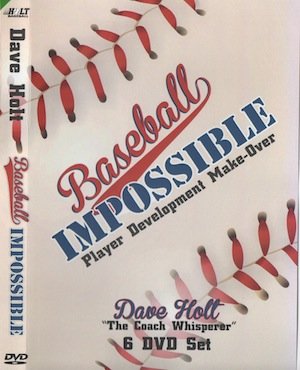 Coaching 6-DVD Box Set
Yes Dave, I Want to Help My Players Enjoy the GAME

Coaching little league baseball & youth baseball can be a blast or could be a  Tough Gig.

Who in their right mind would come back year after year and have teasing baseball practice and never improve their baseball skills? and get welled at by adults?
Baseball Coaching Videos:  Watch over 6 hours of tips on coaching approach, style, philosophy, and my unique player development system. 
Youth baseball carers are short-lived so lets make it count for our players. What do players really want out of playing baseball?
I want to find out more about the 6 DVD Player Development System

---
---