Hey Friends ... sign up for my newsletter and get my
FREE Practice Checklist
---
---
Travel Ball Costs

How Much Are You Going to Need to Play?
How Much Does Travel Ball REALLY Cost?
Travel Ball Costs: There is a lot of confusion in the youth baseball world across our great country about travel baseball. Families should know as much as possible about what they are getting involved with and how much is it going to cost.
Models of Travel Baseball Teams
There are primarily two types of Travel Ball teams.
1. Professionally coached teams:  The coaches are paid to coach the team.
2. Parent-coached teams: Parent is NOT getting paid to coach.
---
---

Costs of Travel Baseball

How Much Travel Ball Costs Investment is Required?
1.     Player equipment: Bags, helmets, bats, gloves, socks, under clothing, shoes hats, belts, batting gloves, batting aids, sweat bands, elbow pads, balls, catching gear, practice gear. Wow.
I would say that easily $500 to $1500 in gear is in those equipment bags. Bats alone can get up to $400.
2.     Uniforms: Some teams keep it pretty simple but others go all out and use this as a recruiting tool and moneymaker. 'Jazzy uniforms' seem to be a trend now.
Several sets of tops, pants, hats, helmets, banners, team equipment bags. This can add up to less than $100 to more than $200-$300 per player for some teams.
3.     Team Sanctioning fees: All the umbrella organizations (USSSA, AAU, etc.) charge an affiliation fee, which is around $50 per team for the year.
4.     Team Insurance: tournament operators and landowners require Team insurance. Cost around $100 per team. K&K Insurance

5.     Practice Fees: In a supplement to outdoor practice facilities many teams will rent space at indoor practice facilities. Indoor training academies are available during bad weather and winter when daylight is short or facilities are limited.
Cost range from $15-$20 an hour up to $150 an hour for teams.
6.     Tournament Fees: Teams will pay entry fees from $350 to over $1000 per tournament depending on location and event status.
7.     Professional Coach: If you are playing on a team with paid-coaches you are hiring a coach to run you practices and manage your games. (Not parent coached). A paid-coach can make upwards of $50 or more per practice and $100-$800 or more per weekend tournament.
8.     Sports Performance: Additional training and conditioning is making its way into travel baseball. Teams are commonly paying strength and conditioning coaches to work with speed and agility, etc. Costs can range from $15 or more per player every session.
9.     Professional Instruction: Most travel ball players look to improve their skills with private instructors on hitting, pitching, throwing and fielding. Cost can range from $65 to $120 an hour.
10.      Gate Entry Costs: Parents will have to pay to enter the tournament facility to watch the games. This can range from $5 to $40 or more per weekend per person depending on the event status.
11.     Additional Specialty Events: Cooperstown, Ripken events, Disney tournaments, and destination tournaments are springing up everywhere. These and other Showcase events for high schoolers can get pricey up to $1000-$3000 per player.
Skill testing, scouting evaluations, 'specialty Elite' team tryouts all add additional travel ball costs with little upside benefit in the long run.
12.     Travel Expenses: Playing in your 'home' area requires not much additional travel ball costs expenses beyond gate fees, and tournament entry fees.
Over night travel adds the hotels, meals, and gas expenses and can range from $500 to upwards of $1500 per family of four for a weekend outing depending on distance and range of lodging.
Parent-Coached vs. Paid Coaches

Critical to Consider For Travel Ball Costs
There is a lot of consideration that should go into making the decision for a family to play the travel baseball route. The financial travel ball costs aspect is a large factor, as many families simply cannot afford to put out this type of time and capital that is required.
When looking at the option of playing on a parent coached team and playing on a professionally paid-coached team many parents want to save costs without looking at the total expenditures to play.
If you are going to invest thousands of dollars a year in total expenses is it really prudent and wise to try and 'Avoid' paid-coaching and professional instruction?
There is going to be a big difference in a paid coach compared to a parent coach no matter how good the parent coach is. A paid coach typically will cost $350 to upwards of $1000 per year in additional expenses.
When we evaluate the total costs of travel ball as an overall investment compared to 'saving' money on a paid coach, it really makes little sense to try and avoid spending in this scope.
Saving money in the area of paid coaching and instruction kind of defies the purpose of playing 'travel ball'. Travel Teams coached by parents are more suited for the recreation leagues style where the expenses are lower and expected return is lower.
Teams that play 'LOCAL' and play near home are not 'TRAVEL BALL'.
Travel Teams Playing 'LOCAL' Are NOT 'Travel Ball'

Teams that play all their games near home and do not travel to overnight destinations are NOT a 'Travel Ball' team/organization.
For the true 'travel ball' teams expenses are going to be higher especially if you are looking for a higher return. 'Skimping' on the cost of paid coaching and instruction and player development will likely decrease the return on your investment.
Whether you play on a parent-coached team or a paid coached team the travel ball costs typical expenses are going to be relatively close.
Costs will vary a bit depending on how families are able to manage costs. Do parents share car pooling, hotel rooms, bring their own lunches and look around for discounted or used equipment.
A family can plan on spending from $800 to a couple thousand dollars per player for a season of Travel Ball. This is for typically, a couple of practices a week and 6 to 8 weekend tournament entry fees.
Depending on the variables we have mentioned in this article, a monthly travel ball costs could range from $150 to $350 every month per player.
Baseball Parents want to think this carefully through and try and make the best decision for your family. Make sure you understand your purpose for participating in 'travel ball'.
Does your child basically want to be with friends?

Are you expecting a high level of coaching and instruction?

Are you looking for your child to be challenged or play against soft competition?

Are the coaches just win-at-all-costs' types and trying to see how many rings and trophies we can get?
It would be prudent to sit down and discuss what you as a parent and family are really looking for. Consideration should be given to your travel ball costs investment and where you can get the best return on your costs.
Just picking a random team without considering what the end game might look like is not a good choice to spend your investment. The decisions are likely not going to be easy—that is why you need to spend some time and thought in the choices you make for your child's player development interests.
In the long run, I would highly recommend that each player participate in the 'fund raising' that usually accompanies 'travel ball'.  Players should be involved in the decision level too. Certainly the player's interest level, love of the game, desire to play, age level and effort level should be taken into consideration.
Players should be held responsible for maintaining their effort level and commitment to the player development process.

Baseball Impossible: Player Development Make-Over



Build Your Own Culture of Player Development


&
Increase Your Players FUN Level

6-DVD Video Set Building Your Complete Player Development System

Click to Order

Audio CD Format Click Here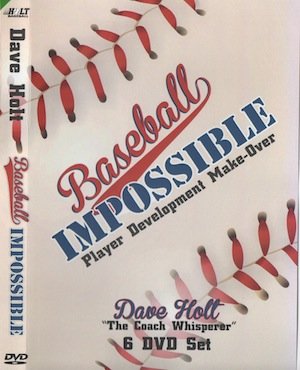 Coaching 6-DVD Box Set
Yes Dave, I Want to Help My Players Enjoy the GAME

Coaching little league baseball & youth baseball can be a blast or could be a  Tough Gig.

Who in their right mind would come back year after year and have teasing baseball practice and never improve their baseball skills? and get welled at by adults?
Baseball Coaching Videos:  Watch over 6 hours of tips on coaching approach, style, philosophy, and my unique player development system. 
Youth baseball carers are short-lived so lets make it count for our players. What do players really want out of playing baseball?
I want to find out more about the 6 DVD Player Development System

---
---