Hey Friends ... sign up for my newsletter and get my
FREE Practice Checklist
---
Coaches and Parents Avoiding the Win-At-All-Costs Approach
Coaches and parents of baseball kids have a special place in kid's sports. Many baseball parents, moms and dads do a great job supporting their kids and keeping the game in perspective.
The large majority of youth sports parents get caught up in the win-at-all-costs coaching philosophy. Youth sports parents are more than likely to walk in step with the styles of coaching that follow the major league baseball 'win now! approach.
When parents in youth sports do not follow a code of conduct for coaches and parents than what do we expect?
Bad parental behaviors and a serious tilt toward the win-at-costs philosophy approach overtakes player development and what is the right thing to do for kids.
---
---
Youth Sports Parents World
Youth baseball should be a quality family endeavor that family members can enjoy with friends.
Often youth baseball and sports can turn ugly when parents take the ball games too seriously. Baseball coaches have a lot to say about how the baseball parents conduct themselves at the ballgames.
Coaches should draft a letter to parents from the coach spelling out procedures and expectations for the baseball mom and dads.
A pre-season parent-coaches meeting should be mandatory for all youth baseball teams in order to get all the coaching styles and philosophies out on the table.
  Surviving Parents and Kids Sports
85% of youth baseball coaches are parent coaches. Coaching youth baseball is an honorable service and a privilege.
Putting your selfishness aside and making winning a secondary goal takes courage. Baseball parents are often out for blood.
They want to win, 'baby'. Taking the coaching approach that develops players first is a brave endeavor and against the typical baseball parent's methodology.
Coaches and Parents SURVIVAL Checklist

Parents Code of Conduct
1.     Do not consume yourself with winning and losing.
2.     Stay away from the dugout/bench area.
3.     Have the kids carry their own water and equipment.
4.     NEVER-NEVER try to coach or instruct form the bleachers
5.     Loud screaming and cheering is not necessary.
6.     Clapping and quiet acknowledgement of good play is okay.
7.     Yelling at and questioning the umpires is not allowed.
8.     Ask your kids if they had a good time.
9.     Tell your kids you really enjoyed watching them and appreciate the effort they put out.
10. Refrain from basing the amount of praise on the performances or outcomes.
Youth Baseball Coaching Tips for Parents
11.     Understand the game is WAY harder to play than it looks.
12.     Keep in mind 75% of kids will be out of youth baseball by age 14.
13.     The coach likely is not an expert and is just trying to survive.
14.     Kids have to swing the bat! Hitting is their ticket to stay in the game. Excessive bunting and walks are not going to keep kids in the game.
15.      Playing multiple positions is a good thing.
16.     Do not talk bad about the players or coaches who do not have your DNA in front of your own kids.
17.     Be alert for coaches that yell, scream and swear at players.
18.      Avoid the negative tongue lashing re-cap on the ride home.
19.     Every kid should try to pitch.
20. Encourage kids to swing the bat. Don't worry about learning the strike zone yet. That comes later.
Baseball Coaching Strategies for Parents
21.     Never talk to the coach about playing time around the other kids.
22.     Consider travel ball when the kids show they are serious and athletically capable of playing after age 12.
23.     Play ball with your kids away from the organized team activities.
24.     Take your kids to college baseball games, minor league games, major leagues games and the baseball Hall of Fame in Cooperstown.
25.     Youth baseball is supposed to a fun family activity and should be an escape from the stresses in daily life.
Parent Coaches

Coaching Video for Parents as Coaches
Watch my videos baseball coaching to get up to speed on your coaching philosophy.
A positive coach will choose this as the styles of coaching that works best for the ball players. Nobody wants to be yelled and screamed at by adults while playing a game.
Parents and youth sports are a necessary evil. We need parents to help out. More times than not the parents want to win too much and fail to deliver a player development system that gives kids a path to high school baseball.
Baseball coaches and parents back off the winning stuff and concentrate on developing players--that means the kids had better swing the bat or their days are numbered.
 Return to Baseball Parent Page from Coaches and Parents

Baseball Impossible: Player Development Make-Over



Build Your Own Culture of Player Development


&
Increase Your Players FUN Level

6-DVD Video Set Building Your Complete Player Development System

Click to Order

Audio CD Format Click Here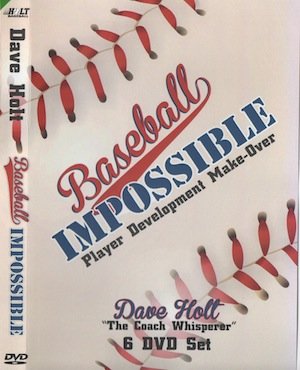 Coaching 6-DVD Box Set
Yes Dave, I Want to Help My Players Enjoy the GAME

Coaching little league baseball & youth baseball can be a blast or could be a  Tough Gig.

Who in their right mind would come back year after year and have teasing baseball practice and never improve their baseball skills? and get welled at by adults?
Baseball Coaching Videos:  Watch over 6 hours of tips on coaching approach, style, philosophy, and my unique player development system. 
Youth baseball carers are short-lived so lets make it count for our players. What do players really want out of playing baseball?
I want to find out more about the 6 DVD Player Development System

---
---