Hey Friends ... sign up for my newsletter and get my
FREE Practice Checklist
---
Play Catch at Home
Play catch: It is vitally important for youth ball players to handle the baseball well. Baseball skills involving catching and throwing are vital to a players success and enjoyment in baseball.  
One of the best ways to develop catch and throw skills is to practice away from the ballfield. The secret is to play catch with someone.
Playing catch in the back yard or front yard with someone on a regular basis can go a long way to developing baseball ball handling skills.
Have a catch with dad or mom or another sibling or a neighbor friend.
I just loved the game of baseball. Dad and I had afternoon catches and after dinner catches, but it was all in the idea of enjoying the game, and having fun with my dad because we were outdoors together doing something I loved.

We would take our baseball gloves and a ball with us to our relatives' homes on Sundays. We had Sunday dinner and afterward played catch into the evening.

Bob Feller's Little Blue Book of baseball wisdom. pg.74.
---
---
---
Baseball Practice at Home
To: Baseball Parents: Play catch at home with your children. Do it in a way that is positive.
Do not put on your critical coaching hat. Put on your 'play' hat. You are all kids just playing catch. Don't ruin it by analyzing and criticizing every move.
The key is to just play and hang out with your kids. Your kids want to be with you. It doesn't matter if its shooting hoops, playing badminton or football plays.
Playing catch is just another way to engage with your kids and at the same time help them improve their baseball throwing and catching skills.
Baseball Practice Alone
Home alone to play catch. Just tossing the ball in the air and running under it to catch it is worthwhile and productive.
Tossing a tennis ball onto the pitched roof and letting it come down and catch it. Tennis ball throws against the side of a blockhouse or garage door in another drill to use during baseball practice on your own.
Of course there are baseball practice accessories like 'pitch backs' you can use in the backyard.
Baseball Practice on Your Own
Another great baseball practice aids every kid should have at home is a batting tee.
A t-ball aid can be home made or purchased and is a really good investment. (pro ballplayers commonly use a batting tee for batting practice). 
You can hang a piece of old carpet or order a small amount of baseball netting in the garage, basement or in the backyard and swing away anytime you want to.
No netting? No problem—just buy a few wiffle balls at the local sporting goods store and hit them off the tee or better yet, invite the neighborhood players over for a wiffle ball game.
Baseball Practice with No Field
Never use the excuse that we don't have a baseball field to practice on. Baseball practice can happen almost anywhere.
In the front yard, backyard, side yard, light traffic residential street(watch for cars) or cul-de-sac, empty lot, park, playground, school grounds, hard surface courts and just about anywhere there is space.
You can play catch anywhere there is space available.
Backyard Pitching Mound
Setting up a backyard pitching mound is pretty easy. Just shape a mound and put a 4x4 board in the ground for a pitching rubber.
You can go with a flat ground mound it you want. This is another opportunity to play catch away from the ball field. It is easy to have an imaginary game and baseball game situations.
How to Play Baseball Pepper
Baseball pepper is one of the best baseball drills ever invented (my opinion). It is like a mini ball game.
Significant eye-hand coordination takes place for hitters, fielders and playing catch.
It is best played with four players or less in a group. One batter and the others lined up facing the batter about 25-30 feet away.
The batter should choke up on the bat and take a controlled quarter swing that directs the ball back to the fielders just firm enough for the fielders to handle the plays.
Play the game with two baseballs so the if the ball gets by the fielders one player can jog over to get the ball while the second ball is put into play.
Baseball pepper can be played in a small area on grass surface and with as few as two players.
Baseball Pickle & Rundowns
Pickle is a really fun game for kids to play as a baseball practice activity. You need at least three players.
Two fielders and one runner in the middle. You can make the game bigger using two players to alternate on the bases and one baserunner.
Keep safety in mind using soft safety balls and/or batting helmets. Use some throw down bases, cardboard, piece of carpet.
Can be played anywhere there is space available.
Don't give the players too much direction—just watch the kids play and figure out their own way. 
Post puberty the players may need more instruction and direction and formal coaching on rundown techniques.
Playing Catch is ALL Fun
You can see that without too many baseball practice accessories and aids we can get plenty of practice in at home alone or with a partner.
All the baseball practice by yourself is kept low key and fun. No need to get to analytical, confrontational or critical about anything—that turns kids off.
Kids just want to 'play' baseball not get yelled at and critiqued every time they do something. Most of the time just being with your kids in a just-for-fun 'play' situation is really all they want.

Baseball Impossible: Player Development Make-Over



Build Your Own Culture of Player Development


&
Increase Your Players FUN Level

6-DVD Video Set Building Your Complete Player Development System

Click to Order

Audio CD Format Click Here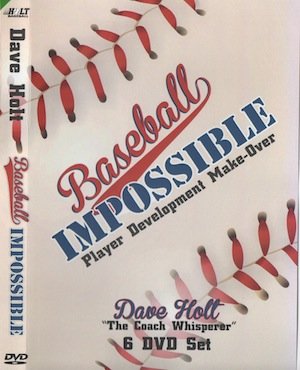 Coaching 6-DVD Box Set
Yes Dave, I Want to Help My Players Enjoy the GAME

Coaching little league baseball & youth baseball can be a blast or could be a  Tough Gig.

Who in their right mind would come back year after year and have teasing baseball practice and never improve their baseball skills? and get welled at by adults?
Baseball Coaching Videos:  Watch over 6 hours of tips on coaching approach, style, philosophy, and my unique player development system. 
Youth baseball carers are short-lived so lets make it count for our players. What do players really want out of playing baseball?
I want to find out more about the 6 DVD Player Development System

---
---