---
5 Secrets to Crushing the Ball
By PRO Ball Coaches
Clear the 'clutter' and see how the PRO's do it.
Fill in the Form for a FREE Download 
---

Baseball Coaching Clinic



Start Building Your Player Development Culture




FACT: Only about 5-10% of youth baseball coaches have had any formal baseball coaching training.
And this 5-10% figure isn't something I made up…it isn't even my own research.
Check out this...

This is straight from the horse's mouth:
1National Council for Accreditation of Coaching Education - Coaching Counts! Case Statement – 2011
That's right, according to National Alliance for Youth Sports (NAYS) own data; only 1 in 10 coaches ever attend baseball training.
Why do youth league baseball coaches rarely attend training? 
Why would adult volunteer coaches not want to be trained, educated and certified to coach youth baseball? 
Why do league administrators fail to provide coaches training? 
Why do travel ball organizations fail to require their coaches to be certified and attend coaching clinics?

Baseball has dropped the ball and run the opposite way from the problems in youth baseball today. In fact most organizations are fanning the flames making the health of the game worse.
---
FREE Coaching Course

Start building your own 'Culture of Player Development'
I will send you a 4 Part Coaching Course right to your email box.

Coaching Baseball Certification
 'Coming Round the Mountain'


Certifications to be qualified to coach youth baseball are coming. Soon all youth baseball coaches will be required to attend training classes in order to coach baseball.
For too long youth baseball coaches have gone without proper training in the methodology and theory of baseball development. The glaring lack of coaches training is coming to an end.
The era of player development is going to begin.

The 'Win-At-All-Costs' Era
Has Taken Over



I Will Help You Build Your Own Player Development Culture





The game of baseball has left it to each youth umbrella organization to be responsible to train and educate baseball coaches.
The baseball organizations have dropped the ball. Like baseball looked the other way on the use of steroids…youth baseball has looked the other way when it comes to education of their coaches and parents.
The youth league coaches will not attend a baseball coaching clinic voluntarily. Furthermore the league administrators, recreation departments and board of directors have let coaches and parents off the hook.
Now the game is run amok of volunteer baseball coaches that only know the win-at-all-costs approach. Player development is now in the rear view mirror in most communities and organizations.
Profits from travel ball tournaments and national world series now trump player development.
Return to Player Development Leagues
Instant Baseball Coaching Clinic



Create Your Own System & Increase Player's FUN-Factor




My books and videos are a vital baseball coaches clinic. For coaches who want to build a coaching philosophy with player development as the number one purpose then these are the tools that can help.
Why should I look at your materials to learn how to coach youth baseball?
You cannot find a player development philosophy by surfing the Internet.
You will not hear or find a player centered baseball system anywhere else.
You will not hear this philosophy from other presenters.
You will not find this coaching approach from other local youth league coaches.
You will not find a game coaching system for player development anywhere else.
You will not find an up-tempo practice template for player development anywhere else.
You will not see a pre-game workout routine like this anywhere else.
You will not find a better system to run a successful season with player development in mind.
Back Home from Baseball Coaching Clinic

What Do I Have To Help You Build Your Own Player Development System?

4 eBook Bundle for $19


Help Your Players Increase Their FUN-Level Today!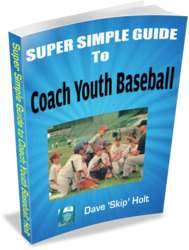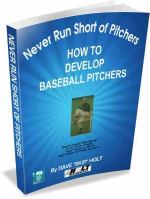 ---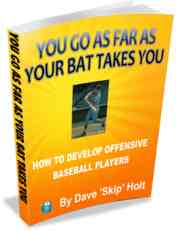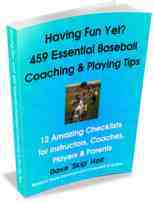 ---
Check Out what is in each book...
Super Simple Guide to Coach Youth Baseball
You Go As Far As Your Bat Takes You
459 Essential Baseball Coaching and Playing Tips
Not ready to go all in with the entire $19 package? just try one book and see what you think...they are only $7 each

On SALE Now...Less than $5 Each for ALL 4 eBooks
---
"But, I have never ordered an eBook online. Is  it safe, secure, trustworthy?" 
Perfectly legitimate concerns. I am skeptical of ordering online sometimes, too.
Look at some of my FAQ (frequently asked questions) here...
The books are in eBook format and will be sent immediately to your best email inbox for you to download on you computer or device.
As soon as payment is received you will get the green light to start the download process. Its pretty simple.

Plus, I have a ONE YEAR Guarantee! I will refund the costs to you in the event you are not totally satisfied with the material.
So, no worries, you can't really lose--but everything to gain and your players will love to play for you.
---
Yes! I want to be prepared to Coach Youth Baseball and Help My Players Reach Their Talent Ceilings...
and ORDER Now...
On SALE Now...Less than $5 Each for ALL 4 eBooks
---

Baseball Impossible: Player Development Make-Over



Build Your Own Culture of Player Development


&
Increase Your Players FUN-Level

6-DVD Video Set Building Your Complete Player Development System

Click to Order

Audio CD Format Click Here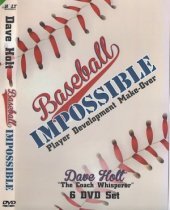 Coaching 6-DVD Box Set
Yes Dave,  I Want to Help My Players Enjoy the GAME

Coaching little league baseball & youth baseball can be a blast or could be a  Tough Gig.

Who in their right mind would come back year after year and have boring baseball practice and never improve their baseball skills? and get yelled at by adults?
Baseball Coaching Videos: Watch over 6 hours of tips on coaching approach, style, philosophy, and my unique player development system. 
Youth baseball careers are short-lived so lets make it count for our players. What do players really want out of playing baseball?
I want to Find Out More about the 6 DVD Player Development System

---
---