Hey Friends ... sign up for my newsletter and get my
FREE Practice Checklist
---
Charleston Pitching Lessons

Professional Instructor



Dave Holt: 16 Yrs Boston Red Sox Organization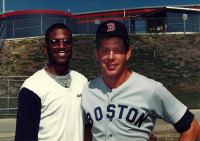 Charleston Professional Pitching lessons and Instruction is important for a number of reasons. There are several risk factors that increase the chances of pitching arm injuries.
After 19 years playing and coaching in professional baseball, Dave, a former catcher, knows how to address the risk factors. Dave caught guys like Roger Clemens and Dennis 'Oil Can' Boyd. Managed guys like Curt Schilling and Josias Manzanillo.
---
---

Prevent Arm Injury Risk

Repeatable Delivery

Increase Velocity

Improve Pitch 'Command'




One of the biggest arm injury risk factors is poor pitching mechanics.
Sports orthopedic doctors have highly recommended that pitchers work with professional instructors to learn proper baseball drills and fundamentals. Instructing a youth baseball pitcher takes an experienced unique approach. Beginners, intermediate or advanced youth league players have different needs.
Baseball throwing drills: We use just the right youth baseball drills to accommodate every players own style.
Baseball Pitching Grips: It is important to spend time learning to throw the top 3 throwing grips, at the right time, with the correct grips.
Advanced pitchers will need to know how to create doubt in the hitters minds.
Defending the Running Game: Youth players need to incorporate ways to neutralize opponents stealing bases. You have to be able to contain the oppenents base stealing. This is possible if you have the right kind of baseball coaching.
Rates: hourly rates for our personal one-on-one individual lessons. Pitching Packages are bundled together in different positions combinations.
Fielding, throwing and catching are combined pitching and hitting. This creates a really good lesson combination.
Fundamental drills and techniques are implemented for age and skill level appropriate development. We work with youth players ages 8 to 18 in all skill levels.Charleston Pitching Lessons.
Increase the amount of strikes.
Build a consistent motion.
Reach your top pitching velocity.
Learn how to change speeds.
Dad and Mom are welcome to watch and listen in on the sessions
Call Dave at 843 695-9630 in Charleston County, Dorchester County and Berkeley County and the Low Country


Go back to Baseball Lessons from Charleston Pitching Instruction
Coach and Play Baseball Home Page
 Incredible Pitching Guidebooks

Baseball Impossible: Player Development Make-Over



Build Your Own Culture of Player Development


&
Increase Your Players FUN Level

6-DVD Video Set Building Your Complete Player Development System

Click to Order

Audio CD Format Click Here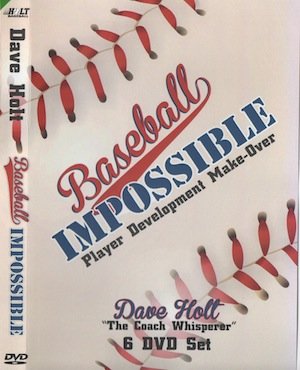 Coaching 6-DVD Box Set
Yes Dave, I Want to Help My Players Enjoy the GAME

Coaching little league baseball & youth baseball can be a blast or could be a  Tough Gig.

Who in their right mind would come back year after year and have teasing baseball practice and never improve their baseball skills? and get welled at by adults?
Baseball Coaching Videos:  Watch over 6 hours of tips on coaching approach, style, philosophy, and my unique player development system. 
Youth baseball carers are short-lived so lets make it count for our players. What do players really want out of playing baseball?
I want to find out more about the 6 DVD Player Development System

---
---