Hey Friends ... sign up for my newsletter and get my
FREE Practice Checklist
---
What Others Say
"I have known Dave for many years, he was raised in a baseball family, has played, coached & taught the game his entire life. Players would not only be taught how to execute the skills of the game through drills, but gain knowledge of the proper & right way the game should be played.

This strength of Dave's is what sets him apart from many other coaches & teachers lacking his knowledge & experience. .

–Brad Mills – Cleveland Indians Bench Coach.
Brad Mills Pictures .....   Bio
---
"Dave Holt takes a patient and nurturing approach to the baseball development of his players.
His recommendations are justified after considerable observations of his players. Dave Holt helped me advance to the Major Leagues!"
April 4, 2013, Dana Kiecker pitched for Dave at Boston Red Sox
---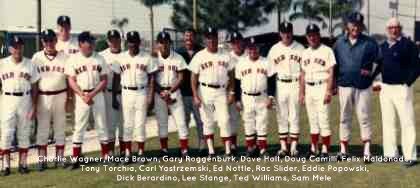 Testimonial - I was looking for some info on pregame drills when I came across Coach Dave Holt's site.
I couldn't believe the amount of quality info pertaining to all aspects of the game, until I noticed a picture of the author.

I happen to be a former player of Coach Holt and the knowledge, work ethic, and patience he showed his players was second to none. His understanding of the game combined with his ability to relay that info to players of any playing level is what sets him apart.
It's very rare to find someone that is able to teach the basics to a little leaguer then turn around and fine tune a professional...Coach Holt is the exception to that rule. Brian Moeglin: Baseball Coach/Michigan , former professional ballplayer.
---
---
Testimonials
"If you looking for a baseball professional to make a difference, then look no further than Dave Holt. If you're looking for a coach that possesses never ending passion, unwavering dedication, and an all out commitment then your search will end when your hire Dave Holt.
In this highly competitive coaching and sports environment selecting the right leader and teacher will make the difference in building a sustainable winning program or one that will continue to struggle and spiral downward.
I have known Dave Holt for over thirty years. He is a man of integrity, extremely committed, and he understands his craft like very few coaches do. His knowledge of fundamentals, fundraising, coupled with his ability to engage alumni, and handle the public relations of a program make him a powerful force who will create long term success to whoever makes the decision to hire him.
If you are looking to hire a PRO. Then hire Dave Holt , Professional Reliable and highly Organized.."
November 30, 2012 Ray O'Canto, PRESIDENT, NTD MEDIA (business partner)


Coaching & Instruction

"Dave Holt was hired to educate two of my sons on the fundamentals of baseball - hitting, catching, throwing, and pitching. He had a mature professional approach in dealing with young adults, one that I find similar to that of a college full professor who has mastered the skills and techniques necessary to teach successfully.

I have also watched Dave teach and guide college level student athletes during his summer seasons with the Salinas Packers. He did an outstanding professional job of running both the team and the business. It was a regrettable that the Salinas area and temperature could not accommodate summer baseball. I believe Dave to be a great educator and coach." June 10, 2010

Top qualities: Great Results, Personable, Expert

Eugene J. Guglielmo, Ph,D. (client) Eugene J. hired you as a Personal Trainer in 1999 and hired you more than once.
"We drove from 2 hours away for our first training session with Coach Dave 'Skip' Holt for my three baseball-passionate children. It was a fantastic experience, well worth the time, drive, and money.
Coach Skip had a real heart for teaching our kids and shared a lot of insightful, practical information that they were able to immediately go home and incorporate into their game.
We drive by a lot of other schools/coaches to go see Coach Skip, but will continue to do so. His expertise has been the most valuable use of our resources for cultivating excellence in the fundamentals of baseball for our children." Julie Snyder: Baseball Parent

Baseball Impossible: Player Development Make-Over



Build Your Own Culture of Player Development


&
Increase Your Players FUN Level

6-DVD Video Set Building Your Complete Player Development System

Click to Order

Audio CD Format Click Here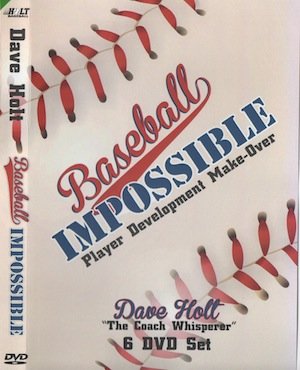 Coaching 6-DVD Box Set
Yes Dave, I Want to Help My Players Enjoy the GAME

Coaching little league baseball & youth baseball can be a blast or could be a  Tough Gig.

Who in their right mind would come back year after year and have teasing baseball practice and never improve their baseball skills? and get welled at by adults?
Baseball Coaching Videos:  Watch over 6 hours of tips on coaching approach, style, philosophy, and my unique player development system. 
Youth baseball carers are short-lived so lets make it count for our players. What do players really want out of playing baseball?
I want to find out more about the 6 DVD Player Development System

---
---