Hey Friends ... sign up for my newsletter and get my
FREE Practice Checklist
---
Share Your Youth Baseball Tip and Pictures
Have a youth baseball tip? This site is all about sharing baseball knowledge between us without spending any money if you choose not to.
I would love for you to showcase your knowledge, your practice drills, game strategies, coaching philosophies and helpful tips for coaching and playing baseball so we can all share and enjoy the fruits.
*Youth Baseball Submission Guidelines*
Tip of the Month Contest:

Every month I will select the "Best Write Up of the Month". Once your article is approved and online, you will be sent all the necessary information on how to enter your submitted article in the contest.

Each article

must be about something you have directly taken part in and experienced yourself on the baseball field.

A youth baseball tip

and pictures must be original and cannot be copied from another source.

Your pictures

do not need to be perfect photos. Try to use the pictures as a prop to exhibit your work.

Your write-ups

are VERY important and should be at least 300+ words! Explain how you came across the idea for the youth baseball tip, who it is for and how it went, a few ways to make the tip better for others to utilize. Write up the plan or provide any other information you would like to share.

Crop images

so the pictures helps sell the youth baseball tip.

Sharing more

than one photo: If you feel more than one photo would help tell the story, the form allows you to upload up to four photos. I will review them all and choose the best ones.
Hurray up! Get writing and pounding those keys! I know you have some great youth baseball tips.
Submit Your Baseball Article Here
If sending more than one photo: If you would like to share more than one photo, the form below allows you to upload as many as four pictures. I will look them over and select the best.
By submitting your photos, writings and videos, you grant CoachandPlayBaseball.com permission to republish, edit and create derivatives in any and all media whatsoever.
If you find the form does not submit properly feel free to send your youth baseball coaching tips write-up article to daveholt3atgmail.com
Have a Great Baseball Tip, Drill, Strategy or Philosophy to Share?
I know some of you have some great baseball knowledge to share.

If you are led to 'pound those keys' and send in your article we want to hear from you!
Recent Baseball Articles Submitted by Visitors
Click below to see contributions from other visitors to this page...

---
---

Baseball Impossible: Player Development Make-Over



Build Your Own Culture of Player Development


&
Increase Your Players FUN Level

6-DVD Video Set Building Your Complete Player Development System

Click to Order

Audio CD Format Click Here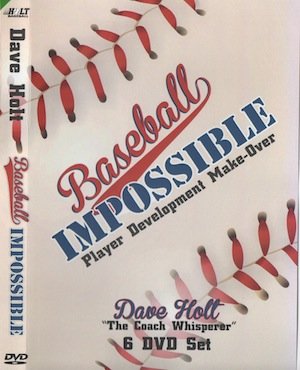 Coaching 6-DVD Box Set
Yes Dave, I Want to Help My Players Enjoy the GAME

Coaching little league baseball & youth baseball can be a blast or could be a  Tough Gig.

Who in their right mind would come back year after year and have teasing baseball practice and never improve their baseball skills? and get welled at by adults?
Baseball Coaching Videos:  Watch over 6 hours of tips on coaching approach, style, philosophy, and my unique player development system. 
Youth baseball carers are short-lived so lets make it count for our players. What do players really want out of playing baseball?
I want to find out more about the 6 DVD Player Development System

---
---