Hey Friends ... sign up for my newsletter and get my
FREE Practice Checklist
---
Best Hitting Drills for Youth: Pitch Recognition
by Miles Noland
(Lexington, KY)
There are tons of tee drills, front toss drills, and other hitting drills for youth.

I'm a fan of tee drills, but I'm also a fan of pitch recognition drills.

I talk a lot of pitch recognition, and I truly believe it's important.

However, how do you practice pitch recognition, and how to you incorporate this into hitting drills for youth?

Looking back on my playing career, I realize I needed to work on pitch recognition much more than I did.

People that saw me hit in the cage thought I had great mechanics. They often would think I was the best hitter on the team when they saw me, however, I usually was not.

Mechanically I was great, however, my pitch recognition was not good.

As I went into baseball coaching I vowed to be a better coach than the coaches I had.

This led me to take my focus off mechanics (especially for older hitters), and put the focus on seeing the ball well and approach.

I used some pitch recognition youth hitting drills to help my hitters see the ball out of the hand and all the way to the mitt.

1. Colored baseballs- a great youth hitting drill where the baseballs have a dot drawn on them on opposing sides of the ball, (blue, red, green, black, anything that stands out). After the coach throws the ball the hitter must call out the color in mid-flight. Forces hitters to lock in on the ball and have intense focus.

2. Bounce drill- this works best in an indoor facility or an area where there is artificial turf on the floor. Set up in front toss, the coach throws a fastball underhanded, or a changeup overhanded (by throwing the ball hard into the ground, it bounces once and the batter hits it when it's in the strike zone). This forces the hitter to recognize the pitch early and be on time for either pitch (fastball or changeup). The hitter will have to wait on the changeup and be quick on the fastball.

3. Standing in on bullpens- Youth hitting drills? This is great, especially before the season starts. It is not always feasible (especially when practicing inside) to have hitters hitting live off pitchers. However, pitchers will be throwing bullpens, and all the hitter needs is a helmet and bat, but does not need to swing. This allows the hitter to see pitches live out of a pitchers hand (rather than a coach behind an L-screen) and benefits the pitcher as well.

4. Take a pitch, swing at a pitch- this drill can be done effectively off long toss BP, or front toss. The hitter will take a pitch, and then swing at a pitch. Swinging at each pitch doesn't force the hitter to get his best look at each pitch. Taking every other pitch forces the hitter to slow his rhythm down and truly track each pitch to the mitt.

5. Mix it up BP- The coach throwing will mix up the pitches between a fastball, curveball, and changeup. Many BP sessions are what I like to call "feel good" sessions, where the coach throws it right down the middle, and the hitters hit the ball well.

Use these different youth hitting drills to prepare you for seeing the ball as well as possible.
Mechanics are important, but seeing the ball is more important.

Use these youth hitting drills and you will dramatically improve your vision.

The improved vision and tracking of the baseball will allow you to recognize each pitch early, to be on time, and to drive the baseball more often than you have before.

Be the best,
Coach Miles
http://athletehitting.com

Hey Miles,

You are right, there are as many hitting drills as people who coach youth baseball. I think all batting drills have some merit at least to try them out. The hitting tee is certainly one of the best if not best hitting aide there is. Especially if the batting tee used correctly.

Professional hitters often use batting tees on a daily basis. The tee is a great tool to polish the swing. This is where you hitters really can mold their swings. The hitting tee is maybe the best hitting tool to reinforce the spots where hitters should contact the various pitches.

The inside pitch should be hit further out in front of the plate. The pitch over the middle should be hit gap to gap more through the middle of the diamond. The pitch on the outside third of the plate should be lined up about even with the stride foot and hit to the opposite field. Keeping the shoulder in and staying though the ball is extremely important to be a successful hitter.

When I was a kid I spent hours hitting on the tee just by myself. Of course hitting was just about my favorite thing in the world to do so I enjoyed it. It was not really work—it was a pleasure for me. I think I was pretty unique.

Not many if any of my peers was a hitting fool like I was. Since most hitters need some incentive to practice on the batting tee I use competition in my drills. I try to have a target to hit into which a hitter can keep points on. A game within the game.

That way players do not realize they are getting their swings in. The batters become distracted by the mere competition of the drills. I also give out hitting style points too. If the batter completes a quality swing and maintains balance then they can receive a bonus point for good bating style.

As far as pitch recognition, I do not spend much time with this with young players. I prefer to encourage hitters to be aggressive. I feel hitters will go as far as their bat takes them. Therefore swinging the bat in an aggressive mindset trumps pitch recognition.

Not to say that pitch recognition is not important. I just feel hitters have to error on the aggressive side when playing below the high school level. Even more so in the pre-puberty age level. Base on balls are not really very much help to young hitters. I think the strikezone can be learned later on. If a kid does not learn how to square up on a fastball and turn it around once in awhile their days may be numbered.

Thanks for your service to baseball!
Dave Holt
The 'Coach Whisperer'


Baseball Impossible: Player Development Make-Over



Build Your Own Culture of Player Development


&
Increase Your Players FUN Level

6-DVD Video Set Building Your Complete Player Development System

Click to Order

Audio CD Format Click Here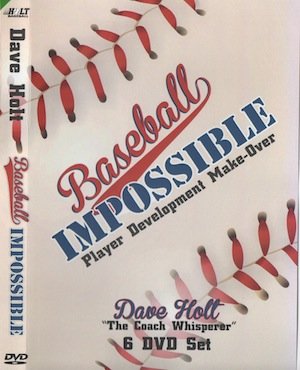 Coaching 6-DVD Box Set
Yes Dave, I Want to Help My Players Enjoy the GAME

Coaching little league baseball & youth baseball can be a blast or could be a  Tough Gig.

Who in their right mind would come back year after year and have teasing baseball practice and never improve their baseball skills? and get welled at by adults?
Baseball Coaching Videos:  Watch over 6 hours of tips on coaching approach, style, philosophy, and my unique player development system. 
Youth baseball carers are short-lived so lets make it count for our players. What do players really want out of playing baseball?
I want to find out more about the 6 DVD Player Development System

---
---