Baseball Lesson Policies

HOLT Baseball Training Center Lesson Packages
Please look over and review the policies in regard my lesson packages before starting your lessons and paying your first lesson. If you have any additional questions please contact me HERE


Expiration Policy

EXPIRATION POLICY: All lesson packages must be completed within 12 months of initial lesson purchase.
If any lessons are not completed within the 12 months of the date of purchase the remaining sessions will be expired and all credit and money will be forfeited.
---

Refund & Payment Policy

REFUND/PAYMENT POLICY:
All lesson packages must be paid for, at the latest, after the first lesson of the package is completed. If you do not pay for the package at that time, you will not receive the discount for pre-paying.
If you must 'take care of payment' next time, you will need to pay the full amount for the first lesson as well as the amount for the package you choose to purchase. I thank you for your understanding and I really appreciate your payment at the time I provide your service.
In addition, I DO NOT provide refunds on lesson packages. If you and your players choose to purchase a lesson package, I will provide these lessons until the package is completed in the 3 month duration.
---

Cancellation Policy

CANCELLATION POLICY:
You MUST give me at least 24 hours notice to cancel you lesson. I will not "penalize" you IF AND ONLY IF the vacated slot is filled.
If I am unable to fill your lesson time slot with another client, the missed lesson-session wIll be counted toward your package, and if you are not doing a package, you will need to pay for the missed lesson prior to scheduling a future lesson.
I normally use a "3 strike" policy when I come upon late cancellations and no-shows. Please do not make a "habit" of canceling the same day as your scheduled lesson because, after "3-strikes" I will start charging you.
Thank you for your understanding,
---

Baseball Impossible: Player Development Make-Over



Build Your Own Culture of Player Development


&
Increase Your Players FUN Level

6-DVD Video Set Building Your Complete Player Development System

Click to Order

Audio CD Format Click Here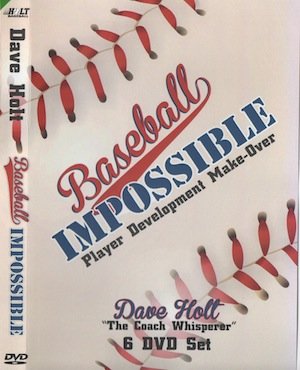 Coaching 6-DVD Box Set
Yes Dave, I Want to Help My Players Enjoy the GAME

Coaching little league baseball & youth baseball can be a blast or could be a  Tough Gig.

Who in their right mind would come back year after year and have teasing baseball practice and never improve their baseball skills? and get welled at by adults?
Baseball Coaching Videos:  Watch over 6 hours of tips on coaching approach, style, philosophy, and my unique player development system. 
Youth baseball carers are short-lived so lets make it count for our players. What do players really want out of playing baseball?
I want to find out more about the 6 DVD Player Development System

---
---