Hey Friends ... sign up for my newsletter and get my
FREE Practice Checklist
---

Baseball Signs Signals
You Really DON'T Need Them



Miami Maniac helping Dave Holt coaching 3B
Baseball Signs Signals...

For youth baseball coaches, putting on signs draws a lot of interest.
How do I know this?
Because right here on my website  www.coachandplaybaseball,.com the most popular pages are my baseball signs articles.
This is where people land when they search for putting on 'signs'. I also know from my personal experience on the field being around youth coaches they are obsessed with flashing signs.
---
---

Non-Essential Baseball
Signs & Signals
No Bunting or Walks


In my "Building a Culture of Hitting" I go over how really NON-ESSENTIAL baseball signs signals are for the teams below high school varsity baseball.
Since we don't bunt and we don't 'take' pitches all that is left is the 'steal' sign. (Just scratch your ear or something)
So why is there such a curiosity and desire for youth coaches to find out about giving baseball signs signals?
SIDE NOTE: In case you are new here we don't bunt below high school varsity. We hate to walk so we never 'take' pitches. We build a culture of hitting.


The Need for Street 'Cred'


Flashing Baseball Signs Signals




Makes Me Look Good





Simple—coaches are seeking credibility.
I think it is because in the youth baseball coaches mind they think, "If I flash a bunch of baseball signs signals from the 3B coaching box," or, "I sit on a bucket out in front of the dugout and 'call pitches', I am seen as a legitimate coach…
and everyone in the ballpark can clearly see me in action." I am establishing my street 'cred' and the perception is "I am running the puppet strings here."
SIDE NOTE: (MLB coaches do not call pitches—they do call pick-offs to 1B and pitchouts. On TV the bench coach or managers are giving signs to the catcher to defend the running game).
MLB catchers call their own game. Pitchers and catchers call their own pitches.

I Need to Trick 'em'
Flashing Signs & Signals Make
Me Look Like a Smart Coach



In other words what the coaches are saying to themselves is...
"I have to 'trick' the kids and parents into believing I can coach by putting on a bunch of baseball signs signals."
It's like coaching in football where the coach 'signals' the play into the QB from the sideline.
The sign signal flashing by the baseball coach gives the visual observation to the participants that, "I am THE coach and I am dictating everything, and the proof is in the act of flashing all these hand signals or calling out 'colors' so 'I am pretty much proving that I can coach."
Sitting on a bucket out in front of the dugout flashing baseball signs signals shows everyone,...
"Wow, look at that youth baseball coach flashing signs signals calling all the pitches and plays. He really knows his stuff. He must really know what he is doing."

The Constant 'Hunt' for Affirmation
Coaches Want the Stamp of Approval



Youth baseball coaches and travel ball coaches are on the constant hunt for credibility. Most (only 10%) have been formally trained.
Competition for players is real. Travel ball is now becoming a for profit venture for some organizations. Even not-for-profit teams are in the market for good players.(Good baseball players will make you look smart too).

Travel baseball coaches and rec league baseball coaches are constantly trying to elevate their status (build up the street cred).
More than likely the large majority of travel ball coaches and baseball coaches are ill-equipped and lack the teaching knowledge and background to really help the kids get better as players.
To bridge the gap from the lack of coaching knowledge and training the coach will go to the easiest trick in the book...start flashing a bunch of signs. Signs signals and 'plays' ...
"Will make me look like I know what I am doing." (Code for I am going to have to 'trick them')

Stop trying to fake it. Time to be a 'REAL' baseball coach. Quit trying to trick folks to think you can coach by flashing meaningless signs.

Real Baseball Coaches...
Know Why You Coach Baseball



Real baseball coaches realize that 'giving baseball signs' or 'putting on baseball signals' is really not significant in the 'big picture'. Below high school varsity baseball we are going to let the kids swing the bat.
We, as quality baseball coaches, know there are much higher coaching priorities to concern ourselves with.

'REAL' baseball coaches know...
How to release kids to play the game.
How to 'Build a Culture of Hitting'

 

The important aspects of their coaching approach.
How to use their time towards teaching, mentoring, modeling and developing.
Really loud coaches are not always the best.

 

How to look for 'teachable moments'.
How to Build kids up—not tear them down.
How to maneuver winning vs. player development
Building a Endless Supply of Pitchers
Prepare kids to play multiple positions
How to Handle umpires and make your kids the focal point.
Why I need to have a pre-season parent/coaches meeting
In the long run, if you are relying on flashing signs signals and putting on plays for your coaching credibility you need to take a pause.
You are missing the golden opportunity to really help build a culture of player development.
Defensding the Running Game Signs
---

Baseball Impossible: Player Development Make-Over



Build Your Own Culture of Player Development


&
Increase Your Players FUN Level

6-DVD Video Set Building Your Complete Player Development System

Click to Order

Audio CD Format Click Here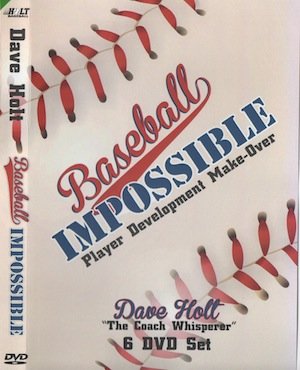 Coaching 6-DVD Box Set
Yes Dave, I Want to Help My Players Enjoy the GAME

Coaching little league baseball & youth baseball can be a blast or could be a  Tough Gig.

Who in their right mind would come back year after year and have teasing baseball practice and never improve their baseball skills? and get welled at by adults?
Baseball Coaching Videos:  Watch over 6 hours of tips on coaching approach, style, philosophy, and my unique player development system. 
Youth baseball carers are short-lived so lets make it count for our players. What do players really want out of playing baseball?
I want to find out more about the 6 DVD Player Development System

---
---