Hey Friends ... sign up for my newsletter and get my
FREE Practice Checklist
---

Baseball Glove Care
How to Maintain Your Baseball Glove
Baseball glove care only takes a few minutes. Leather baseball gloves are built to last, but that doesn't mean you can't improvetheir longevity with some dedicated maintenance.
The organic hide from which these venerable gloves are made can stand up to the elements, but you'll need to treat your glove with tender loving care if you want it to go the distance.
Here are some baseball glove care tips that can help you get the most out of your treasured baseball glove. 
Give Your Glove Some Break-In Time
There is magic to the feeling of a new baseball glove, but it can be difficult to play with before the leather has broken in.
Some glove manufacturers put soft-leather gloves on the market for those who don't want to wait, but some ballplayers prefer the stiff leather of a traditional glove. The best way to go through the break-in process is to play with it as much as possible.
The glove was designed to catch baseballs. When new owners go to extremes such as baking the glove or beating it against the wall, they can unknowingly do damage to the fresh leather.

Clean Your Glove Often
Ultimate Baseball Glove Care
It's probably more common to never clean a baseball glove than to clean it after every game, but you should err closer to the latter.
You don't have to break out your favorite leather cleaner every time — just wiping the dirt and debris off the glove with a clean towel should be enough to keep your leather from deteriorating.
A corollary to this rule is to keep your glove dry. Should it get wet, dry it off with an absorbent rag as soon as possible.
Make Glove Maintenance a Priority
Few people would consider performing routine baseball glove care maintenance the highlight of their day, but sometimes the most tedious tasks are also the most important.
Put music on or watch a TV show in the background, and dedicate some time each week to maintaining your glove.
Cleaning and conditioning are the most important parts of this process. Do so with leather cleaners and leather conditioners that are made specifically for that purpose.
Protect the Interior
Insider Tips for Glove Care
If a lot of your time is dedicated to maintaining the outside of your baseball glove,you may want to consider taking some steps to protecting the interior as well.
Proper glove care maintenance doesn't have to take up a lot of time and energy. If you follow the steps outlined aboveyou shouldn't have to invest more than an hour or so each week to the process.
It's most important to keep a good leather cleaner and conditioner in your home for your weekly maintenance chores. Otherwise, treat your  glove care like the valuable tool that it is, and you will be rewarded with many years of flawless performance.
About the author: Jim McGowen is the founder of Leather Honey Leather Conditioner, the #1 selling leather conditioner on Amazon.com.
A supplier to many industries, Leather Honey also has the perfect leather cleaner for sports equipment. 
Return To Baseball Equipment from Baseball Glove Care
---
---

Baseball Impossible: Player Development Make-Over



Build Your Own Culture of Player Development


&
Increase Your Players FUN Level

6-DVD Video Set Building Your Complete Player Development System

Click to Order

Audio CD Format Click Here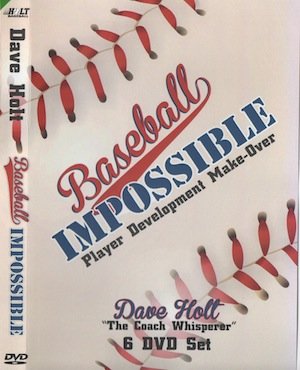 Coaching 6-DVD Box Set
Yes Dave, I Want to Help My Players Enjoy the GAME

Coaching little league baseball & youth baseball can be a blast or could be a  Tough Gig.

Who in their right mind would come back year after year and have teasing baseball practice and never improve their baseball skills? and get welled at by adults?
Baseball Coaching Videos:  Watch over 6 hours of tips on coaching approach, style, philosophy, and my unique player development system. 
Youth baseball carers are short-lived so lets make it count for our players. What do players really want out of playing baseball?
I want to find out more about the 6 DVD Player Development System

---
---