Hey Friends ... sign up for my newsletter and get my
FREE Practice Checklist
---
Finding a Travel Baseball Team
by Joe K
(USA)
Question: What is the best way to find a 13U team in our area, which is not coached by the fathers of players and manager/coaches will be fair and impartial based upon ability and proven performance.


Dear Joe
A friend of mine was talking about the same subject you were asking about recently. He made the comment that in his experience with youth baseball and travel baseball in particular there are basically two scenarios.
You either have a maniac baseball coach that is mean and viscous and thinks every game is the World Series…or you have a really nice guy that knows nothing about teaching the game of baseball. Rarely if ever can you find the happy median.
There just are not many knowledgable coaches that treat kids well out there coaching baseball. This is an almost impossible combination to find anywhere in youth baseball. It is estimated that 85% of youth baseball coaches are dads or moms of children on their ball teams. Daddy ball is the nickname for many travel ball outfits. To find a ball club that is not coached by a daddy is going to hard to find.
Occasionally you will have a few high dollar organizations that charge a big fee to play for with hired coaches. My suggestion is to do some really good research. Talk to other parents that will give you an honest perspective and I would talk to the players, too. Do your homework.
Chances are you may never find the perfect fit but check around to minimize the risk. You might want to go to a local travel tournament and talk to the parents and coaches and see them in action.
Travel ball does not have much of a screening process for coaches. Nor does travel ball provide any coaching clinics or training for their coaches. Everyone just starts up their own ballclub and plenty of tournament directors will gladly take the money without any questions asked if coaches can coach or treat kids with respect.
Believe me I have seen them all. There are plenty of adults out there that have no business on a ballfield with kids but just about anyone can start up their own team if they can get 12 families to buy in. I would say it is a remote chance you will find the perfect situation but do your best to get as close as you can. I don't know any other way except start digging and interviewing people that know which coaches are doing a good job.
Thanks for your support!
Dave 'Skip' Holt

Baseball Impossible: Player Development Make-Over



Build Your Own Culture of Player Development


&
Increase Your Players FUN-Level

6-DVD Video Set Building Your Complete Player Development System

Click to Order

Audio CD Format Click Here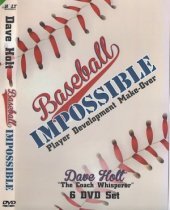 Coaching 6-DVD Box Set
Yes Dave,  I Want to Help My Players Enjoy the GAME

Coaching little league baseball & youth baseball can be a blast or could be a  Tough Gig.

Who in their right mind would come back year after year and have boring baseball practice and never improve their baseball skills? and get yelled at by adults?
Baseball Coaching Videos:  Watch over 6 hours of tips on coaching approach, style, philosophy, and my unique player development system. 
Youth baseball careers are short-lived so lets make it count for our players. What do players really want out of playing baseball?
I want to find out more about the 6 DVD Player Development System

---
---