Hey Friends ... sign up for my newsletter and get my
FREE Practice Checklist
---
Baseball Resource Directory
Baseball Collectibles
Coach and Play Baseball is always looking for quality sites to add to our directory to link with. For additional information scroll down the page. 
---
---
Baseball trading pins, softball trading pins, little league trading pins, custom trading pins.
http://www.custom-trading-pins.com/
Baseball Cards 101collecting baseball cards for over 100 years.
ItsAlreadySigned4U.com Sports Memorabilia
Browse througn our collection for unbeatable memorabilia for collectors signed by superstars of the world of sports.
http://www.itsalreadysigned4u.com/
Pro-mold is the innovative leader of Archival Protective Holders and made in the U.S.A.
Ballpark Blueprints specializes in the presentation of the classic style of ballpark architecture.
http://www.ballparkblueprints.com/
CardTarget eTopps Sports Card Analysis
Card Target is your intelligent card community for price history, card inventory, listings and auctions.
Cooperstown Bats offers vintage replica bats, collectible bats, bat racks and custom engraved bats. We do it all!
http://www.cooperstownbat.com/
Over 40,000 sprots card singles on sale at Dave and Adam's Card World. Topps, Upper Deck. Panini, Just Minors, TriStar and more.
At Home Run Cards you can have the opportunity to buy from one of the largest seclections of baseball rookie cards. 
Return to Baseball Links from Collectibles
These websites and links are included here as a service to our visitors. If you visit and use these links, we do not take responsibility and provide no guarantees for any content and/or accuracy of these 3rd party sites.

Baseball Impossible: Player Development Make-Over



Build Your Own Culture of Player Development


&
Increase Your Players FUN Level

6-DVD Video Set Building Your Complete Player Development System

Click to Order

Audio CD Format Click Here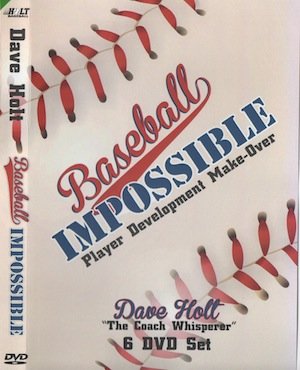 Coaching 6-DVD Box Set
Yes Dave, I Want to Help My Players Enjoy the GAME

Coaching little league baseball & youth baseball can be a blast or could be a  Tough Gig.

Who in their right mind would come back year after year and have teasing baseball practice and never improve their baseball skills? and get welled at by adults?
Baseball Coaching Videos:  Watch over 6 hours of tips on coaching approach, style, philosophy, and my unique player development system. 
Youth baseball carers are short-lived so lets make it count for our players. What do players really want out of playing baseball?
I want to find out more about the 6 DVD Player Development System

---
---