Hey Friends ... sign up for my newsletter and get my
FREE Practice Checklist
---
Challenges of Transition from Rec league to Travel ball
My 10yr old nephew played rec league ball last year and was the best on his team, he made the all-star team and did very well. This year we signed him up for a travel team that is very organized and has 3 U10 teams, he is in the middle division. He isn't getting as much playing time and is getting frustrated. My fear is lack of playing time will cause him to continue to not do as well because he isn't getting the reps other kids are geting from playing more. How do I help him understand the tranisiton from rec to travel is difficult and its okay to not be the all star? just a bit more info, my nephew is left handed and last year(rec league) he played all in-field positions and was the leader of the team, this year in travel, he's been regulated to outfield (I understand based on your Sorry Lefties article), which makes sense. Unforutantely he isn't as comfortable and has made some errors by misjudging the ball. Once he makes an error, that's it, he's riding the pine. He's also hypercritical and senstive and accuately aware of his own mistakes but fails to see other mistakes other kids make. I was surprised to see many kids crying whenever they made an out at bat (we aren't at that stage yet - or should I say, we left that stage last year). Finally, since this is his first year, we tried to switch him to the lowest division but the coaches of this team convinced us he'd be bored there, or he was too good. Now I question that decision since he may have at least been playing more and no, they won't let us switch.

Baseball Impossible: Player Development Make-Over



Build Your Own Culture of Player Development


&
Increase Your Players FUN Level

6-DVD Video Set Building Your Complete Player Development System

Click to Order

Audio CD Format Click Here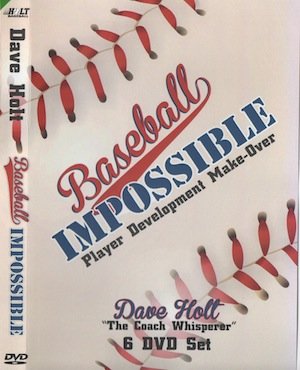 Coaching 6-DVD Box Set
Yes Dave, I Want to Help My Players Enjoy the GAME

Coaching little league baseball & youth baseball can be a blast or could be a  Tough Gig.

Who in their right mind would come back year after year and have teasing baseball practice and never improve their baseball skills? and get welled at by adults?
Baseball Coaching Videos:  Watch over 6 hours of tips on coaching approach, style, philosophy, and my unique player development system. 
Youth baseball carers are short-lived so lets make it count for our players. What do players really want out of playing baseball?
I want to find out more about the 6 DVD Player Development System

---
---