Hey Friends ... sign up for my newsletter and get my
FREE Practice Checklist
---
Baseball Parent Syndrome
by Maria A.
(California)
I am a returning college student after 25+ year absence. I am sresearching the
parent baseball syndrome - why the high expectations of their children in
baseball? For a couple of reasons, one its my research topic and second my
10yr old son is in little league. I see all these fathers and some mothers
setting these expectations and in general their attitude is frankly scary to
say the least. Anyway, I was wondering have you written any articles regarding
this?
thank you for your time.


Baseball Impossible: Player Development Make-Over



Build Your Own Culture of Player Development


&
Increase Your Players FUN Level

6-DVD Video Set Building Your Complete Player Development System

Click to Order

Audio CD Format Click Here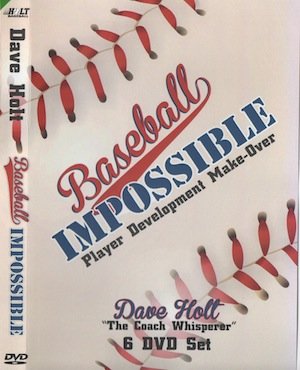 Coaching 6-DVD Box Set
Yes Dave, I Want to Help My Players Enjoy the GAME

Coaching little league baseball & youth baseball can be a blast or could be a  Tough Gig.

Who in their right mind would come back year after year and have teasing baseball practice and never improve their baseball skills? and get welled at by adults?
Baseball Coaching Videos:  Watch over 6 hours of tips on coaching approach, style, philosophy, and my unique player development system. 
Youth baseball carers are short-lived so lets make it count for our players. What do players really want out of playing baseball?
I want to find out more about the 6 DVD Player Development System

---
---