Hey Friends ... sign up for my newsletter and get my
FREE Practice Checklist
---
The 5-Tools 

 Baseball Skills Each Player Needs
The 5-Tools: Just checking to make sure you know the '5' Tools of player evaluation and development. These are the baseball skills that the pros use to evaluate players physical abilities.
In fact, college and high school baseball will grade ballplayers in some fashion using the '5' tools as an evaluation component.

What are the 5-Tools?


Running: speed, how fast can a player run.
Throwing: Arm strength and some accuracy.
Fielding: How a player catches and throws and handles the ball.
Hitting: How the ball comes off the bat, how good is a player at quality at bats.
Power: Projecting home run and extra base potential.

Why Are the Five-Tools Important?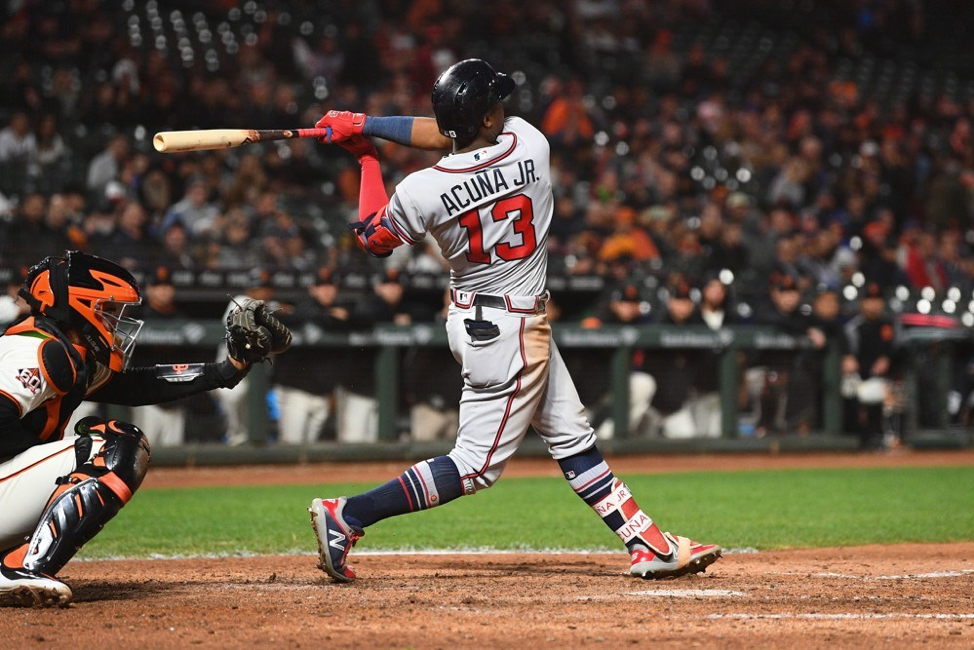 Ronald Acuna: 5-Tool Player Atlanta Braves
As far as baseball skills and ability the '5' Tools are enormously important. Every youth ballplayer should know the '5' tools. Why? Because each player should be trying to improve on these five tools constantly.
In the same token, every coach should be constantly trying to help their players improve on the five tools. The better that ballplayers are able to perform each of the 5-tools—the better chance the kids have to stay in the game longer.
A '5' tool player in MLB are players like Mike Trout: Angels, Ronald Acuna: Braves, Cody Bellinger: Dodgers, Francisco Lindor: Indians. These MLB players can "can do it all."
They all run above average and can steal bases. They all have a 'canon' for an arm. They are all top-notch fielders. They are consistently middle of the order hitters. And they can hit the ball over the fence.
SIDE NOTE: Many other MLB players rank very high in the 5-Tools, too.
By the time youth players reach age 14 and 15 the 5-Tools will really start becoming a deciding factor on each players future. Entering the high school baseball funnel around 9th grade is the beginning of high school coaches time to project if a kid will someday be a Varsity player.
What are high school coaches looking for in a Varsity player? Coaches are looking for tools that will help them win games. What tools help a team win games?
Yes, the 5-Tools. High School coaches are looking for athletes who can they can project and develop with as many of the 5-Tools as possible so they a have a better chance to compete at the Varsity level.

How to Help Players
Build the 5-Tool Player


Every youth baseball coach must have a strong awareness of developing the 5-Tools in every youth baseball player. From entry levels until age 14 the coaches have to give kids numerous opportunities to develop their own five tools.
Running: Give ballplayers chances to run. Run the bases, use a stopwatch, do sprints, relays, races, agilities, squats, lunges. Mostly running speed comes from born, natural athletic ability, so speed is largely out of a coach's control.
Players can make up for a lack of superior speed by becoming a smart, instinctive baserunner.
Throwing: This is why I like to train all righthanded throwers to play SS. At least practice from SS. Being able to play 3B, SS, C and/or pitcher when a player reaches High School is very valuable.
SIDE NOTE: Lefties have to play 1B, Pitcher or OF in High School.
Ultimately, the stronger armed righthanded throwers are going to play SS, 3B, Pitcher or Catcher. That leaves 2B, 1B and OF.
Often these positions are crowded in High School so you better have high grades in several of the 5-Tools to get playing time.
Fielding: The best players play "close to the ball". Pitcher, catcher and Shortstop are very close to the ball. Second base is close to the ball, too, but often kids end up playing 2B because they have below average arms (or another kid is just better at SS).
Good ball-handling skills are a prerequisite to penetrate the high school funnel unless the bat or speed are so superior that the coach has to have your bat or legs in the lineup. You could 'hide' in the OF or 1B if you have a really good bat.
Hitting: By the time kids reach High School they are starting to show if they can hit or not. The hitters really start to shine.
The non-hitters often start dropping off and leaving the game. The kids are getting more used to the 60'/90' and physically starting to catch-up to the field dimensions.
Good hitters are not often sitting the bench. Good hitters 'square up' on the ball fairly often. Good hitters have a lot of enjoyment and usually stay in the game longer.
Power: A rarity in most high school players. Might start seeing it when kids reach 17 and 18 years old and start growing into their 'man' bodies. Why do the MLB power hitters get paid so well?
Because teams need power hitters and there are not very many that can do it. High School and college teams are always looking for power hitters too.
 What Does the High School Coach Want
to See in Players?
Where do your players grade out on the 5-tools? What if you have a kid that cannot do anything very well? Or more likely, some kids have a couple of tools where they are average or excel at.
No matter what, it is our job as coaches and parents to start providing opportunities for kids to build and develop their own 5-Tool assortment. The more tools in the tool box—the more a high school coach will get your attention.

Age 14 & 15 Is When the 5-Tools Show up or Not


When kids are 12 & Under there is a lot of hype and interest in winning games, making All-Stars, tournaments, traveling all over to seek 'better competition' and building a winning reputation for your organization.
Just remember, once kids reach age 14-15 nothing really is going to matter except if they have some athletic abilities (running and throwing), can handle the ball, can hit and have some 'pop' in the bat. 
Every youth ball player should know about the five tools and the importance of improving on each of these areas. It is helpful when kids know each area so they can have some goals to get better at each tool.
Developing tools takes some work for most kids. A few just have been blessed to be born with baseball tools and athleticism.
Some of the 'Big-people' (coaches and parents) think games will develop tools. Not necessarily. Playing a gazillion games when you are 10, 11, 12 years old will not automatically make you a 5-tool player.
Side Note: "If all you do is teach baseball, then you are cheating the players. Take every opportunity to teach more than the game."
Coaching The '6th Tool': Teaching the Intangibles. Grit, Bounce back, dealing with failure properly, teamwork, sportsmanship, unselfishness, competitiveness, coachable, work ethic, effort level, intensity. etc.
---
---

Baseball Impossible: Player Development Make-Over



Build Your Own Culture of Player Development


&
Increase Your Players FUN Level

6-DVD Video Set Building Your Complete Player Development System

Click to Order

Audio CD Format Click Here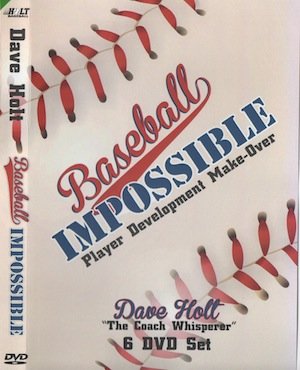 Coaching 6-DVD Box Set
Yes Dave, I Want to Help My Players Enjoy the GAME

Coaching little league baseball & youth baseball can be a blast or could be a  Tough Gig.

Who in their right mind would come back year after year and have teasing baseball practice and never improve their baseball skills? and get welled at by adults?
Baseball Coaching Videos:  Watch over 6 hours of tips on coaching approach, style, philosophy, and my unique player development system. 
Youth baseball carers are short-lived so lets make it count for our players. What do players really want out of playing baseball?
I want to find out more about the 6 DVD Player Development System

---
---