---
Coaching Baseball
Books, Audio CDs,
DVDs Videos.



75% OFF Sale For Combo Pack




Click the time Clock



Complete System to Build
Your Own Culture of Hitting

Two Brand New Books: Just Released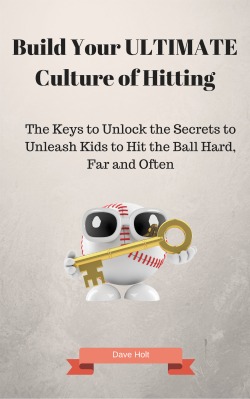 The Game-Changer $17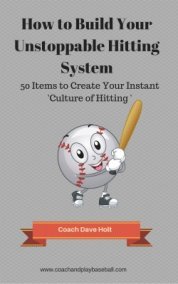 50 Keys to Your Hitting System $7
---
Click on the links and go check out how to stop sabotaging youth baseball hitters and revitalize your coaching communication.
How to Build the ULTIMATE Culture of Hitting

How to Build Your Unstoppable Hitting System
Both eBooks COMPLETE Combo Package System=Best Deal $19.95
---
---

Did You Know Only 5-10% of Youth Baseball Coaches Have Been Trained

Doing What Other Coaches Do May Not Be Too Wise
Top baseball books & Videos that really help coaches, players and parents make the youth baseball experience work for a healthier baseball season are hard to find.
Available formats: PDF eBook & Hardcover Binder
Brand New: Baseball Impossible Player Development Make Over
6 DVDS all in one Package...Find out more: Act Now
The fact is this information is not found anywhere on the web.
That's why everyone must have this unique 6+ Hours of baseball coaching clinics.
Check out Baseball Impossible: Player Development Make-Over HERE.
Grass Roots Approach to Developing Baseball Skills and Character.
---
Limited Time 
75% OFF

Combo Pack


Super Simple Guide to Coaching Youth Baseball

Learn the unique professional baseball development system used by the pros.

This essential guidebook will help all youth baseball coaches have a healthier coaching approach.

8.5"x11" 76 Page eBook
---
Vital Baseball Coaching Manual
for Teaching Hitters Like the Pros
You Go As Far As Your Bat Takes You
The baseball players that hit the best usually play the most.
If you want to stay in baseball, well your career depends on your batting production.
Look how the pros teach hitting, baserunning and offensive baseball.
8.5"x11" 90 Page eBook
Yes, I want to see more about this book.
---
Baseball Coaching Manual

Ever Run Short of Pitchers?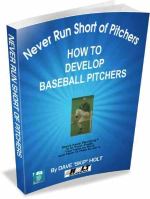 How do you develop an endless supply of pitchers?
Don't have enough pitchers?
It might be your fault.
You have to go find them and then use a system to develop pitchers year after year.
8.5"x11" 64 Page eBook
Tell me more about Never Run Short of Pitchers
---
Now Available:
'459 Essential Baseball Coaching & Playing Tips'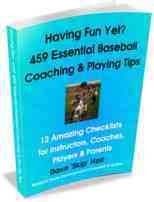 My brand new eBook you don't want to be without. A pocket cheat-sheet on vital tips for coaches, parents and players. Includes 12 separate checklists in 45 pages for an introductory offer of only $5.95
Have these essential checklists with you on your mobile device and access them any time day or night. 
Take a look at a sample of what is inside.
Order Now
---

'BEST DEAL' 75% Off Limited Time
Do Not Miss Out on
This Unique Offer
Get All 3 Baseball eBooks in one Bundle
Only $9.95 ( 75% off full price $38 value)
And Get 459 Essential Tips FREE

My Products:

You Go As Far as Your Bat Takes You
Super Simple Guide to Coach Youth Baseball
459 Essential Baseball Coaching & Playing Tips
Baseball Impossible: Player Development Make-Over
50 Keys to Build Your Unstoppable Hitting System
How to Build Your Own ULTIMATE Culture of Hitting

Back to Home from Baseball Books
---
Hurry...Limited Time April
75% OFF
Click to See How Much time you have:
Get all 4 of my eBooks now for a great deal of less than 10 bucks per book. After you do your homework and you want to do something that will really make a difference in how you impact young people come on back here to submit your order.
This is a game-changer. Coaching kids the right way will stay with them for a lifetime. Leave your legacy with the young people you have the opportunity to coach and parent. 
The 3 eBook Bundle is now $9.95...75% off Full Price. & Get 459 Essential Baseball Tips FREE
Click for BEST DEAL!
---


CLOSE-OUT:

101 Page 3-Ring Binder With 3 Audio CDs


"Player Development is the Winning Model"




---
---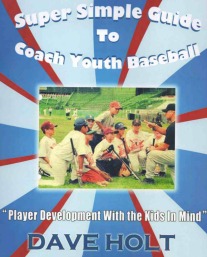 ---
CLOSE-OUT DEAL!. Hard Copy Edition in 3-Ring Binder format with 3 Audio CDs too!
Use as a workbook. Listen to the CDs in your car or CD player. 
Big Bonus Section included includes special guest interviews, checklists and my letter to parents.
Go to Super Simple Guide to Coach Youth Baseball with 3 Audio CDs
---
Frequently Asked Questions From Our Visitors
Q: How do I download my eBooks?
A: After you click the 'submit' button and your payment is processed you will be able to open a link to download the eBooks. You have plenty of time to download the eBooks to your computer or device.
You have 72 hours (3) days, or up to (3) downloads. Just save the file to your PC or Mac. You will need 'Adobe Reader' installed so if you need the link I have it on the info pages and it is FREE.
Q: What is Your Guarantee on your products?
I offer a 60 day money back guarantee on the products. I have not had any returns yet but all you have to do is contact me by my website email or call me and we will make it right for you.
Q: Can I purchase your eBooks in another format besides the download?
A: If you are not comfortable with online ordering (PayPal is very good though) just email me and you can send a check by regular mail and I will email the eBook files to you. Its pretty easy.
Q: I have never downloaded eBooks. Is it safe?
A: Really safe. eBooks are becoming more and more acceptable and popular. 'Adobe Reader' is very easy to use and is widely popular as a software package (and it is free) which most newer computers have installed. Adobe Reader keeps the words locked in place so you do not get a jumbled up book. It is like the pages are photographed so everything stays in place when the books download.
What should I do right after I purchase?
A: Follow the download instructions. Its very easy. Just remember to save the eBook files to your computer. No worries if you forget--just email me and I will send you the eBook again.
Q: Do you have hard copies or audio cds ?
A: Yes, The Super Simple Guide to Coaching Youth Baseball Binder Book with 3 Audio CDs in available to purchase. 
---
FREE Coaching Course

Start building your own 'Culture of Player Development'
I will send you a 4 Part Coaching Course right to your email box.

Baseball Impossible: Player Development Make-Over



Build Your Own Culture of Player Development


&
Increase Your Players FUN-Level

6-DVD Video Set Building Your Complete Player Development System

Click to Order

Audio CD Format Click Here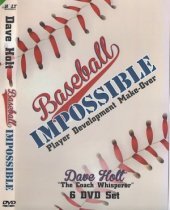 Coaching 6-DVD Box Set
Yes Dave,  I Want to Help My Players Enjoy the GAME

Coaching little league baseball & youth baseball can be a blast or could be a  Tough Gig.

Who in their right mind would come back year after year and have boring baseball practice and never improve their baseball skills? and get yelled at by adults?
Baseball Coaching Videos: Watch over 6 hours of tips on coaching approach, style, philosophy, and my unique player development system. 
Youth baseball careers are short-lived so lets make it count for our players. What do players really want out of playing baseball?
I want to Find Out More about the 6 DVD Player Development System

---
---