Dont' Be the only One to Miss 459 FREE Baseball Tips
Best Baseball Interviews

Youth Baseball Experts
Baseball Interviews: Here at Coach and Play Baseball I am always seeking experts in the field of baseball coaching and playing. When the opportunity arises that I can speak with great baseball people I want to share their wisdom with my readers.
The "Interview" tab is set up to showcase some of the conversations I have with other knowledgeable baseball people. I appreciate their gracious time to share with us about their thoughts on teaching and talking baseball.
It is not necessary to be an expert in baseball at the lower levels of the game. The experts are usually in the higher levels of high school coaching and higher.
It is important to have the right baseball coaching approach and to be able to treat players, parents, game officials and opponents with high character values and respect.
You get a pass on baseball knowledge, but you ARE expected to treat kids fairly and respectfully, work hard, and be enthusiastic-- win or lose.
Please take a look at my baseball interviews listed below. Thanks!
Shop Under Armour Stocking Stuffers
Expert Interview Lists
Jack Perconte -Former MLB player, author, writer, youth coach, and host of www.baseballtips.net. - January 30, 2012
Major Wiley Channell - Author of "Baseballfarming" - January 10, 2012
Dan Clemens - Author of A Perfect Season: A Coach's Journey to Learning, Competing, and Having Fun in Youth Baseball. Dan is a noted speaker on positive coaching approaches and motivation. We are blessed again that another coaching approach expert has taken some time to talk with us.February, 2012
Don Edlin Expert Baseball coach and QCBaseball.com webmaster recently spent time with me discussing his views on youth baseball and coaching approach. Don has a solid baseball coaching platform and pushes the positive coaching style for youth baseball coaches.
This is a must read interview for coaches and parents that are involved in youth baseball at any age level. March, 2012
Unbelievable Baseball Interviews Dusty Baker, Al Rosen, Matt Williams
ESPN Host Tony Fiorino from the 'Hey Coach Tony' Show. Another can't miss interview. National sports parenting expert sits down with us to share his excellent professional advice and outlook on coaching and parenting youth baseball with the proper 'PERSPECTIVE'.
Every baseball parent and youth league baseball coach should take Tony's advice and keep the proper perspective on youth sports. March 15, 2012
Return from Coach and Play Baseball Interviews to Youth Baseball Home
---
Youth Baseball 3-DVD Training Video
Coaching 3-DVD Box Set 
Coaching little league baseball & youth baseball can be a DISASTER. Who in their right mind would come back year after year and have boring baseball practice and never improve their baseball skills? and get yelled at by adults?
Baseball Coaching Videos: Do your baseball research. Read some coaching books and watch some  coaching videos. At least you will have a fighting chance to keep players in the game a little longer.
---
Don't be the only one to miss 459 FREE baseball Coach & Play Tips
Get My FREE 45 page eBook "459 Essential Baseball Tips for
Coaches & Players
Just add your first name and email in this box and sign-up for my monthly e-Zine and you get the FREE 45 page book.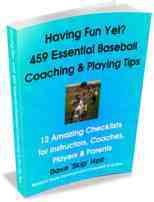 Please tell your fellow baseball circle of friends about the FREE eBook at the Newsletter sign up page.
SHARE Your Youth Baseball Topics HERE!
The good, the bad, and the ugly. Your CHANCE to get it off your chest. Share with us what is on your mind.
We want to hear from you!
Allow for 12-24 hours for Questions and Comments to be posted after a review by our staff. (me)
---