About me

I was born in Fresno, Ca and early on found a passion with sports. Dad was a high school and college baseball and football coach. Bert is a member of the California Junior College Baseball Coaches HOF. Dave Holt career bio at Wikipedia Tagging around my Dad while growing up I realized how much I loved being around baseball. I quickly realized it was hard work to be a good player, especially since I did not have much ability.
---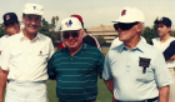 After playing for my Dad and Pete Beiden for two years at College of Sequoias, I transferred to Fresno State to finish playing collegiately. I finished my Physical Education B.A. degree in 1981.
---

At Fresno State I was able to be a part of a great baseball community with lots of history, coaches and players. Bob Bennett and Mike Rupcich were as good as they come. My teammates were awesome, too.
---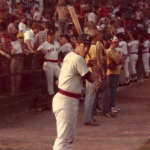 In June of 1979 I was very blessed to be drafted in the 20th round of the amateur baseball draft by the Boston Red Sox. Scout Larry Flynn signed this left-handed hitting catcher to a thousand dollar bonus—no it is not a typo—and I reported to Elmira, NY for the summer. Dave's baseball career stats.
---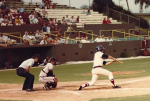 I went on to play five seasons in the minors reaching Double AA New Britain in 1983 playing for manager Rac Slider. Roger Clemens signed that year and joined our ballclub in early July. We rode his coattails and several other future MLB players to the Eastern League Championship that season.
---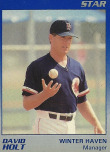 Red Sox farm director Ed Kenney called me that off-season and offered me a job to manage the Florida State League team in Winter Haven, Fl for 1984. It meant the playing days were over—but I kind of knew I had reached my playing ceiling.
---

So with my wife Sheila and new daughter Rachel we began an 11-year managing stint with the Red Sox. Son Peter arrived in 1986 and Rusty in 1987. It was amazing to work with the top players and professionals in the industry.
---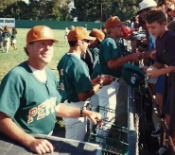 The Red sox run ended in 1994. All good things come to an end. But managing three years in the Independent pro leagues was a real blast, too.
---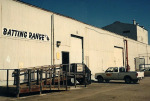 After the 1997 season, Sheila asked me what I would really like to do. I told her I wanted to start a baseball school—academy. Holt Baseball began in a really old and leaky warehouse in Salinas, CA. Hey, the price was right!
---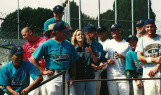 In 2000, the baseball school moved to the city ballpark and we formed the Salinas Packers. We played as members of the California Coastal Collegiate League, a summer wood bat league for college players. We used a Short Season A professional business model and the family and I worked year around. Lots of work, great people, but a little too cold during the summer nights to make it really go.
---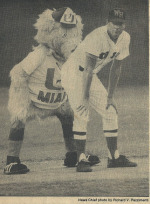 After 2004 we sold the team, baseball school and moved to my old hometown, Visalia, CA. to coach baseball at Mt Whitney High School. We had dedicated players, staff and teachers, which added to a successful era. I ended up finishing my teaching credential and got a Masters Degree in Education in 2008.
---

Summer 2009, was spent away from Sheila, but with a great organization:
Athletes In Action Baseball in the New York Collegiate Baseball League. I was fortunate to coach a great bunch of young Christian men.
---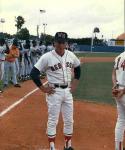 We now live in Charleston, South Carolina. Sheila is teaching HS Health Science.
I am working as a high school administrator/ teacher, operating our private baseball instruction lessons, helping with Post 166 American Legion baseball team and constanly researching, writing articles and guidebooks, and adding to this coach and play baseball website. Click here to ask a Question or leave a Comment
---
Return from Dave Holt About me to Youth Baseball Home
Unique Baseball Player Development System from Dave Holt Bio
4 Easy Steps to Develop Your Baseball Coaching Approach
Click to Athletes In Action
Dave Holt bio at Wikipedia

Sign-Up for our Swing It! Montlhly E-zine in the box below.