'Player Development is the Winning Formula!'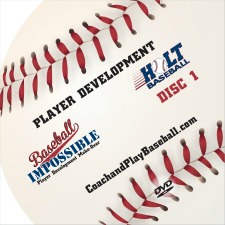 Baseball Impossible: Player Development Make-Over
A 6 DVD Set Complete Resource for Youth Baseball 
See How You Will Benefit Here
---
Baseball Signs & Coaching Tips:
When, Where, Why, and How to Put on Signs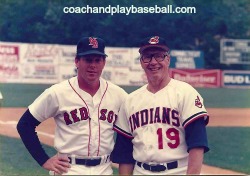 Knowing the baseball signsis one of the first things on the to-do list for a baseball player when he first joins a new ballclub.
The first thing I tell players to do when they get to a new team is ask someone to go over the signs. Second, when greeting the coach or manager ask them what they like to be called.
The third thing: find out where their room is at the hotel so you do not do anything to bother them. Ha.
Step Out of the Box Mania = Over-Coaching
Putting on the youth baseball signs we find coaches are now commonly making their batters automatically step out of box after every pitch and look down to the thirdbase coach.
Coaches routinely will give the batter often unnecessary baseball signs irregardless of the tactical situation.
Much worse, the thirdbase coach will give any number of verbal hitting instructions and batting tips in addition to the baseball signs. Usually there is some scolding about the prior pitch criticizing his swing in any number of ways.
Little if anything is said to build confidence, encourage them to be aggressive, or positive coaching. This leads to too much mind-clutter and creates doubt in the batters mind.

Pro Baseball Model
Professional hitters will step out the box and look for the base coaches baseball signs when the game situation might call for an offensive play like a bunt, steal, or hit and run play.
Otherwise, the thirdbase coach knows to leave them alone when they are at the plate.
Do not get in their heads with too much mind clutter when the batter is at bat. This is NOT the place to provide batting tips, go over hitting mechanics, or showcase your baseball clinic.
While umpiring homeplate at youth league games I have to constantly tell batters to get in the box. They say their coach wants them to look at them until they get some kind of affirmation and baseball signs that the coach is finished spewing his batting tips and scolding instructions. Then and only then are they allowed back in the box and resume their at bat.

Giving a Baseball Sign No Matter What?
While umpiring I like to mess with youth coaches some times. I will see a thirdbase coach touching all these areas on their bodies for baseball signs like in a situation when there are runners on second and thirdbase and two outs.
Obviously this is not a time to put on any signs or plays. The batter will be starring down at him as he goes through his repertoire of plays indicating a baseball sign is on. There is no chance of a bunt, steal or hit and run play.
Between innings I will ask him in a friendly tone, I'm trying to learn the game and can you help me? Can you tell me what plays you are giving the batter in that situation?
Boy, do they dance around that one. They start scrambling for a logical answer which they cannot come up with and usually admit they basically just want everyone to look at them before every pitch no matter what.
See, there are times a bunt, steal, or a hit and run play may be in order. If not, do not give any signs. Leave the batter alone. The only sign to put on is the Hit Sign which is on all the time.

Check the Outs, Signs and Glance at the Outfield
As a thirdbase coach you want the baserunners and the batter to immediately and simultaneously have eye contact with you. Once the runners are safely at their base and the batter is getting to the plate all eyes should be on the thirdbase coach.
Prior to giving signs the coach will hold up both hands each indicating how many outs. The runners will do the same, with both hands giving the number outs back to the coach. This tells the coach they are all watching and they know the number of outs.
Then with all eyes watching quickly put on your signs. Once finished, in higher levels the runners will then take a quick glance at the outfielders to get a mental picture of where the outfielders are positioned to help them make better baserunning decisions on ball batted to the outfield.
Then, begin taking your lead off the base. Check out my baseball signs.

'Claps' Are the Best Kept Secret
The claps sign system is usually used when you have a one game league all-star game or exhibition where players from several teams assemble for a game or two. That is because it is very simple and a fast, easy system to implement. More Baseball Signs
Coaches get frustrated when players miss signs and it usually hurts the team. How do I make a system that is so simple no one misses signs? Ah Ha. Just use the clap system all the time.
Just pick a HOT indicator. I use the right hand to the bill of the hat. Nothing is on until I touch my right hand to the hat when going through the signs. Touch the indicator and the clap count is on.
Now that the indicator has been touched everyone must pay attention to count the claps at the end of the signs. One clap is the sacrifice bunt, two claps is the steal. Three claps is the hit and run. Four claps is the delay steal.
If you think your opponent has picked off your system just change the indicator.
I have a few more individual signs for the things like a squeeze bunt, steal on your own, drag bunt for a hit, rare take sign and stuff like that. These are pretty discreet and I do not use claps. But you could if you wanted.
Whatever signs you use keep them simple and do not put on signs when all the batter can do is hit away. Reveiw the signs regularly.
---
Youth Baseball 3-DVD Training Video
Coaching 3-DVD Box Set 
Coaching little league baseball & youth baseball can be a DISASTER. Who in their right mind would come back year after year and have boring baseball practice and never improve their baseball skills? and get yelled at by adults?
Baseball Coaching Videos: Do your baseball research. Read some coaching books and watch some  coaching videos. At least you will have a fighting chance to keep players in the game a little longer.
---
Just add your first name and email in this box and sign-up for my monthly e-Zine.
Please tell your fellow baseball circle of friends about the Newsletter sign up page.
---