How to Hit a Baseball & Have More Fun!


'You Go as Far as Your Bat Takes You'




Building Your Own Player Development Culture



Limited Time...$9.95 3-eBooks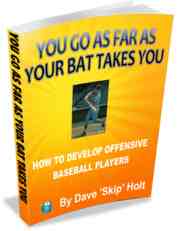 You better know how to hit a baseball. Why? Because you baseball career depends on it.
The best hitters have more FUN

hitting the ball hard, far and often increases the FUN-Factor

Good hitters stay in the game of baseball longer

The best hitters have a chance to play in high school

Hi, I am professional baseball coach and author of 'You Go As Far as Your Bat Takes You.' I believe that hitters will stay in baseball as long as they can help their teams produce significant offensive production.
Youth baseball coaches almost always lack the professional experience to correctly develop hitters to a point that their players can reach the upper levels of high school baseball and beyond.
It is not the coach's fault. Rarely if ever can a youth coach be expected to have the right hitting approach to really help young hitters. Youth baseball coaches and baseball parents have never been shown or taught the professional baseball mentality and approach to hitting.

Tap Into Over 30 Year of Professional Baseball Experience

"I Will Help You Increase Your Player's Fun-Level"

Coach Dave Holt
That is where my book comes to the rescue. I have been in the dugout and on the ball field with Hall of Famers like Ted Williams, Carl Yastrzemski, Jim Rice and Booby Doerr.
I know how professional baseball coaches teach hitting. I will share with you the approach to coach baseball hitters and how to hit a baseball that will help you get the most out of your baseball players.
Not Sure How to Help Hitters?
Let Me Help You... Help Your Players

Have you ever heard the adults say stuff like...
Keep your back elbow up.

You better be patient.

Come on...you got to 'load'

Let the ball travel.

Let it get deep.

Keep your shoulders level...you are dipping.
I told you not to swing at it when it's up here.
Make it be there...don't help em out.
You gotta get some bat speed.
Just throw the hands at it.
Load and fire.
Explode on it.
You gotta wait back on it.
This is some of the baseball jargon that most youth baseball coaches and parents use today. 
Some of this might be harmless. Most of these coaching points are nothing but mind clutter, confusion causing, over-load on young hitters. 
Unless you really understand what you are saying you might be causing more harm than good.
This eBook on will help you sort all this out for you. You will understand how to keep it simple and how the pros teach hitting.
You get a step-by-step guide to show you how to hit a baseball and coaching hitters during the game.
Yes, I show you not only how to hit a baseball, but the mental approach that the pros use to develop hitters. Less is better.
Dave's Passion and experience is unmatched When it comes to the game of baseball. 

Coaching Hitters At  the different Levels is such a challenge but Dave has compressed so much important information along with a coaching style that motivates and leads Hitters down a path to success.  

From Amateur to  the Professional level ,  Dave's  Work in this book is a must read whether you Play or Coach. 

Jim Coffman  Pitching Coach and Oakland Athletics Northwest Area Scout.

Look What is in the 90 Page eBook
'Good Hitters are Happy Players'



Section I Hitting:
Your Baseball Career Depends on It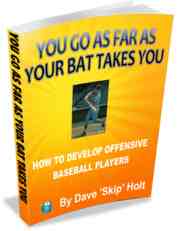 1. Stuff All Good Hitters Do
2. Good Hitters are Aggressive
3. Winning-At-All-Costs vs. Player Development
4. The Professional Baseball Hitting Mindset
5. Troubleshooting: How to fix Some Common Problems
6. Fig. 9.1 Overhead view of points of contact for a right handed batter.
7. Over-Coaching Ruins Hitters
8. "Come On Dad, Focus!"
9. Moms Don't Let Your Babies Grow Up to Be Righties
10. ABC's: Get em on; Get em Over; Get em In
11. Baseball Hit and Run: The high pay off, low-risk play for your offense.
12. Caution: Easy on the Bunting
Section II Baserunning:

The 'Special Teams' Factor
1. Teachable Reminder Coaching Points
2. Baserunning Drills
3. Man on 2B only with less than 2 outs Drill 
4. Baseball Signs The Simple Way
Section III Hitting Drills-
Batting Practice-Bunting-Sliding
1. Entire Team Batting Practice in 15 Minutes
2. Army Hitting Drill
3. Fun Baseball Hitting Drills: Arizona Game
4. Batting Practice with the 3-Team Format
5. Pepper
6. Fig. 9.2 3-Team Batting Practice
7. Bunting if You Have To
8. Sliding
Section IV Hitting & Coaching Quick
Reference Checklist
50 Points to be a Top Pro Style Hitter Checklist
50 Points for Professional Baserunning Checklist
100 Point Youth Baseball Coaching Checklist
Section V: Top Expert Baseball Interviews
Jack Perconte: Former Major League player, author and sports parenting expert.

Dan Clemens: Author and youth baseball coaching and baseball parenting.

Tony Fiorino: ESPN's talk show host and top expert on sports parenting.

Vital Extra Bonuses Included
Free Stuff to Help Your Players Enjoy the Game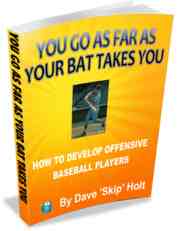 These reference checklists are worth a ton as a teaching and coaching list to use all during your season.
You want to show your baseball players and baseball parents that you know what you are doing. These quick reference lists are valuable by themselves.
These lists are so important I want you to have them included in your eBook.
---

Extra Bonus #1: 100 Point Youth




Baseball Coaching Checklist to Increase their Fun-Factor




This is a huge bonus to use for your reference during your growth as a youth baseball coach and sports baseball parent.
Become an expert coach handling baseball players and baseball parents to help you have a successful season.
---

Extra Bonus #2: 50 Point Professional Baseball Baserunning Checklist
Rarely does a youth baseball coach get these kind of knowledgable tips to share with your baseball players for added value.
Increase your baseball knowledge on baserunning and watch ballplayers learn how to play baseball the professional way.
---

Extra Bonus #3: 50 Point Professional Baseball Hitting Checklist


A huge go-to reference for making sure your baseball hitters think and hit like professional ballplayers.
Use the list during the season to share valuable tips and teaching points on how to hit a baseball and watch your hitters excel. You go as far as your bat takes you!

Unique Treasuretrove Bonus


Expert Youth Baseball and Sports Parenting Interviews
Three awesome interviews with our nations top baseball coaching and sports parenting experts. This is a treasuretrove in itself for any coach to help develop their coaching approach.
All the adults in youth baseball will get a real special treat with the words and wisdom of these great youth baseball men.

Become an Instant Pro Style
Hitting Coach


Best Hitters Have More Fun!



In order to stay in the game of baseball you have to be able to hit, run the bases smartly and bunt when called on. You have to help your team produce offense.
Learn how to hit a baseball like the professional teams develop hitters. You will be surprised at how they do it.
This cram packed 8x11 full 90 page eBook is absolutely loaded with the right approaches to hitting, drills, trouble shooting, baserunning drills, sliding, bunting, batting practice planning, baseball signs, how to hit a baseball and much more.
It is Easy to BUY it Now Only $7



Start Helping Your Kids Reach Their Talent Ceiling





Limited Time 3-eBook Combo Deal

$9.95



Clock is Ticking




Download the eBook to your computer or mobile device.
Immediately after your purchase of "You Go as Far as You Bat Takes You" you can click to download your new eBook and start learning how to develop professional style hitters and offensive players within minutes.
The eBook will come in Adobe PDF format.
Most new computers come with the Adobe software pre-installed. If not, it is very easy and free to install.

All my GuideBooks come with a No-Questions asked One Year Gaurantee! If you are not totally satisfied with the eBooks just get a hold of me here at Contact Me within One Year of your date of purchase--and I will send back your 100% refund immediately.
Your eBook purchase it totally 100% secure and safe--and 100% risk free.
I use PayPal for processing orders but if you do not have an account with PayPal you can charge it on Pay Pal secure purchase page.
Your will have a total of 72 hours (3 days) and up to (3) downloads to take possession of your new eBook.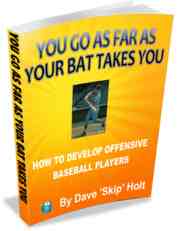 ---

Best Deal:
BUY 

ALL 3 eBooks


Only $9.95

& Get 459 Essential Tips FREE

Hurry time is running out...


A $38 Value for Only $9.95

Save 75% off Cover Price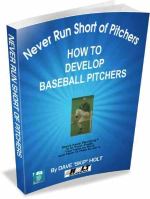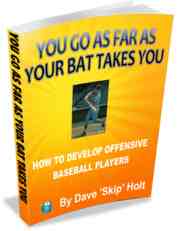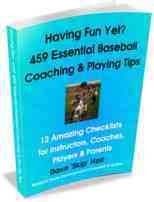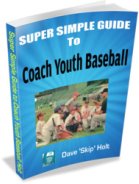 ---

Limited Time: Save 75% When You
Buy the  3 eBooks 'Combo' Package

& FREE 459 Essential Tips eBook

Start Building Your Own "Player Development Culture"

 Less than $2.50 Each when you Bundle all 3 Ebooks


All 3 eBooks and the Free 459 Essential Tips are instantly sent to you to be easily downloaded to your computer for quick access. 

This is Your Move Closer to Baseball
Coaching Certification

You Are Helping Players Increase Their 'Fun-Level'



You know most professions require a certification to work in the field. And I'm glad we do certifications. I can maybe change my oil in my car but fixing brakes or repairing the air condition requires a good mechanic who has been certified.
Or I can take an aspirin tablet but when I am in the hospital with an IV I would like a certified Registered Nurse and a medical MD to take care of me.
Baseball coaching does have a major need to get coaches certified. At least at a minimum level to start out with. National certification is coming our way. I know because I am a part of it. 
Use these eBook tools and DVDs to help you become prepared to coach to youth baseball
Order Today Less than $2.50 Each
Super Simple Guide to Coaching Youth Baseball
459 Essential Baseball Coaching & Playing Tips
Home Page from How to Hit a Baseball

Baseball Impossible: Player Development Make-Over



Build Your Own Culture of Player Development


&
Increase Your Players FUN-Level

6-DVD Video Set Building Your Complete Player Development System

Click to Order

Audio CD Format Click Here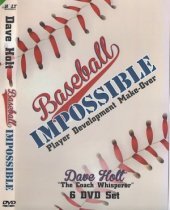 Coaching 6-DVD Box Set
Yes Dave,  I Want to Help My Players Enjoy the GAME

Coaching little league baseball & youth baseball can be a blast or could be a  Tough Gig.

Who in their right mind would come back year after year and have boring baseball practice and never improve their baseball skills? and get yelled at by adults?
Baseball Coaching Videos: Watch over 6 hours of tips on coaching approach, style, philosophy, and my unique player development system. 
Youth baseball careers are short-lived so lets make it count for our players. What do players really want out of playing baseball?
I want to Find Out More about the 6 DVD Player Development System