Now There is a Better Way!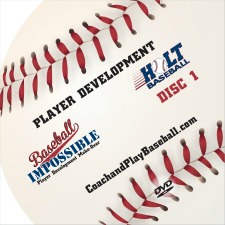 Baseball Impossible: Player Development Make-Over
A 6 DVD Set Complete Resource for Youth Baseball 
See How You Will Benefit Here
---
Baseball Hitter Think Swing-it
To be a top baseball hitter there is one batting tip that trumps all baseball batting tips. We talk so much about being aggressive at the plate when you hit a baseball.
Without a baseball batting mindset that teaches hitting in an aggressive manor it is virtually impossible to hit against good pitchers' velocity fastballs.
When a batter cannot consistently get the bat around on a four seam fastball they will struggle to get playing time. Frustration will take over and self confidence will disappear. This is the beginning of the end for a baseball player's career.
Teaching Kids Hitting: How to Hit the Ball

Spending the last year or so umpiring amateur baseball in my area has given me such an eye opening look into the youth baseball world. I was really spying on the game, the coaches, the players, and the spectators.
I was investigating working undercover as a baseball coach disguised as an umpire. I was journaling and writing about the real world of youth baseball today.
What I found out was much worse than I imagined. Most of the well intentioned volunteer coaches are doing much more harm than good.
Especially when it comes to batting coaches and how they teach kids how to hit. The baseball coaches are developing a generation of hitters with a very defensive mentality and afraid to swing because they will get scolded for doing something wrong.

How to Be a Better Hitter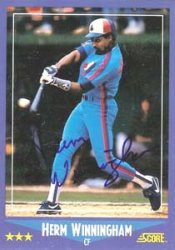 I know I can count on one hand and maybe one or two fingers the number of times I heard a baseball coach tell a kid, "Swing-it! Be ready! Let it Fly!"
In professional baseball that is major league code talk to be aggressive. Code talk to: get out in front on the fastball, to think swing on every pitch; to anticipate swinging before every pitch.
I did hear these types of baseball hitting tips clearly and consistently during one summer baseball game in particular. My radar gun-mind zoomed in on who and why this particular coach was speaking and coaching hitters using professional baseball batting tips.
I had not heard this type of baseball coaching all season in well over a hundred games. Who was this baseball man?
It was none other than former major league and top baseball hitter Herm Winningham. He was one of the coaches coaching a youth baseball team with the MLB sponsored group called RBI. (Reviving baseball to the Inner Cities).
I'm like, "No wonder…it takes a professional baseball hitter that knows the baseball hitting mindset to correctly coach players how to be a better hitter."

How to Hit a Baseball:
Teaching Youth Baseball
That is why I say that most youth baseball coaches are wrongly showing kids how to play baseball. Almost all baseball hitting instruction from our volunteer baseball coaches teaches kids hitting the wrong way.
Instead of encouraging batting tips to get the kids to swing the bat, hitting coaches are teaching batting that makes the kids tentative and scared to swing the bat.
And when the kids cannot swing the bat enough to hit the ball hard enough they will either continues to get frustrated or exit the game altogether.
What is better? To go down with the Swing-it! Mindset? Or to play baseball tentatively and scared to swing?
Swing-It! Get it Ready! Let it Fly! That is the right way to play baseball. If that does not work then you tip your hat to the pitcher and try to get them next time. Thanks Herm Winningham! for helping show us how to be a better hitter.
Return to Hitting 101 from Baseball Hitter
Return to Youth Baseball Home

---
Youth Baseball 3-DVD Training Video
Coaching 3-DVD Box Set 
Coaching little league baseball & youth baseball can be a DISASTER. Who in their right mind would come back year after year and have boring baseball practice and never improve their baseball skills? and get yelled at by adults?
Baseball Coaching Videos: Do your baseball research. Read some coaching books and watch some  coaching videos. At least you will have a fighting chance to keep players in the game a little longer.
---
Just add your first name and email in this box and sign-up for my monthly e-Zine.
Please tell your fellow baseball circle of friends about the Newsletter sign up page.
---