Why I Won't Tell Your I'm Proud of your Home Run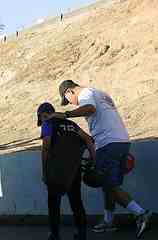 What are we really looking for our kids to take away from youth baseball? Is it trophies, medals, stats, winning tournaments or getting to the next level? Is it heavily performance based so when our kids put up big numbers we now equate performance to us being good parents?
The dusty trophies on the shelf will be short lived and eventually end up in a box in the garage like mine did. What is going to last through time is way more valuable than trophies, medals and who won the games.
We are really looking for opportunities for our kids to strike out and make an error so they may take a deeper appreciation when they do come up with a big play or a homerun.
We want to see how our kids bounce back from adversity. The difficulties and struggles in baseball are life shapers. The challenges of the game build grit and determination in our character.
How About Seeing How Good a Teammate You Can Be
I want my kids to be tremendous teammates. I want my kids to know what it feels like to strikeout so they can be ready when their teammate slumps back to the dugout with their dobber down. I want my kids to welcome that new kid on the team and make them feel like they belong on the ballclub.

I want my kids to enjoy the experience and keep a lifelong love of the game.

What should we be most proud of when watching our kids play? Homeruns or building high character kids? Parents so often measure their parenting ability to be contingent on how their child plays baseball. If their kids are top players on their teams and produce impressive stats then the performance parents see themselves as really good parents.

In reality, we parents will be much better served by measuring our parenting skills on how coachable your child is, how good of teammate they are, how well they are able to bounce back from adversity, how they value sportsmanship, and how respectful they are to umpires, coaches, peers and opponents?

This is what I am proud of…not how many homeruns you hit.

MUST READ: Find out what you really should be proud of when watching your kids.

Why I wont tell you I'm proud of your homerun.

I don't always direct you to another site away from mine but this is just too good to pass up. If you are involved in youth baseball as a coach and parent this short read will get your attention.

The Rest of the Story...Why I Won't Tell You I'm Proud of your Home Run
---
follow Coach and Play Baseball on Facebook
Your Child Is Not Going to Play Pro or College Baseball
Summer Baseball Camp To Your Town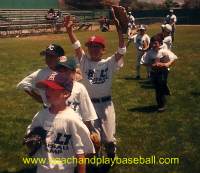 Does your local baseball area need a quality summer baseball camp for your players?

Get in touch with Coach Dave and talk over the opportunities and see if we can match up the dates. Coach Dave will bring his player development system to your area for a weeklong summer day camp.

Do you want to give your local players a chance to improve their skills over the summer in a professional baseball style environment?

Do you want a coach that uses positive coaching style approach and builds stronger, high character kids? Then you should talk to Coach Dave now and get the ball rolling for week of summer baseball camp. Contact Coach Dave Holt
Free 4-Day Baseball Coaching Course EXTENDED to Sept. 30th.
4-Day Free Coaching Course that starts you out right!
If you are new to coaching or been around awhile, take advantage of this great deal. This will get your juices flowing and mind wandering. Get your ducks in a row now before you get too far along in the season.
My email courses will get you up to speed real fast and prepare you for the next steps so you don't have to waste a bunch of time fumbling around the internet.
Youth baseball coaching looks pretty easy from the outside looking in. But watch out, you could get eaten alive if you don't know a little bit more than the average baseball parents.
If you have any questions on the course please send me an email and I will get back with you.
Hurry! Extended (to September 30th) 4 Day Baseball Coaching Course at:
Coach and Play Baseball YouTube Channel Unique Player Development Strategies for local organizations.
Ramp Up for Next Season Now!
Latest News from Coach and Play Baseball
Super Simple Guide Hard Copy is Here
Player Development is the Winning Model
Dynamic 101 Page Binder with 3 Audio Cds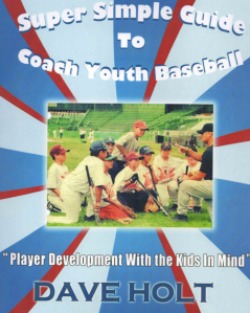 Before you learn the baseball stuff you should really know how to build a coaching approach and style.

Here is the workbook and audio CDs that will help build your foundation to manage your ballclub.

I often use the measuring stick by seeing how many of your ballplayers return to play the next year. Are you helping kids to get better, enjoy the game, and build on the experiences of being a good teammate?

Are you attracting players to baseball or driving them out? Are you a magnet to players or a repellent?

Use this guidebook and audio CDs to study the best practices for successful youth coaches and parents.

Super Simple Guide to Coaching Youth Baseball with 3 Audio CDs. Baseball Impossible Player Development

MakeOver 6 DVD Set
Virtual Coaching Clinics & Lessons
Contact me anytime about anything.
Baseball Clinic Guidebooks for Sports Parents Special Bundle Deal for all 4-eBooks
My most popular player development products will be on SALE for only a few more days.
September 2015 Vol. 135 Additional Topics
Videos Coaching Baseball
Revolutionize Baseball Coaching - 3 DVD Set NOW HERE!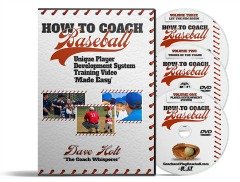 Our current player development system does not work nearly as well as it should.

Why? Too much emphasis on winning and not enough focus on training baseball players.

The 3-DVD's videos will give you and your entire youth baseball league a real live on-camera system to follow in order to properly approach youth baseball with the greatest return on investment.

JUST RELEASED 3-DVD Set Volume Series on How to Revolutionize Coaching Youth Baseball

A Virtual COACHING CLINIC on your own TV or DVD Player

DVD Video Topics in Brand New Player Development Series
Comments? Ideas, Feedback?
I'd love to hear form you . Just reply to this zine and tell what you think! I'm here to help where I can!

When you have a minute and want to know more check out my INFORMATIVE fabulous baseball coaching books...

Super Simple Guide to Coaching Youth Baseball
You Go As Far as Your Bat Takes You
Develop an Endless Supply of Pitchers Until next time, Thanks for your service to Baseball!

Dave Holt
Baseball Development 8421 Dorchester Rd. Ste 109/103 North Charleston, SC 29420 Coach & Play Baseball Home Page