Now There is a Better Way!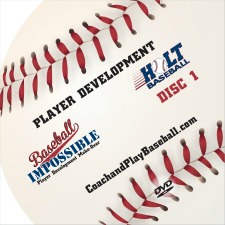 Baseball Impossible: Player Development Make-Over
A 6 DVD Set Complete Resource for Youth Baseball 
See How You Will Benefit Here
---
College Baseball Scholarship
Is Everyones Dream

A College baseball scholarship is a legitimate goal for ballplayers and their parents. If one is good at something it is very normal to pursue a sport that you can get a supplement for a college education or a professional contract.
It is very worthwhile to follow your desires and do things you like to do. But make sure you are realistic and have a plan B.
The numbers are against you. The statistics say very few players will play baseball past high school.
After all you have already beat the odds. Statistics say 75% of players in youth sports are out of the game by the age of fourteen.
Let us look a little closer at the numbers. The National Collegiate Athletic Association displays data they have calculated this year. The NCAA has estimated the probability of competing in athletics beyond the High School level.
About 6.3 percent or 3 out of 50 high school players will go to play baseball at an NCAA member institution. Approximately 9 percent of NCAA college baseball players will get drafted by a Major League Baseball Team.
About one in 200, or about 0.44 percent of high school players will eventually be drafted by a MLB team.
---
Youth Baseball 3-DVD Training Video
Coaching 3-DVD Box Set 
Coaching little league baseball & youth baseball can be a DISASTER. Who in their right mind would come back year after year and have boring baseball practice and never improve their baseball skills? and get yelled at by adults?
Baseball Coaching Videos: Do your baseball research. Read some coaching books and watch some  coaching videos. At least you will have a fighting chance to keep players in the game a little longer.
Have a Back-up Plan:
Do Not Put All Your Eggs
in the College Basket
For sure if players have dreams then by all means one should pursue them. It is important to be realistic and have a backup plan.
Sports can be very competitive at the higher levels. Even if one were to overcome the percentages and data to reach the higher levels of baseball keep in mind injuries can happen, too.
If you want to learn more great tips about getting baseball scholarships, feel free to read about Jon Doyle's insights on a baseball baseball scholarship.
Our Minor League System
is the High School Team
I was fourtunate to spend 19 years in professional baseball. My job most of the time was to develop players for the major league team the Boston Red Sox. I worked in a minor league system that was able to have players ready to replenish the 'Big Club'.
That is exactly how I look at our youth baseball player development system except the 'Big Club' is our local high school teams. Youth baseball is the feeder system to provide baseball players for the local high school teams.
Only about 10% of youth baseball players will ever play high school varsity baseball. Therefore for me, the high school baseball team is the goal for local youth baseball players and baseball parents.
If a player reaches the varsity baseball team then that is quite a baseball accomplishment. Players and parents should be very content when kids experience baseball at the high school level.
Our efforts locally should be on developing baseball skills which put as many players as possible in position to play in high school. All youth baseball teams below high school varsity should look first and foremost at developing talent first and winning secondly...just like the minor leagues do.
Occasionally a small number of players will go on to a college baseball scholarship and even fewer to the professional minor leagues. Some will even get a portion of their education paid for. One would be better off shooting for academic scholarships when pursuing a college baseball scholarship.
Return to Youth Baseball from College Baseball Scholarship
---
Just add your first name and email in this box and sign-up for my monthly e-Zine.
Please tell your fellow baseball circle of friends about the Newsletter sign up page.
---