Take Away the Fear Factor Card
Remove the 'fear of failure'.
Do you think a ballplayer will reach their ability ceiling when they are afraid to make a mistake on the ballfield?
Do you want players to play timid and scared?
Do you want players to keep the bat on their shoulder because they are scared to get reprimanded for swinging at a bad pitch? The answers to all these questions would certainly be NO.
Then why can' t we as youth baseball coaches and parents work to remove the 'fear of failure' in our kids? Well, we can only if we know how to communicate to our players. We will have to scrutinize every word that comes out of our mouth (and body language).
Ever hear a coach or parent yell to a hitter up to bat, "Be patient now, don't help 'em out—make it be right there—we need base runners (code for I would rather you get a walk)."
Sounds harmless and helpful, right? Wrong! A young batter takes this as, 'I better be really careful here on this pitch because if I swing at the pitch and it is out of the zone I'm really going to get chewed out." Do you think this player has any 'fear of failure' in their mind? You bet they do!
What if we said instead, "Hey, get it ready and let it fly—give this one your best swing!" Now, what is the player's 'fear of failure' level? Pretty low or non-existent in fact. The player has been released to freely swing the bat without any hint of criticism on the horizon regardless of what happens.
This is how to play baseball. The win-at-all-cost crowd is much more likely to teach kids to play with a constant feeling of the 'fear of failure'.
player development baseball people teach kids to play baseball. The win-at-all-cost crowd is much more likely to teach kids to play with a constant feeling of the 'fear of failure'.
2015 TIP: Remove any 'fear of failure' when players take the field. Obviously, baseball is a game with a pretty high level of failure anyway. If players have freedom to play without the fear of a tongue lashing after every mistake they will be much more likely to play to their best potential and increase their enjoyment level.
2015 Parent TIP: Avoid the post-game dissection and critique on the ride home. This does nothing but breed more anxiety and 'fear of failure' next time out. Tell the kids how much you enjoyed watching them play today (and you love them).
Free 4-Day Baseball Coaching Course
4-Day Free Coaching Course that starts you out right!
If you are new to coaching or been around awhile, take advantage of this great deal. This will get your juices flowing and mind wandering. Get your ducks in a row now before you get too far along in the season.
My email courses will get you up to speed real fast and prepare you for the next steps so you don't have to waste a bunch of time fumbling around the internet.
Youth baseball coaching looks pretty easy from the outside looking in. But watch out, you could get eaten alive if you don't know a little bit more than the average baseball parents.
If you have any questions on the course please send me an email and I will get back with you.
See more on the 4 Day Baseball Coaching Course at:
MLB & USA Baseball New Pitching Guidelines
MLB and USA Baseball just came out with new recommendations for pitchers. They also state some the reasons that pitching injuries are up.

This is a must read for all folks in youth baseball today.

I remember Dr. Andrews, who was one of pioneers in the 'Tommy John' surgery, saying what he does to the parents when they come into his office with a young son with a sore arm.

He gives them a marker and a big white board on the wall and tells them to write everything their kid has done in baseball and all their accomplishments up to now. He leaves them and returns to a board full of the problem.

He tells the parents, "This is why you are here. Your kid has pitched and played too much baseball without proper rest and pitch limits." The new guidelines should go a long way to prevent many arm injuries down the road. MLB & USA Baseball Pitching Guidelines

Coach and Play Baseball YouTube Channel
There is NO Bunting in Baseball
In 12 and under baseball I don't believe in bunting. It is certainly okay to introduce bunting at this age but in the big scheme of things it all boils down to how well one swings the bat and squaring up on the ball.

Bunting is not the highest priority for this age. The kids have to swing it. If they don't its game-over and their careers will come to a premature end with a bunch of frustration along the way.

I have been coaching a youth team of 11 year olds this fall and I have not even shown or allowed anyone to bunt yet. Why? I don't want to waste any time on stuff that will not keep kids in the game. Every at-bat in practice and games is swinging the bat. If they don't hit---it's Game-Over.

Plus, who wants to go your whole youth baseball career and never experience the thrill and feel of hitting a ball perfectly on the sweet spot. We faced a kid the other night that walked 4 times and never took a swing the entire game. What good was that but a wasted opportunity to swing-it! No Bunting in Baseball
Push-ups for Walks
FYI: I have my players do five pushups if they get a walk. Why? I want them to look to swing at the first available pitch around the plate. It serves no purpose to walk or bunt at this age.

'Ya, but Dave, kids have to have a good eye at the plate." I say, "Becoming a hitter who can consistently swing it trumps having a good eye. If a kid has a good eye but cant hit the ball out of the infield then it is Game-Over.

Having a good eye at the plate can wait. The problem always comes back to the baseball parents that want to win more than develop hitters. Walks in youth baseball will help teams win games—but at what cost?

The price is costly because so many kids never get a chance to develop into real good hitters and this is an epidemic around the country. Win-at-all-costs parents have no idea how they are harming kids in having an opportunity to become a good hitter.

This is why I don't allow bunting or send kids up to get a walk. Swing-it my friends—Swing-it!

Unique Player Development Strategies for local organizations.
Ramp Up for Next Season Now!
Latest News from Coach and Play Baseball
Super Simple Guide Hard Copy is Here
Player Development is the Winning Model
Dynamic 101 Page Binder with 3 Audio Cds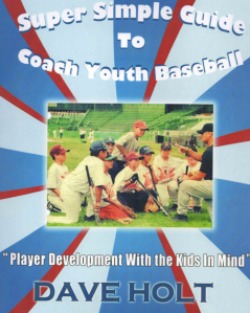 Before you learn the baseball stuff you should really know how to build a coaching approach and style.

Here is the workbook and audio CDs that will help build your foundation to manage your ballclub.

I often use the measuring stick by seeing how many of your ballplayers return to play the next year. Are you helping kids to get better, enjoy the game, and build on the experiences of being a good teammate?

Are you attracting players to baseball or driving them out? Are you a magnet to players or a repellent?

Use this guidebook and audio CDs to study the best practices for successful youth coaches and parents.

Super Simple Guide to Coaching Youth Baseball with 3 Audio CDs. Baseball Impossible Player Development

MakeOver 6 DVD Set
Virtual Coaching Clinics & Lessons
Contact me anytime about anything.
Baseball Clinic Guidebooks for Sports Parents Special Bundle Deal for all 4-eBooks
My most popular player development products will be on SALE for only a few more days.
January 2015 Vol. 129 Additional Topics
Videos Coaching Baseball
Revolutionize Baseball Coaching - 3 DVD Set NOW HERE!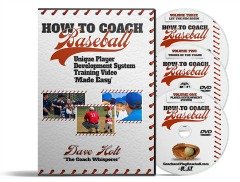 Our current player development system does not work nearly as well as it should.

Why? Too much emphasis on winning and not enough focus on training baseball players.

The 3-DVD's videos will give you and your entire youth baseball league a real live on-camera system to follow in order to properly approach youth baseball with the greatest return on investment.

JUST RELEASED 3-DVD Set Volume Series on How to Revolutionize Coaching Youth Baseball

A Virtual COACHING CLINIC on your own TV or DVD Player

DVD Video Topics in Brand New Player Development Series
Comments? Ideas, Feedback?
I'd love to hear form you . Just reply to this zine and tell what you think! I'm here to help where I can!

When you have a minute and want to know more check out my INFORMATIVE fabulous baseball coaching books...

Super Simple Guide to Coaching Youth Baseball
You Go As Far as Your Bat Takes You
Develop an Endless Supply of Pitchers Until next time, Thanks for your service to Baseball!

Dave Holt
Baseball Development 8421 Dorchester Rd. Ste 109/103 North Charleston, SC 29420 Coach & Play Baseball Home Page