Best Time to Shut Your Big Fat Mouth
Can you think of another sport where the coach(es) give the athletes in-game advice on mechanics just before and after the athlete conducts the skill?
Basketball-NO, Hockey-No, Tennis-No, Football-NO, Golf-NO, Ping-Pong-NO.
It is only baseball where coaches feel they have to assist the hitters by telling them what they have to do to fix their swing prior to and after each swing.
Why is in-game coaching while kids are in the batters box so popular and accepted in the lower levels of youth baseball and never done in the professional baseball level?
ANSWER: Coaches cannot keep their big fat mouths shut—they feel they are not doing their jobs unless they are verbalizing coaching points.
Coaches Need Coaching
In the intent to help and assist (coach) kids, baseball coaches take the initiative to give a 10 second mini-coaching clinic and critique before and after each pitch especially when the batter swings and misses or hits a foul ball.

And lookout if God forbid, a batter swings at a high pitch or low pitch out of the strike zone. In the coaches eyes you just committed the ultimate hitting sin. (Coaches-You think hitting the ball square is so easy lets see you try to hit the ball with a half dozen adults telling you how to do it).

Listen during ballgames and you will likely hear coaching points like, "Hey, "you have to load sooner" "get your back elbow up now' 'step into it" "throw the hands at the ball" 'pop those hips" "hit the top of the ball" "swing level".

And this is just the third base coach-wait until the first base coach and the bench coach get going. "Hey, "make it be there now" "don't help em out" "be sure its a good one" "need a runner now (code for don't swing — try to get a walk)" "I told you never to swing at that high pitch".

And, we will not even get into all the 'hitting coaches' in the bleachers that throw in their two cents.
What Should Coaches Say? NOTHING!
BACKFIRES: Unfortunately, all this 'help' from the adults backfires.

Batters who are already trying to succeed at something that is really difficult, get a big dose of 'Mind Clutter'.

Now that they have been totally critiqued and mechanically corrected they have to decipher a half dozen or more things to remember going into the next pitch.

Now we have created a batter with more confusion, tension, anxiety and pressure all in the cause of 'helping'.

Now we have an over-thinking, tentative, defensive minded hitter who is afraid to make a mistake because they will get instant dose of criticism immediately after the pitch (again)!

SOLUTION:

Do what the professional baseball coaches do—SAY NOTHING.

Only build them up-never tear them down. It is okay to say

"Great Swing!" 'Way to Swing it!' "Be Ready" "Let it Fly! "That's the way to Swing the Bat!"

and clap a lot.

If you have something to say to batters about hitting mechanics and adjustments do it between innings, after the game or at next practice-NEVER during the live competition in the batters box.

,

Check it out

Quick video on my YouTube Coaching Channel

Coaching Hitters During Live At-Bats Part I

Video How to Coach Hitters During Games Part 1

Check out my interview with Jim Cromer on Youth Baseball Talk Podcast...Part 1 of 2

Recommend you subscribe to his show! They have good topics and better guests than me to listen to.

Youth Baseball Talk Interview with Coach Dave Holt
---
---
follow Coach and Play Baseball on Facebook
Your Child Is Not Going to Play Pro or College Baseball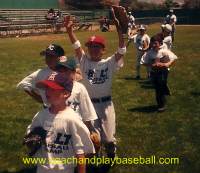 Contact Coach Dave Holt
Coach and Play Baseball YouTube Channel Unique Player Development Strategies for local organizations.
Ramp Up for Next Season Now!
Latest News from Coach and Play Baseball
---
CLOSEOUT PRICE: Super Simple GuideBook
Only 7 Copies Left
100 Page Binder with 3 Audio Cds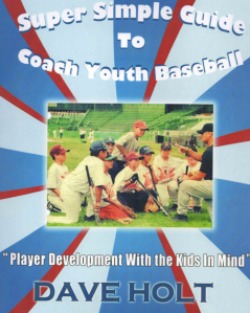 Before you learn the baseball stuff you should really know how to build a coaching approach and style.

Here is the workbook and audio CDs that will help build your foundation to manage your ballclub.

I often use the measuring stick by seeing how many of your ballplayers return to play the next year. Are you helping kids to get better, enjoy the game, and build on the experiences of being a good teammate?

Are you attracting players to baseball or driving them out? Are you a magnet to players or a repellent?

Use this guidebook and audio CDs to study the best practices for successful youth coaches and parents.

Super Simple Guide to Coaching Youth Baseball with 3 Audio CDs. Baseball Impossible Player Development

MakeOver 6 DVD Set
Virtual Coaching Clinics & Lessons
Contact me anytime about anything.
Baseball Clinic Guidebooks for Sports Parents Special Bundle Deal for all 4-eBooks
My most popular player development products will be on SALE for only a few more days.
July 2016 Vol. 143 Additional Topics
Videos Coaching Baseball
Revolutionize Baseball Coaching - 3 DVD Set NOW HERE!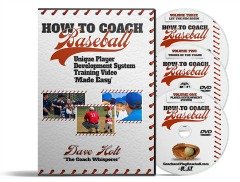 Our current player development system does not work nearly as well as it should.

Why? Too much emphasis on winning and not enough focus on training baseball players.

The 3-DVD's videos will give you and your entire youth baseball league a real live on-camera system to follow in order to properly approach youth baseball with the greatest return on investment.

JUST RELEASED 3-DVD Set Volume Series on How to Revolutionize Coaching Youth Baseball

A Virtual COACHING CLINIC on your own TV or DVD Player

DVD Video Topics in Brand New Player Development Series
Comments? Ideas, Feedback?
I'd love to hear form you . Just reply to this zine and tell what you think! I'm here to help where I can!

When you have a minute and want to know more check out my INFORMATIVE fabulous baseball coaching books...

Super Simple Guide to Coaching Youth Baseball
You Go As Far as Your Bat Takes You
Develop an Endless Supply of Pitchers Until next time, Thanks for your service to Baseball!

Dave Holt
Baseball Development