Why YouTube Coaching Won't Work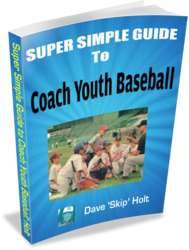 I have to give baseball coaches credit for at least trying to educate themselves and better their baseball coaching knowledge and techniques.
Going to YouTube to look for the latest fad drills and the next best baseball practice plan is not all bad. Shoot, I even have my own YouTube channel with baseball advice.
And, there is a myriad of stuff out there besides mine. Some probably okay, some good and some not so good.
After observing some youth baseball practices the last few weeks as our local fall leagues start up, I think we have set a record for those little mini neon cones.
I have seen more cones the last few weeks to make me figure out it must be the latest YouTube trend for baseball practice. Either that or we are trying to imitate youth soccer since they are big into cones.
I just don't see neon cones all over the place as helping develop ballplayers. But it sure makes the baseball parents look at you and say, 'Wow honey, look at all those cones—this coach must really know what they are doing."
You really can't trick people forever. The proof of your efforts is in the amount of kids that can still play baseball decently and skillfully at age 14--An extremely difficult task even when you know what you are doing.
I am partial about my own coaching stuff and I know my coaching stuff is not free like from YouTube. I do think you will get your bang for your buck.
Coach and Play Baseball YouTube Channel
$430,844 Salary for Little League CEO
As reported in August, Steve Keener, the CEO of Little League Baseball, makes almost half a million dollars in annual salary.

He is one of seven other employees that make six-figure salaries. Little League continues to profit off 11-12 year children with a 76 million dollar TV deal with ESPN.

With $80 million in assets and nearly $25 million in revenue, every August LL baseball "parades out a fresh batch of kids hoping to captivate the country,"

And you are kidding yourself if you think Little League baseball is trying to develop ballplayers.

The LL baseball model is poorly designed and falls way short when it comes to player development.

Cleary, LL baseball is out to make money at the expense of kids, volunteers and families across the country and around the world. And it looks like they are really good at it.

Yahoo Sports Little League CEO Unique Player Development Strategies for local organizations.
Ramp Up for Next Season Now!
Latest News from Coach and Play Baseball
Super Simple Guide Hard Copy is Here
Player Development is the Winning Model
Dynamic 101 Page Binder with 3 Audio Cds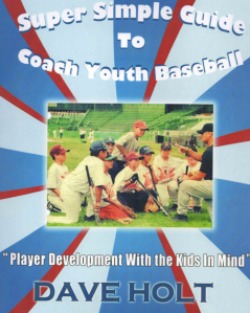 Before you learn the baseball stuff you should really know how to build a coaching approach and style.

Here is the workbook and audio CDs that will help build your foundation to manage your ballclub.

I often use the measuring stick by seeing how many of your ballplayers return to play the next year. Are you helping kids to get better, enjoy the game, and build on the experiences of being a good teammate?

Are you attracting players to baseball or driving them out? Are you a magnet to players or a repellent?

Use this guidebook and audio CDs to study the best practices for successful youth coaches and parents.

Super Simple Guide to Coaching Youth Baseball with 3 Audio CDs. Baseball Impossible Player Development

MakeOver 6 DVD Set
Virtual Coaching Clinics & Lessons
One project I am working on this fall is virtual baseball coaching clinics. I am putting lessons together and will offer to baseball coaches across the country.

Coaches and parents will be able join me online and participate in group sessions. Topics will be on various aspects of coaching and playing baseball and my player development system.

Private baseball lessons will be available soon too using Face Time. We can schedule a time to meet and conduct hitting, pitching, fielding and throwing lessons anywhere in the world.

Contact me anytime about anything.

Baseball Clinic Guidebooks for Sports Parents Special Bundle Deal for all 4-eBooks

My most popular player development products will be on SALE for only a few more days.
September 2014 Vol. 126 Additional Topics
Videos Coaching Baseball
Revolutionize Baseball Coaching - 3 DVD Set NOW HERE!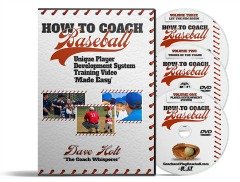 Our current player development system does not work nearly as well as it should.

Why? Too much emphasis on winning and not enough focus on training baseball players.

The 3-DVD's videos will give you and your entire youth baseball league a real live on-camera system to follow in order to properly approach youth baseball with the greatest return on investment.

JUST RELEASED 3-DVD Set Volume Series on How to Revolutionize Coaching Youth Baseball

A Virtual COACHING CLINIC on your own TV or DVD Player

DVD Video Topics in Brand New Player Development Series
Comments? Ideas, Feedback?
I'd love to hear form you . Just reply to this zine and tell what you think! I'm here to help where I can!

When you have a minute and want to know more check out my INFORMATIVE fabulous baseball coaching books...

Super Simple Guide to Coaching Youth Baseball
You Go As Far as Your Bat Takes You
Develop an Endless Supply of Pitchers Until next time, Thanks for your service to Baseball!

Dave Holt
Baseball Development
Charleston, SC Coach & Play Baseball Home Page