The Worst Thing You Can Do to a Player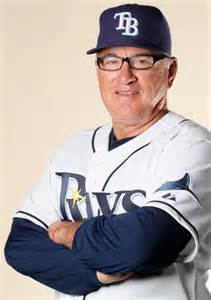 Joe Madden Mentors Youth Baseball
New Chicago Cubs manager enlightened youth baseball folks recently at his introduction news conference if you listened closely.
The lessons he gave us on how he approaches the major league job as field manager seeps down all the way to our local youth baseball levels if we look closely.
One of the most noteworthy points Joe elaborated about but without coming out and saying the 'f' word (fun) was how players get enjoyment out of the game. During the press conference he never said that all he wanted for his players is to have fun.
Nonetheless, just about every one of his strategies for coaching leads to fun. If you coach the right things then the results will mostly turn out fun. A player determines if they are having fun or not.
Joe mentions what he thinks sports is about like, making friends and being a good teammate, setting the right goals, keeping things simple, establishing trust, reacting to failure, development, playing under pressure, having patience, accepting challenges and being optimistic.
These are foundation building coaching lessons for anyone in youth baseball. He was quoted at one point circumventing the word fun by saying, "Don't ever permit the pressure to exceed the pleasure." Nicely stated.
Gaining Player Trust
Joe talked about the importance of gaining trust of the players. He said, "I have to earn the trust of the players on the field." Now one would think that a major league manager with his track record would automatically have his players trust.

Joe does not seem to take this for granted and neither should any coach think trust is guaranteed. A youth league baseball coach without the trust of their players is likely in for a rough go with the players and likely parental turmoil.

Gaining player confidence:

1. You don't need to be or are you expected to be an expert but you should know a bit more than the typical player's parents. You should do some homework and study to gain additional knowledge as you go along.

2. Stick with your players win or lose. If you start to go sour and negative on them if the team loses a few it will be hard to keep the trust. Keep every kid in the fold even the ones that aren't very good. You better be patient and positive or confidence in you will erode and may never be recovered.

3. Most youth coaches have their own kids on the team. Bat them last in the order and sit them on the bench too, from time to time. Letting them play a few innings in the outfield goes a long way to say to the team that special treatment is not happening on this team.
The Worst Thing You Can Do to a Player
Joe has so many wonderful lessons for all of us in youth baseball. One of my favorites it the statement he said,

"That's the worst thing you can do is to coach aggressiveness out of a player, to coach fear into a player."

I see this constantly in our game today. Coaches and parents constantly over-coaching and reprimanding kids on every little mistake, swing, throw, catch, pitch and play. I hope we can follow Joe's valuable lessons and bring in positive baseball coaching all over the country.
MLB & USA Baseball New Pitching Guidelines
MLB and USA Baseball just came out with new recommendations for pitchers. They also state some the reasons that pitching injuries are up.

This is a must read for all folks in youth baseball today.

I remember Dr. Andrews, who was one of pioneers in the 'Tommy John' surgery, saying what he does to the parents when they come into his office with a young son with a sore arm.

He gives them a marker and a big white board on the wall and tells them to write everything their kid has done in baseball and all their accomplishments up to now. He leaves them and returns to a board full of the problem.

He tells the parents, "This is why you are here. Your kid has pitched and played too much baseball without proper rest and pitch limits." The new guidelines should go a long way to prevent many arm injuries down the road. MLB & USA Baseball Pitching Guidelines

Coach and Play Baseball YouTube Channel
There is NO Bunting in Baseball
In 12 and under baseball I don't believe in bunting. It is certainly okay to introduce bunting at this age but in the big scheme of things it all boils down to how well one swings the bat and squaring up on the ball.

Bunting is not the highest priority for this age. The kids have to swing it. If they don't its game-over and their careers will come to a premature end with a bunch of frustration along the way.

I have been coaching a youth team of 11 year olds this fall and I have not even shown or allowed anyone to bunt yet. Why? I don't want to waste any time on stuff that will not keep kids in the game. Every at-bat in practice and games is swinging the bat. If they don't hit---it's Game-Over.

Plus, who wants to go your whole youth baseball career and never experience the thrill and feel of hitting a ball perfectly on the sweet spot. We faced a kid the other night that walked 4 times and never took a swing the entire game. What good was that but a wasted opportunity to swing-it! No Bunting in Baseball
Push-ups for Walks
FYI: I have my players do five pushups if they get a walk. Why? I want them to look to swing at the first available pitch around the plate. It serves no purpose to walk or bunt at this age.

'Ya, but Dave, kids have to have a good eye at the plate." I say, "Becoming a hitter who can consistently swing it trumps having a good eye. If a kid has a good eye but cant hit the ball out of the infield then it is Game-Over.

Having a good eye at the plate can wait. The problem always comes back to the baseball parents that want to win more than develop hitters. Walks in youth baseball will help teams win games—but at what cost?

The price is costly because so many kids never get a chance to develop into real good hitters and this is an epidemic around the country. Win-at-all-costs parents have no idea how they are harming kids in having an opportunity to become a good hitter.

This is why I don't allow bunting or send kids up to get a walk. Swing-it my friends—Swing-it!

Unique Player Development Strategies for local organizations.
Ramp Up for Next Season Now!
Latest News from Coach and Play Baseball
Super Simple Guide Hard Copy is Here
Player Development is the Winning Model
Dynamic 101 Page Binder with 3 Audio Cds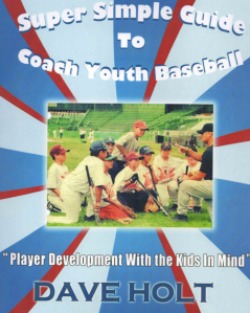 Before you learn the baseball stuff you should really know how to build a coaching approach and style.

Here is the workbook and audio CDs that will help build your foundation to manage your ballclub.

I often use the measuring stick by seeing how many of your ballplayers return to play the next year. Are you helping kids to get better, enjoy the game, and build on the experiences of being a good teammate?

Are you attracting players to baseball or driving them out? Are you a magnet to players or a repellent?

Use this guidebook and audio CDs to study the best practices for successful youth coaches and parents.

Super Simple Guide to Coaching Youth Baseball with 3 Audio CDs. Baseball Impossible Player Development

MakeOver 6 DVD Set
Virtual Coaching Clinics & Lessons
One project I am working on this fall is virtual baseball coaching clinics. I am putting lessons together and will offer to baseball coaches across the country.

Coaches and parents will be able join me online and participate in group sessions. Topics will be on various aspects of coaching and playing baseball and my player development system.

Private baseball lessons will be available soon too using Face Time. We can schedule a time to meet and conduct hitting, pitching, fielding and throwing lessons anywhere in the world.

Contact me anytime about anything.

Baseball Clinic Guidebooks for Sports Parents Special Bundle Deal for all 4-eBooks

My most popular player development products will be on SALE for only a few more days.
November 2014 Vol. 128 Additional Topics
Videos Coaching Baseball
Revolutionize Baseball Coaching - 3 DVD Set NOW HERE!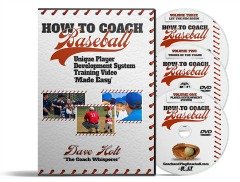 Our current player development system does not work nearly as well as it should.

Why? Too much emphasis on winning and not enough focus on training baseball players.

The 3-DVD's videos will give you and your entire youth baseball league a real live on-camera system to follow in order to properly approach youth baseball with the greatest return on investment.

JUST RELEASED 3-DVD Set Volume Series on How to Revolutionize Coaching Youth Baseball

A Virtual COACHING CLINIC on your own TV or DVD Player

DVD Video Topics in Brand New Player Development Series
Comments? Ideas, Feedback?
I'd love to hear form you . Just reply to this zine and tell what you think! I'm here to help where I can!

When you have a minute and want to know more check out my INFORMATIVE fabulous baseball coaching books...

Super Simple Guide to Coaching Youth Baseball
You Go As Far as Your Bat Takes You
Develop an Endless Supply of Pitchers Until next time, Thanks for your service to Baseball!

Dave Holt
Baseball Development 8421 Dorchester Rd. Ste 109/103 North Charleston, SC 29420 Coach & Play Baseball Home Page