SUPER SIMPLE GUIDE TO COACH YOUTH BASEBALL
KNOWLEDGE IS POWER
Be an Expert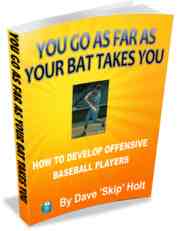 You Will Go As Far as Your Bat Takes You
Discover every strategy and secret I've learned from years of coaching, playing, managing and player development in pro ball to T-ball levels..
There are hundreds of tips you can use to make a magnificent difference in your success as a youth baseball and high school baseball coach..
See the Table of Contents & More
"Super Simple Guide to Coach Youth Baseball" shares everything I have learned about maximizing ballplayers talents and abilities. Testimonials
'NEVER RUN SHORT OF PITCHING'
HOW TO DEVELOP AN ENDLESS SUPPLY OF PITCHERS EVERY YEAR
Check out the eBook pitching guide to build a deep, versatile pitching staff at all levels.
---
How to Get a FREE BOOK
Dave's Passion and experience is unmatched when it comes to the game of baseball.

Coaching Hitters At the different levels is such a challenge but Dave has compressed so much important information along with a coaching style that motivates and leads Hitters down a path to success.

From Amateur to the Professional level , Dave's Work in this book is a must read whether you Play or Coach.

Jim Coffman Pitching Coach and Oakland Athletics Northwest Area Scout.
How to Develop Offensive Baseball Players
---
GLOVE REPAIR
Your Guide to Fixing Your Baseball Glove

---
---